Trump's fire tweet infuriates California celebrities; Hollywood strikes back
A raft of celebrities took to Twitter Saturday to slam the U.S. president.
A raft of Hollywood stars took to social media on Saturday to rip into President Donald Trump for a pre-dawn tweet on Saturday in which he blamed "gross mismanagement of the forests" in California for a trio of deadly wildfires blazing across the state, and threatened to withhold vital federal funding to fight the infernos.
Katy Perry, Ava DuVernay, Don Cheadle, Sarah Silverman, Andy Lassner, Kathy Griffin, Zach Braff, Bette Midler, Alyssa Milano, Maria Shriver and Billy Eichner were among the celebrities who castigated the U.S. president for his tweet.
"There is no reason for these massive, deadly and costly forest fires in California except that forest management is so poor. Billions of dollars are given each year, with so many lives lost, all because of gross mismanagement of the forests. Remedy now, or no more Fed payments!"
"Stop it," Silverman tweeted in response. "Feign humanity."
"Honestly thought this one was from a parody account," Braff wrote. "The city is on fire and people and animals are dying."
The White House press office did not immediately respond to an ABC News request for comment about the celebrities' reactions to the president's early morning tweet.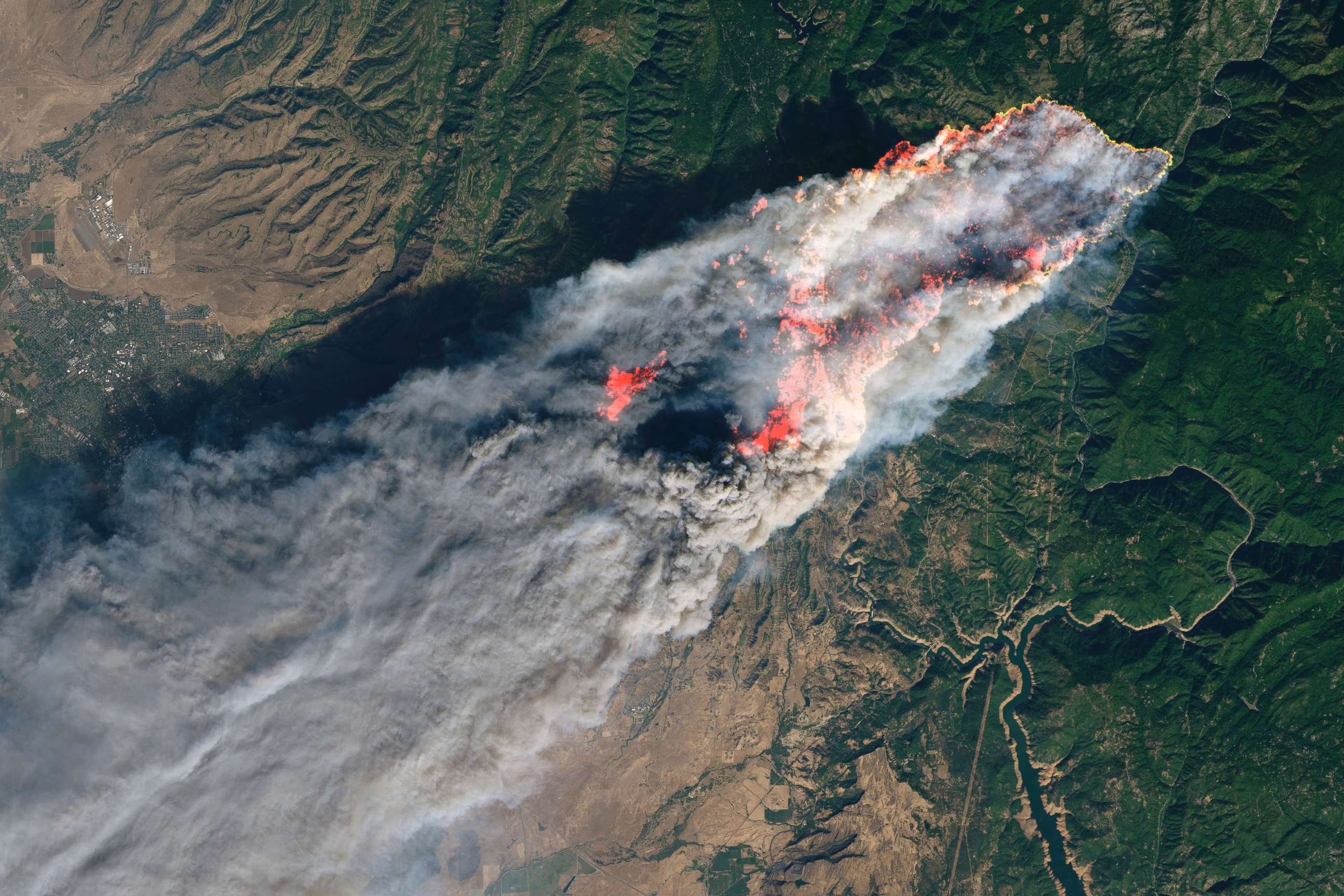 Natural disasters are not "red" or "blue" – they destroy regardless of party.
Eichner said that Trump's tweet "goes over the line."
"I really try to ignore his tweets," he wrote. "But this goes over the line. We know he's a cruel and heartless man - but he's also the definition of a coward. Afraid of vulnerability, of sensitivity, of compassion, of sympathy and of course the truth."
Perry called Trump's tweet "heartless."
"This is an absolutely heartless response," she wrote. "There aren't even politics involved. Just good American families losing their homes as you tweet, evacuating into shelters."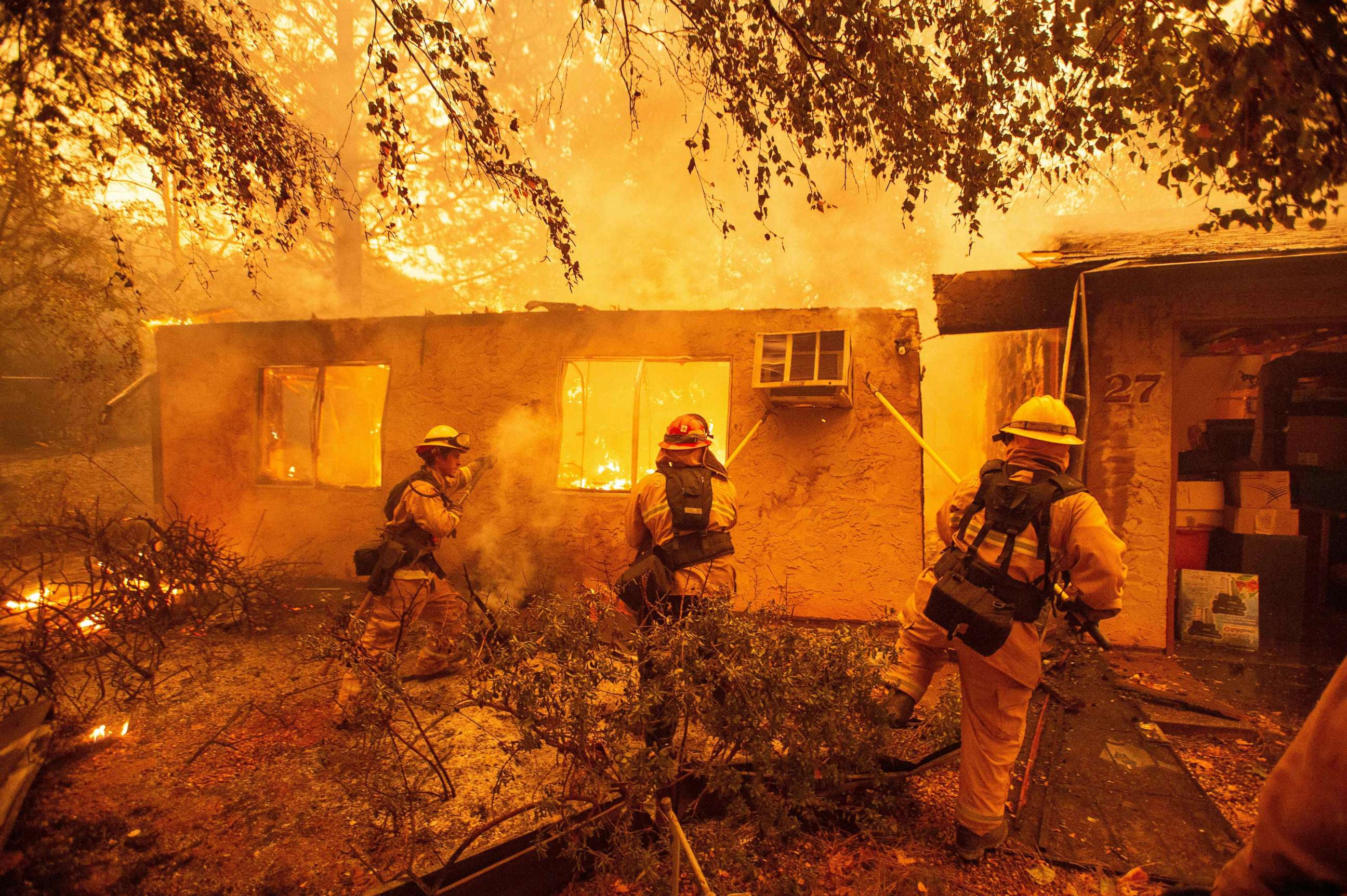 One leading California fire official on Saturday called Trump's comments "a shameful attack on California."
"The president's assertion that California's forest management policies are to blame for catastrophic wildfire is dangerously wrong," California Professional Firefighters President Brian K. Rice said in a statement on Saturday.
"Wildfires are sparked and spread not only in forested areas but in populated areas and open fields fueled by parched vegetation, high winds, low humidity and geography," he continued in the statement. "Moreover, nearly 60 percent of California forests are under federal management, and another two-thirds under private control. It is the federal government that has chosen to divert resources away from forest management, not California."
"Natural disasters are not "red" or "blue" – they destroy regardless of party," Rice concluded. "Right now, families are in mourning, thousands have lost homes, and a quarter-million Americans have been forced to flee. At this desperate time, we would encourage the president to offer support in word and deed, instead of recrimination and blame."
Shriver seemed particularly frustrated by Trump's commentary.
Just get us the help we need. Do it now.
"As fires burn, as families and lives are upended, the last thing we need is the president criticizing our state," she wrote. "Just get us the help we need. Do it now."
Milano quoted a response to Trump that California congressman Ted Lieu posted earlier on Saturday. in her response to Trump's tweet.
"...guess who owns much of the forest land in CA? Your federal agencies. CA only owns 2%. Guess who cut funding to forest management in the budget? YOU DID. - @tedlieu"
Cheadle was succinct in his response.
"you suck at this…" he wrote.
Midler characterized the president as a "pumpkin."
"If only we had a LEADER capable of grasping what the events in California mean and guiding us to solve them! Mass shooting, the wildfires that have consumed 100,000 acres...the Pumpkin has flown away from his defeat at the polls to eat fois gras and throw wreaths at the dead."
By late afternoon, Trump had reversed course, tweeting out that "our hearts are with those fighting the fires, the 52,000 who have been evacuated, and the families of the 11 who have died….God bless them all."
On Sunday morning, however, the president again focused on "forest management."
"With proper Forest Management, we can stop the devastation constantly going on in California. Get Smart!" he tweeted.
When asked about the president's tweets, Evan Westrup, the governor's press secretary, told ABC News on Sunday: "Our focus is on the Californians impacted by these fires and the first responders and firefighters working around the clock to save lives and property — not on the President's inane and uninformed tweets."
ABC News' Stacy Chen and Deena Zaru contributed to this report.