During the month of May, Americans applaud the accomplishments of those in the Asian American and Pacific Islander community for AAPI Heritage month, and "The View" joins in that celebration again in 2021.
According to a report released Thursday by the national coalition group Stop AAPI Hate, 6,603 hate incidents against Asian and Pacific Islanders in the United States were reported to the organization between mid-March 2020 when the pandemic began to March 31, 2021.
The Emmy Award-winning daytime talk show recognizes activists, politicians, leaders in S.T.E.M. and others who've made history in the U.S.
TRAILBLAZING ATHLETES
"The View" recognized Olympians Vicki Manalo and Sammy Lee on Thursday. Manalo won two gold medals for platform and springboard diving, making her the first Asian American woman to earn Olympic gold, and Lee became the first Asian American man to win an Olympic gold medal.
Learn more about groundbreaking athletes from the AAPI community.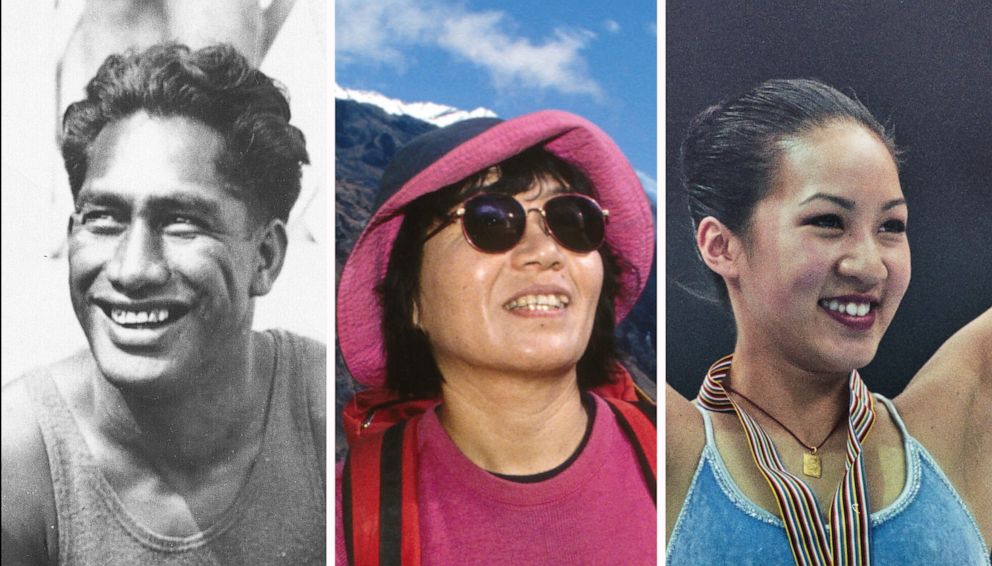 Ariel Hsing
Taiwanese and Chinese American Ariel Hsing started playing table tennis when she was just seven-years-old. By 15, she became the youngest U.S. table tennis national champion in history and went on to win again in 2011 and 2013
Michelle Kwan
Chinese American Michelle Kwan is the most decorated figure skater in American history as a two-time Olympic medalist, a five-time World champion and a nine-time U.S. champion. Although she's unofficially retired and moved on to a more politically driven career, Kwan remains one of the most famous American figure skaters today.
Junko Tabei
Despite an avalanche and cultural hurdles, Japanese climber Junko Tabei became the first woman to climb and reach the summit of Mount Everest in 1975, the world's highest mountain.
Bobby Balcena
Filipino American Bobby Balcena was the first of Filipino ancestry to play in Major League Baseball in 1956 with the Cincinnati Redlegs.
Duke Kahanamoku
Hawaiian native Duke Kahanamoku is known as the "Father of Modern Surfing" for his essential role in spreading the sport of surfing around the world. He was the first person inducted into the Surfers' Hall of Fame and the Swimming Hall of Fame.
Walter Achiu
Chinese American Walter Achiu is the first professional football player of east Asian descent in U.S. history, playing for the Dayton Triangles in 1927 and 1928 primarily as a running back and defensive back. He went on to become a well-known professional wrestler and was named into the University of Dayton Athletic Hall of Fame in 1974.
POLITICAL PIONEERS
On Friday, May 21, "The View" recognized Hawaii's Patsy Mink, who made history as the first woman of color and Asian American woman elected to Congress in 1964. She went on to become the first Asian American to run for president and was posthumously awarded the Presidential Medal of Freedom in 2014.
Learn more about groundbreaking politicians from the AAPI community.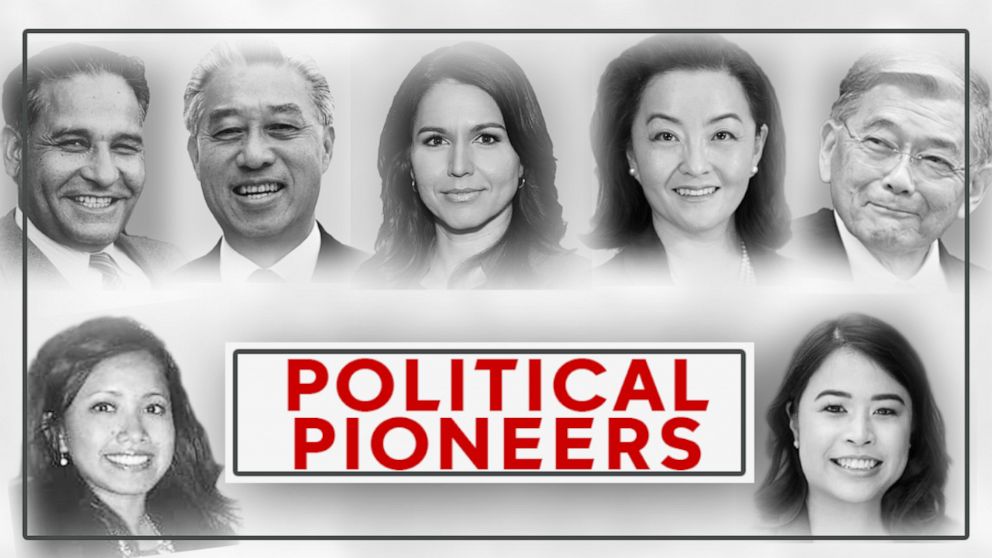 Nadia Syahmalina
Indonesian American Nadia Syahmalina began as a financial manager, but with a growing Muslim community in her county of Montgomery in Maryland, she ended up running in the state's primary in 2016 to become a delegate for Hillary Clinton at the Democratic National Convention. Although she lost by a small margin, she is the president of the Muslim Democratic Club of Montgomery County and helps represent the interests of Muslims in the county and state of Maryland.
Dalip Singh Saund
Indian American Dalip Singh Saund was the first Asian, Indian American and Sikh to be elected as a United States representative in 1957. During his three terms in Congress, he advocated for small farmers, small businesses and civil rights legislation.
Hiram Fong
Chinese immigrant Hiram Fong, who was raised in Hawaii, was the first Asian American elected to the United States Senate in 1959 after Hawaii became the 50th state that same year. In December 2020, he was honored by Congress posthumously for his heroic work while serving in the United States Army Air Forces in World War II.
Tulsi Gabbard
Hawaii Rep. Tulsi Gabbard is the first American Samoan elected from a state and first Hindu member of Congress. According to her website, she was the first state official to voluntarily step down from public office to serve in a war zone when she deployed in 2004 while in the Hawaii Army National Guard.
Although Gabbard ended her presidential campaign in 2020, she remains the last person of color, veteran and millennial to seek a bid for the White House.
Yuri Kim
Yuri Kim was born in South Korea and immigrated with her family to Guam in 1976. Today, she serves as the United States ambassador to Albania, making her the first Korean American representing the U.S. as an ambassador. As a member of the Senior Foreign Service, her vast career experience varies from serving in the Department of State as the director of the Office of Southern European Affairs to a political counselor at the United States Embassy in Baghdad, Iraq and more.
Norman Mineta
Japanese American Norman Mineta went from enduring the conditions of a U.S. concentration camp to becoming one of the most influential Asian Americans in U.S. history with a 20-year career in the House. He is the longest serving secretary in the U.S. Department of Transportation, was a Cabinet member during both the Clinton and George W. Bush administrations, and President George W. Bush awarded him the Presidential Medal of Freedom in 2006.
Jocelyn Yow
In December 2020, Malaysian Vietnamese American Jocelyn Yow became became the youngest woman of color to serve as a California mayor at just 25 years old. Along with being the mayor of Eastvale, she's also the policy manager for the national nonprofit IGNITE, which seeks to help more women be elected into positions of power. She also is pursuing her master's degree in government at Harvard Extension School.
S.T.E.M. LEADERS
On Friday, May 14, "The View" highlighted two AAPI leaders in S.T.E.M. work. On Jan. 24, 1985, Ellison Onizuka became the first Asian American, Japanese American and Hawaiian in space after boarding the space shuttle Discovery. Following him in the history books, Kalpana Chawla inspired the next generation of Indian American females by being the first Indian American woman in space after boarding The Columbia in 1977. Although both tragically lost their lives on future space missions, former President George W. Bush awarded each of them Congressional Space Medals.
Learn more about remarkable leaders in S.T.E.M. from the AAPI community.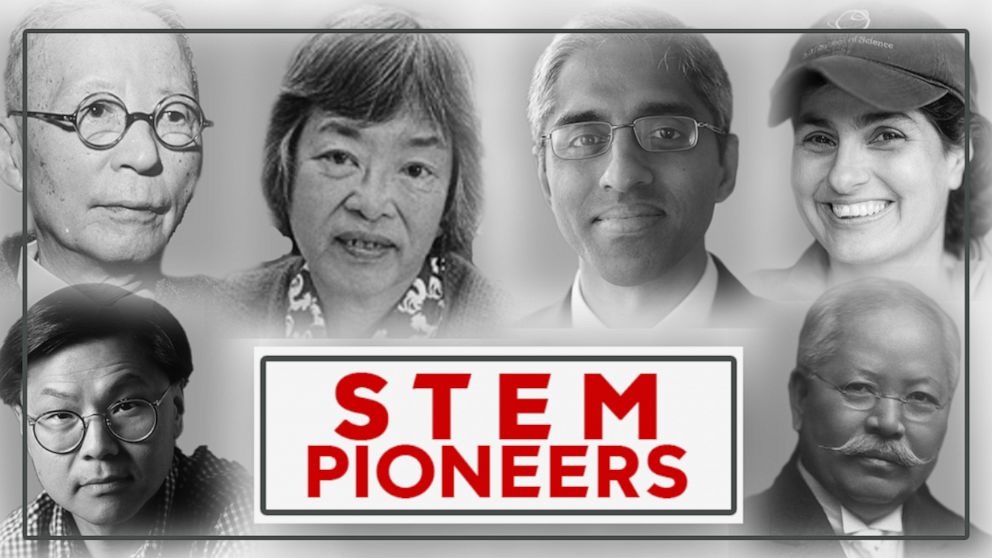 Vivek Murthy
Indian American Dr. Vivek H. Murthy has been appointed Surgeon General of the United States twice. He was first appointed in 2014 during the Obama administration, and was removed from his post by the Trump administration in 2017. Today, he serves as Surgeon General again under the Biden administration, tackling the coronavirus pandemic.
Nergis Mavalvala
Pakistani astrophysicist Nergis Mavalv received the MacArthur "genius" award in 2010. In 2017, she was elected to the National Academy of Sciences and became the first female Dean of MIT School of Sciences in 2020.
Isabella Aiona Abbott
Hawaiian native Isabella Aiona Abbott is best known as the world-renowned algae expert at Stanford, or "Izzie" to her friends, family, and colleagues. A woman of many talents, she wrote the book "Marine Algae of California," which researcher at Hopkins Marine Station Dave Epel describes as the "definitive description of marine algae along the Pacific coast," but she's also conquered the culinary world with her dishes made from kelp and other seaweeds.
Jokichi Takamine
Renowned Japanese chemist Jokichi Takamine's most notable achievement was isolating the chemical adrenalin, called epinephrine, in 1901, to which newspapers at the time called him the "Japanese Thomas Edison."
Philip Jaisohn
Dr. Philip Jaisohn was a medical doctor, researcher, journalist, leader in independence and became the first Korean to gain citizenship in the U.S. After leading a parade waving Korean and American flags down Philadelphia streets, he assembled the First Korean Congress. Later in life, he returned to medical practices working as a pathologist in several hospitals and was invited by the U.S. Military government in South Korea to be its Chief Advisor after World War II.
David Ho
Up until 2014, Taiwanese Dr. David Ho was the only person in medicine to be named TIME's person of the year in 1996 for his research and contributions in the fight against the AIDS virus. on Dec. 1, 2020, World AIDS Day, Hi received the National Leadership Recognition Award from the National AIDS Memorial.
ACTIVISTS
On Friday, May 7, "The View" began its series by honoring Japanese American civil rights activist Yuji Ichioka, who created "The Asian American Political Alliance" in May 1968 after earning his Master's Degree in Japanese History from U.C. Berkeley. He continued his work by being the instructor of the first Asian American studies class at UCLA and the founder of the school's Asian American studies center.
Learn about more noteworthy activists from the AAPI community.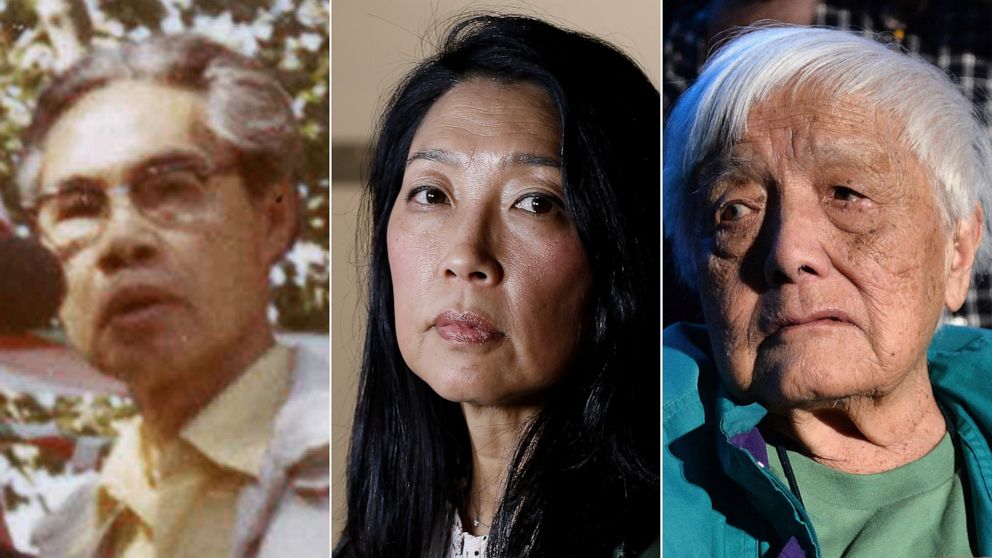 Cynthia Choi
Co-Director of Chinese for Affirmative Action (CAA) Cynthia Choi is the co-founder of the group Stop AAPI Hate. On Jan. 26, Choi told ABC News that Asian Americans have faced a "double whammy" amid the pandemic. In addition to the public health threat, the community has experienced an increase in hate crimes and a significant drop in business due to anti-Asian discrimination perpetuated by inflammatory language.
Prior to her work today, Choi worked on issues from gender violence, to immigrant/refugee rights, to environmental justice issues by leading local, state and national organizations.
Philip Vera Cruz
Filipino American Philip Vera Cruz was a farmer who worked long days picking grapes, lettuce and asparagus in a hot field, often in heat exceeding 100 degrees. He went on to lead the Delano Grape Strike in 1965, which grabbed international support and began the United Farm Workers Movement.
George Jarrett Helm, Jr.
An activist and a musician, Hawaiian native George Helm shaped ideas for the protection of Hawaiʻi's natural and cultural resources and advocated for Native Hawaiian rights while seeking to end the bombing and military control of the island Kahoʻolawe. At 27 years old, he went missing off the waters of Kahoolawe while attempting to make contact with two other activists, but he's often credited for resurfacing the Hawaiian Renaissance during Hawaii's social movements of the 1970s.
Pahoua Yang Hoffman
Pahoua Yang Hoffman's path to becoming the Senior Vice President of Community Impact at Saint Paul & Minnesota Foundation in May, 2020 is paved with years of working to help those in underserved communities. She helped open doors for students of color by exposing them to real-world experience through internships with the Minnesota Capitol Pathways program, which she co-founded.
Grace Lee Boggs
Human rights activist Grace Lee Boggs spent nearly seven decades of her 100 years on Earth planting lot gardens, protesting poor living conditions and marching against racism. Caring for both the young and old in her Detroit community, Boggs was a tenant organizer in the 1940s, founded groups to support the elderly and co-founded the youth program Detroit Summer that still draws volunteers from all over the country to repair homes, paint murals, and more.
Urvashi Vaid
Attorney, author, activist and executive director of the Arcus Foundation Urvashi Vaid has been advocating for civil rights in the LGBT community for over 25 years. The Advocate named Vaid 1991's Woman of the Year, Time magazine added her to its 1994 list of 50 key leaders under 40, and Out magazine included her in its 50 most influential men and women in America in 2009.
Every episode of ABC's award-winning talk show "The View" is now available as a podcast! Listen and subscribe for free on Apple Podcasts, Google Podcasts, TuneIn, Spotify, Stitcher or the ABC News app.