— -- It didn't take much to turn "View" moderator Whoopi Goldberg into her beloved "Sister Act" character, Sister Mary Clarence.
Goldberg placed a long black robe atop of her clothes, but it wasn't long enough to hide the bright blue cartoon socks she's known for wearing with TV's most quirky shoes. The transformation was made complete with a curly black wig.
"I surprised everybody because I kept refusing to put anything on, I wasn't getting dressed, I wasn't doing the nun thing," she told ABC News after a star-studded reunion with the original cast from "Sister Act," which aired on "The View" Thursday.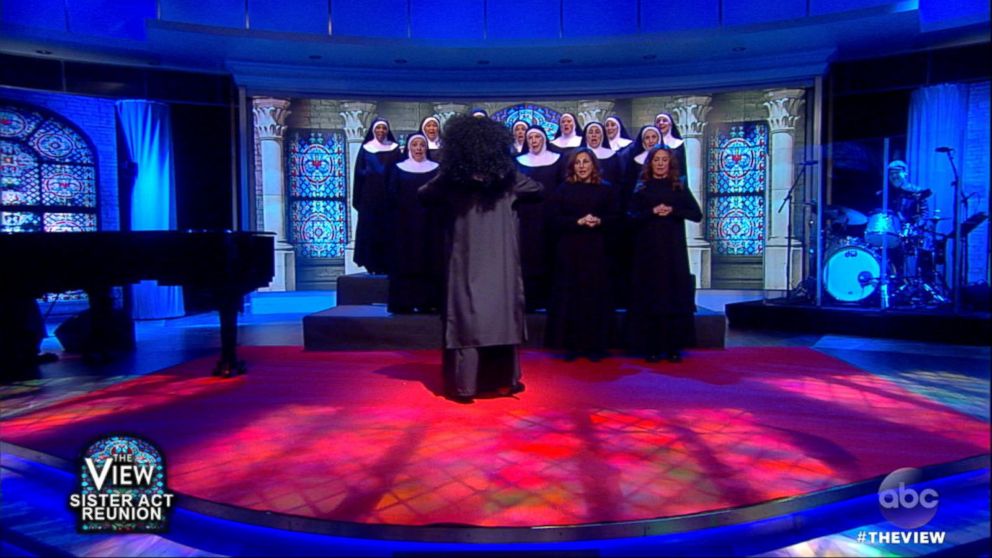 Along with Goldberg, Kathy Najimy, Wendy Makkena and Harvey Keitel appeared on the daytime talk show in honor of the film's 25th anniversary. Even Maggie Smith, who played Mother Superior, sent in a heartfelt message to Goldberg, expressing how she wished she could be there.
"I heard a gasp when I came out," Goldberg continued, "and I thought, 'Oh got ya!' It was wonderful."
The reunion and performance were in honor of the 1992 film that stars Goldberg as Sister Mary Clarence, who was placed in protective custody inside a rundown San Francisco convent to avoid her gangster boyfriend's goons after she witnessed a killing. There, she became the director of the church's choir, taking the nuns from meek singers to a chorus so beautiful they sang for the Pope.
The original nuns from "Sister Act," which included "Orange Is the New Black" star Beth Fowler, performed the film's pinnacle song, "I Will Follow Him," Thursday.
The song is actually a remake of Peggy March's 1963 hit "I Will Follow Him," but composer Marc Shaiman, who also appeared on "The View" Thursday, turned it into a song suitable for the Holy Father.
Shaiman, 57, told ABC News that the magic of taking 1960s hits and putting religious effects on them started happening after he was given a hymnal early in the production.
"I went through it and one that stuck out to me said, 'Oh, Maria,'" he said, singing. "It seemed like something The Ronettes would say to each other on a stoop. And it just started flowing. And 'My Guy' became 'My God' just as a sort of stupid joke that I made and it stuck."
"People use it now," Goldberg said, referring to the remix, "in churches around the world."
Fans want even more. So would Goldberg be on board for a "Sister Act 3?"
"Well yeah, I would," she replied. "It would take a script and Marc Shaiman."
Shaiman added, "I'd do it in a New York minute."