Winnie-the-Pooh, one of the most iconic children's characters of all time, is celebrating his 90th birthday and sharing it with Her Majesty Queen Elizabeth II, who also turned 90 this year.
Everyone's favorite hungry bear makes his first trip to London in a new book titled "Winnie-the-Pooh and the Royal Birthday."
It's the first time the beloved clumsy bear has met the U.K.'s beloved queen, and the queen's great-grandson, Prince George, makes a cameo appearance in the book as well.
The new book, which was released Wednesday, sees Pooh Bear trying to deliver a birthday gift to the monarch. He has a chance encounter with Queen Elizabeth outside Buckingham Palace with the queen's sporting what else but her trusty handbag and trademark white gloves.
The queen is described in the book as "just as Queenly and smiley and wonderful as they had expected her to be."
Prince George runs into Pooh and his pals while wearing a pair of blue shorts and a blue cardigan.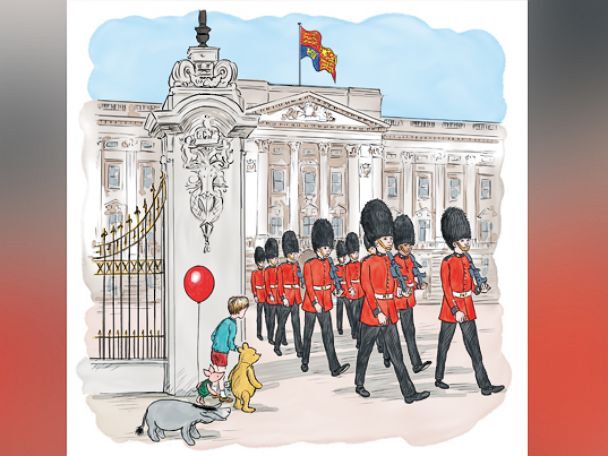 He's described in the book as "much younger than Christopher Robin and just as bouncy as Tigger," a reference to two other classic Winnie-the-Pooh characters. George, the future King of England, gets a red balloon in the book from Piglet and tickles Pooh's ears.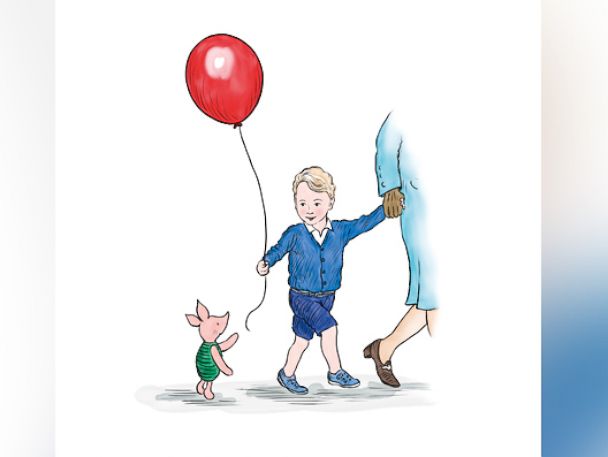 Winnie-the-Pooh, Christopher Robin, Eeyore and Piglet also explore the landmarks of London in a double-decker bus, see the changing of the guard at Buckingham Palace, ride the Tube (subway) and even visit the giant lions at Trafalgar Square
Pooh and his friends also find themselves at Harrods, "which Pooh found strangely familiar but he told himself he was being silly as this was surely his first visit to London."
A.A. Milne's Winnie-the-Pooh stories were based on a bear the author bought for his son, Christopher, at Harrods.
Disney, which owns the rights to Winnie-the-Pooh, has released an electronic book and companion electronic audio and video version narrated by Oscar-winning actor Jim Broadbent. "Winnie-the-Pooh and the Royal Birthday" was penned by Jane Riordan and illustrated by Mark Burgess, who also illustrated the 2009 authorized book "Return to the Hundred Acre Wood (Winnie-the-Pooh)."
As a child, then-Princess Elizabeth loved the tales of Winnie-the-Pooh, Tigger, Eeyore and Christopher Robin. The book and poems were dedicated to her when they were first published in 1926, the year of her birth.
The queen was also gifted a Christopher Robin china nursery set with hand-colored pictures of Christopher Robin, Pooh and friends as a child.
"Winnie-the-Pooh and the Royal Birthday" moved forward after its authors and Disney contacted Buckingham Palace. The queen said she was happy for the project to proceed, though neither she nor Buckingham Palace ever officially endorse such projects.
Disney is the parent company of ABC News.