When the Angulo brothers talk about their world travels, they describe them in the best way they know how -- comparing cities like Rome and London to scenes from their favorite movies.
"We've traveled all over the U.K. to ten different cities," Mukunda Angulo, now 21, said. "A lot of the spots in London reminded us of films such as 'Oh Lucky Man,' 'Harry Potter,' or even some of the 'Batman' films that were shot."
"Switzerland, it reminded me of 'Taken,' the film Liam Neeson stars in," he added.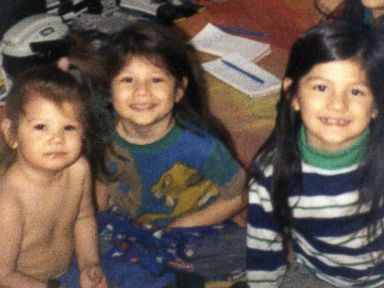 A lot has changed for the brothers since they first left the New York City apartment where they had spent their entire childhoods behind locked doors.
For more than a decade, Mukunda, Govinda, his twin Narayana, who are both 23, Bhagavan, 24, Krisna, 19, (who now goes by Glenn) and Jagadesh, 17, (who now goes by Eddie) shared an apartment with their older and only sister Visnu and their parents, Oscar and Susanne, in a housing project located in Manhattan's Lower East Side.
Until six years ago, the six brothers were rarely let outside.
Their unusual upbringing became the subject of the documentary, "The Wolfpack," which focused on the six brothers, then ages 11 to 18. In the film, their father Oscar explained his fear of the outside world and paranoia of other people.
Watching movies was the one privilege that their father allowed, the brothers said. It not only became an escape for them, but the brothers said it's how they learned about the world beyond the family apartment.
The documentary, which won the Grand Jury prize at the 2015 Sundance Film Festival and is nominated for Best Documentary at the upcoming MTV Movie Awards, showed how the brothers would copy down and memorize entire movie scripts, then act out scenes in elaborate homemade costumes.
Since ABC News' "20/20" first aired their story and the documentary premiered last June, the brothers said they've had to deal with their own fame and say they often get recognized on the street.
"Everybody's reaction has been super-positive," Mukunda continued. "If they've had a hurtful past or childhood, they've said the film has helped them heal and grow forgiveness in their hearts to keep moving forward. So, that's been a positive influence."
They've met celebrities from actor Mark Ruffalo to directors David O. Russell and Spike Lee along the way -- "20/20" introduced them to Robert De Niro, one of their idols. Govinda, Mukunda, Narayana and Eddie have been traveling the world for premieres of "The Wolfpack" documentary.
"We just traveled around Rome and so many memories were popping up from our childhood," Giovinda said. "We were remembering being fans of neo-realism cinema from Italy when they were hiring non-professional actors there, so we were nerding out and one of the most amazing things we've experienced is going to the Vatican. It's almost a whole other world."
Back then, crisscrossing the globe seemed like a fantasy for them, but since "The Wolfpack" premiered, their lives have changed drastically.
"It's been really fun," Govinda said. "This movie has opened up a lot of doors for us and it's given us so many opportunities and we're really just so proud of how far this has come."
Govinda is now a camera operator and freelance cinematographer, and Narayana works at the nonprofit New York Public Interest Research Group. Bhagavan is a yoga instructor and attends the Hip-Hop Dance Conservatory. Mukunda is a freelance production assistant, while Glenn and Eddie are aspiring musicians who love 80's music and culture.
"The main thing I've been up to is I now have a band named Autowreck and we play rock and roll," Eddie said.
Two of the brothers moved out of that apartment and now live in Brooklyn -- their other siblings still live with their parents. Their mother Susanne remains married to Oscar, but she has changed her last name back to her maiden name.
"She's doing really well," Govinda said.
One of their signature traits was the brothers all had long hair down to their waists because they said their father believed it gave them power. Cutting their hair, they said, is considered a big deal and some of them have cut it, but Narayana just had his cut recently.
"He cut his hair with a 'Serpico' look and he is now living in Brooklyn," Mukunda said.
"He felt that it was time," Govinda added. "Because as you move out of the house and you start pursuing other things."
Since first leaving the apartment, the brothers have experienced many firsts. In May 2015, ABC News' "20/20" brought their mother Susanne and the seven children to Three Oaks, Michigan, for a family reunion, where the Angulo kids met their grandmother and other relatives for the first time. Mukunda said they have gone back to visit and their mother continues to be in touch with them.
"We visited our grandmother's house in Michigan two times, one for Christmas and one for her 90th birthday," he said. "Those two times, I've been parking everybody's cars, which feels pretty amazing. It's tricky at first, but I'm learning to drive a car."
Mukunda also gave a TedxTeen speech this past January, entitled "How My Imagination Set Me Free."
"It was the first time that I ever told my story alone. And, I talk about the power of imagination, and how it was a freedom in my life to go anywhere, be anything and do anything that I wanted in my head," he said. "It was like a release for me to go up on stage and talk in front of these people and everybody was so touched by it. It felt great coming off the stage feeling like I got my message out to people."
But besides these new experiences, the brothers are also tackling another new territory: Girls.
"There's been a couple of romances in our lives," Govinda said. "We're not going to get specific with it. Eventually when you meet people, you find someone and you just connect with them and the same goes for friendship."