World Wrestling Entertainment (WWE), the powerhouse in professional wrestling, brought its brand of scripted combat to Saudi Arabia on Friday -- but despite the glitzy production it wasn't without controversy.
The event was held at King Abdullah Sports City Stadium in Jeddah, Saudi Arabia, and sold out the 60,000-plus seat venue, according to the WWE. The WWE was making its second visit to Saudi Arabia, but it was the first televised event from the kingdom. The heavily promoted show was live on the WWE Network at noon Eastern time.
The promotion made its first visit to Saudi Arabia in a less-heralded event in 2014.
The card, billed as the "Greatest Royal Rumble," featured nine matches, including a 50-person royal rumble -- a contest in which a new wrestler enters every 90 seconds with eliminations taking place by throwing an opponent over the top rope to the floor until one man remains. The event was, in many ways, a sequel to the company's annual Wrestlemania extravaganza -- held just three weeks ago in New Orleans.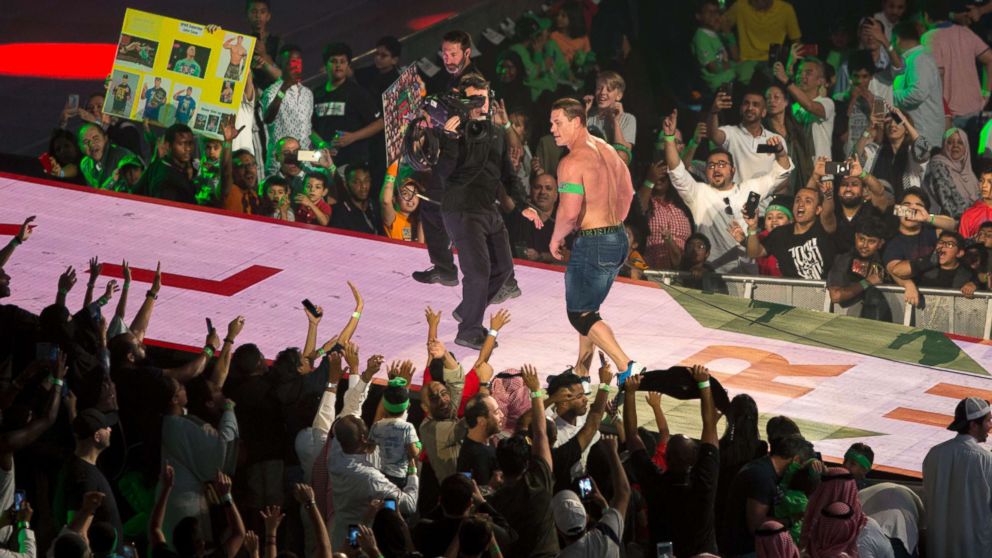 The event was sponsored by -- and entirely funded by -- the Saudi General Sports Authority, according to multiple reports. WWE has not answered questions about how much it was paid to throw the event, the first in a long-term deal with the country, but as a public company details will be available on its second quarter report.
The event was part of Crown Prince Mohammad bin Salman's current campaign to modernize Saudi Arabia. Bin Salman made a visit to the United States earlier this month in which he cut various deals in Hollywood. He announced a deal with AMC Theaters, which will include the building of 100 movie theaters by 2030, according to Los Angeles ABC station KABC. The country also announced Cirque du Soleil and Feld Entertainment, which produces Disney on Ice and Monster Jam, will bring its shows to Saudi Arabia.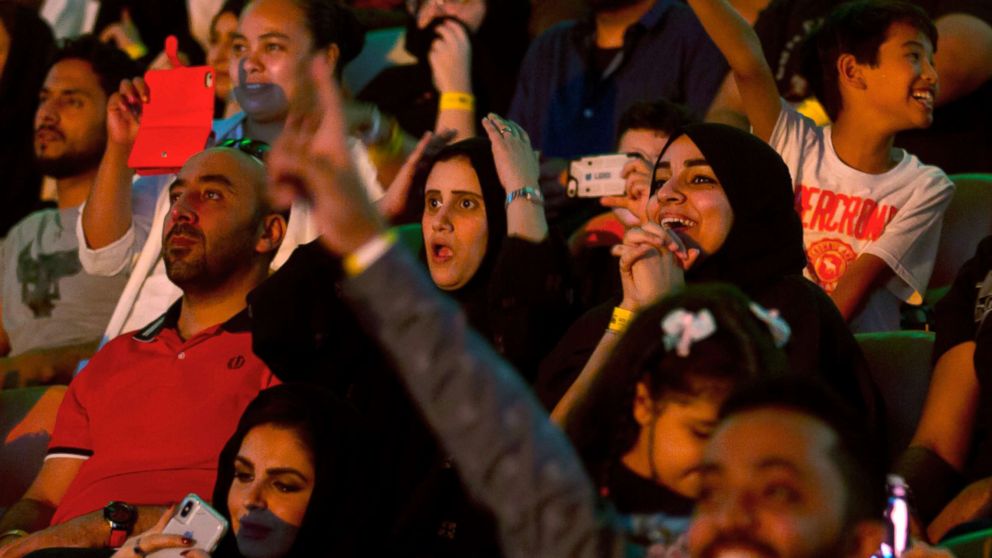 Unlike 2014, women were allowed to attend the "Greatest Royal Rumble" event -- but WWE's women wrestlers were left at home.
The move generated anger from WWE fans, especially since the company has repeatedly pushed its self-titled "women's revolution."
Stars like Charlotte Flair, Sasha Banks, and the newly signed Ronda Rousey, were left to watch from the states.
"You can't dictate to a country or a religion about how they handle things, but having said that, WWE is at the forefront of a women's evolution in the world and what you can't do is affect change anywhere by staying away from it," Paul Levesque, WWE's executive vice president of Talent, Live Events and Creative, told U.K. newspaper The Independent in an exclusive interview this week. "While, right now, women are not competing in the event, we have had discussions about that and we believe and hope that, in the next few years they will be. That is a significant cultural shift in Saudi Arabia."
Many of the women employed by WWE tweeted they were watching from home. Banks, real name Mercedes Kaestner-Varnado, tweeted "one day" while watching the event, and Natalya, real name Natalie Neidhart, and Becky Lynch, real name Rebecca Quin, both tweeted they were watching while working out.
In addition to the women being left at home, men's star Sami Zayn did not make the trip. Zayn, whose real name is Rami Sebei, was written out of the show in a storyline injury on "Monday Night RAW" last week. Zayn was born in Montreal, Quebec, to Syrian immigrants and has been outspoken in his support of Syrians injured in the country's ongoing civil war. Saudi Arabia has provided weapons to Syrian rebels in the country and bin Salman supported U.S. troops staying in Syria in an interview with TIME magazine last month.
Zayn started a campaign called "Sami for Syria" in 2017 and has raised over $96,000 for the Syrian American Medical Society (SAMS) Foundation, which provides a mobile medical clinic for Syrians. Zayn speaks fluent Arabic and has been used by the WWE in the past to promote events in the Middle East.
Of Zayn staying at home, the WWE told the Wrestling Observer in a statement Friday, "WWE is committed to embracing individuals from all backgrounds while respecting local customs and cultural differences around the world."
The five-hour event was capped by a celebration in the ring from Braun Strowman, the 6-foot-8, 385-pound winner of the 50-man royal rumble.