Graco Children's Products is recalling 1.5 million strollers after receiving reports of fingertip amputations and lacerations caused by the stroller's hinge.
The voluntary recall, which was announced today by the Atlanta-based company and the Consumer Product Safety Commission, comes just months after British stroller manufacturer Maclaran recalled 1 million strollers because of similar dangers.
The hinge on the canopy of the Graco strollers in question poses a risk for injury to a child's finger when the stroller is being opened and closed, resulting in five reports of amputations.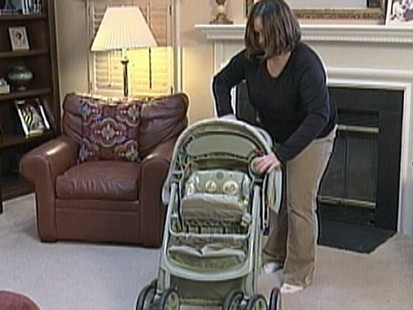 The models involved in the recall were sold between October 2004 and December 2009 and include Graco's Passage, Alano and Spree strollers and travel systems with a specific plastic, jointed hinge mechanism.
Graco manufactured two different hinges for these stroller models, so consumers should check their strollers. See photo below for the two different hinges -- the top stroller has the affected jointed hinge mechanism. The bottom hinge on the pink stroller is not affected:
Consumers should stop using the recalled strollers immediately and contact Graco to receive a free protective cover repair kit.
Graco Models Affected by Recall:
6303MYC, 6303MYC3
7240DNB, 7240DNB2, 7240MKL2, 7240MKL3
7F02GLM3
6320IVY, 6320LAU
7241DDH2, 7241DHO3
7F04TAY3
6330CAP, 6330THR, 6330THR3
7255CLP, 7255CLP2, 7255CRA2, 7255CRA3, 7255CSA3, 7255GPK3, 7255GRN, 7255GRN2, 7255JJB3, 7255ORC2, 7255WLO2, 7255WLO3
7F07EMA3, 6F00QIN3, 6F00RRY3
7256CLO2, 7256SPM2, 7256SPM3
7F08DSW3, 7F08LAN3
6F03GLN3
7260BAN, 7260BAN2, 7260BAN3, 7260MRA2, 7260MRA3, 7260PKR, 7260PKR2
7G00DLS3, 7G00DLS4
6G10CSE3
7270BIA, 7270BIA2
7G01CRL3
7235GGA, 7235GGA2
7E01JON2, 7E01JON3
7G04KRA3
7236CDR2
7F00LPE3, 7F00RSH3
7G05GPR3, 7G06WSR3
7237HOL2, 7237HOL3
7F01FOR3
7G07ABB3, 7G07BAT3

For more information about this recall, contact Graco at (800) 345-4109 between 8 a.m. and 5 p.m. ET Monday through Friday, or visit Graco's Web site at www.gracobaby.com.
Government Looks at Other Strollers After Maclaren Recall
The million-stroller recall by British manufacturer Maclaren in November prompted the Consumer Product Safety Commission to take another look at all "umbrella" strollers that use similar hinges.
Maclaren's recall included every umbrella stroller the company sold over the previous decade. The company said its strollers meet all federal safety standards and issued the recall because of a commitment to safety.
"This is an industrywide problem. And we've taken the leadership on this because we designed this 40 years ago ... We had a number of cases of people having their fingers caught in the elbow hinge, and they brought it to our attention," Bahman Kia, Maclaren's CEO, told "Good Morning America" in November.
On its Web site, Maclaren also offered free hinge covers and posted a safety video on YouTube. But according to the Consumer Product Safety Commission, additional steps may need to be taken outside the company's action.
Maclaren said the safety of umbrella stroller hinges is an issue common to all folding strollers.
In its safety video, Maclaren urges parents to make sure their children are not too close by when folding their umbrella strollers. In a rather challenging demonstration, the video shows how the stroller controls are meant to be operated with the feet only.
"The stroller, like other devices designed to open and close, contains certain pinch points," the video says. "Never use your hands to engage these mechanisms."
The hinge mechanism is located on the side of the strollers, and of the 15 incidents reported, all occurred when parents were opening or closing the folding strollers. In 12 of those cases, children's fingertips were actually cut off by the force of the stroller hinge opening or closing.
The recall included all Maclaren single and double umbrella strollers, and the word "Maclaren" is printed on the stroller. The models involved include Volo, Triumph, Quest Sport, Quest Mod, Techno XT, TechnoXLR, Twin Triumph, Twin Techno and Easy Traveler.
Stroller Recall Resources

Graco Web Site: www.gracobaby.com

Graco Recall Hotline: (800) 345-4109

Maclaren Web Site: http://www.maclaren.us/recall/

Maclaren Recall Hotline: (877) 688-2326


CPSC Recall Hotline: (800) 638-2772

CLICK HERE for much more consumer news from Elisabeth Leamy.