The U.S. Consumer Product Safety Commission estimates that about 37,000 kids and adults go to the emergency room every year because of some sort of lawnmower accident.
This morning we want to focus on one of the worst hazards: riding lawnmowers that keep cutting while going in reverse, when the driver can't see people -- especially children -- behind the machine.
Asthon Loyd was one parent who received one of the phone calls no parent ever wants to answer.
"Ashton, there's been a terrible accident. Your dad backed over Preston with the lawnmower."
Darren Malone's son Shane fell victim to a similar accident.
"I thought I was the strongest man in the world and could handle anything," Darren Malone said. "But I crumbled like a dry leaf that day."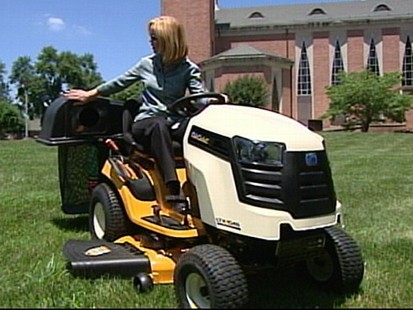 Two families forever changed, all in the lightning speed turn of a lawnmower blade. Four-year-old Preston Loyd was playing when his grandfather accidentally backed over him with a lawnmower, while riding backwards.
"I just try not to ever go to why," Preston's father said.
It was touch and go for 32 days and several surgeries, but Preston survived.
Eight-year-old Shane Malone didn't.
"You couldn't ask for a better child," the boy's father said.
Darren Malone said Shane knew to stay away from lawnmowers but believes he must have been chasing a frog or lizard the day he ended up behind the mower.
"I put it in reverse, and I heard the noise. When I pulled the mower off the top of him, I wasn't prepared for what I seen," Shane's father said.
Darren Malone now has one mission that keeps him going.
"They're going to come up with some kind of sensor to shut that motor off if it senses anything there," he said. "Because my son could be alive today if it was for that."
All riding lawnmowers manufactured after September 2004 have a "no mow in reverse" safety feature that prohibits the blades from cutting while the mower is in reverse.
But millions of older mowers don't have that safety feature. And even the setting on the newer mowers can be disabled.
Ryan Conner of Kensington Lawn and Garden, Maryland, showed me just a few simple overrides that turn the lifesaving feature off.
At least one manufacturer does offer an alternative: a key that can be removed that makes it impossible to mow in reverse.
A lawnmower is very powerful. In a demonstration for "Good Morning America," the machine shredded whatever we put in front of it with blades that turn as fast as 220 miles an hour. Now, imagine mowing backwards.
Part of the danger is that when you're on one of these machines, there are blind spots, especially if you have a grass catcher installed.
"If you're mowing in reverse, it's not your natural sight line," said Kris Kiser, executive vice president of the Outdoor Power Equipment Institute which represents mower manufacturers. He said mowing in reverse is one of the greatest dangers, but consumers demand the option.
"Better to have a safety device installed on the machine allowing it to happen as opposed to having a consumer disable the machine or alter the machine in a way that they can do it without a bypass," he said.
But some argue that with today's mowers, there is no need to mow backwards, because they can turn on a dime.
As for Preston, a year after his accident, he faces more surgeries, but he's as full of energy as any 5-year-old.
"He is just the most determined little guy," his father said.
And his dad is determined too, determined to eliminate the reverse option on lawnmowers.
Riding mowers aren't the only potentially dangerous lawnmowers. Walk-behind mowers can be hazardous too if misused. They, too, have some built-in safety features no one should try to override.
One feature automatically shuts off the blades when you release your hands from the controls.
Another danger: Some lawnmowers have rear mower decks and discharge chutes that are designed to keep feet away from the blades.
Basic Rules for Lawnmower Safety
Regardless of the mower, there are steps you can take to make sure you and your children stay safe.
Don't mow when children are around. Make sure they're safely indoors and being supervised.
Never let children help mow or ride as passengers on riding mowers, because that sends the wrong message.
Clear the area of objects, such as rocks, wire and toys that could be thrown up by the blade.
Make sure you wear sturdy shoes to mow, not flip-flops or sandals.
Web Extra: More Tips to Protect Your Kids
The following tips were provided by the Consumer Product Safety Commission. CLICK HERE to visit the commission's website.
Be sure the area is clear of bystanders before operating. Stop the machine if anyone enters the area.

Avoid discharging material against a wall or obstruction. Material may ricochet back toward the operator.

Stop the blades when crossing gravel surfaces.

Never leave a running machine unattended.

Slow down before turning.

Do not operate the machine under the influence o alcohol or drugs.

For more tips on lawnmower safety, click to visit these resources:
U.S. Consumer Product Safety Commission: Riding Lawnmowers

American Academy of Pediatrics: Lawn Mower Safety

Consumer Affairs: Lawn Mower Injuries Increase Nationwide