You may think you know Alex Trebek, but according to the "Jeopardy!" host who's out with a debut memoir today, there's so much more to him than what you see on TV.
"I curse more than I think I do," he joked. "It's a falling, but hey, I allow myself certain things."
In part two of his exclusive interview with "Good Morning America's" T.J. Holmes, the 79-year-old game show host talked more about his memoir, which he touches on topics about his family, his time on "Jeopardy!" and also his hair.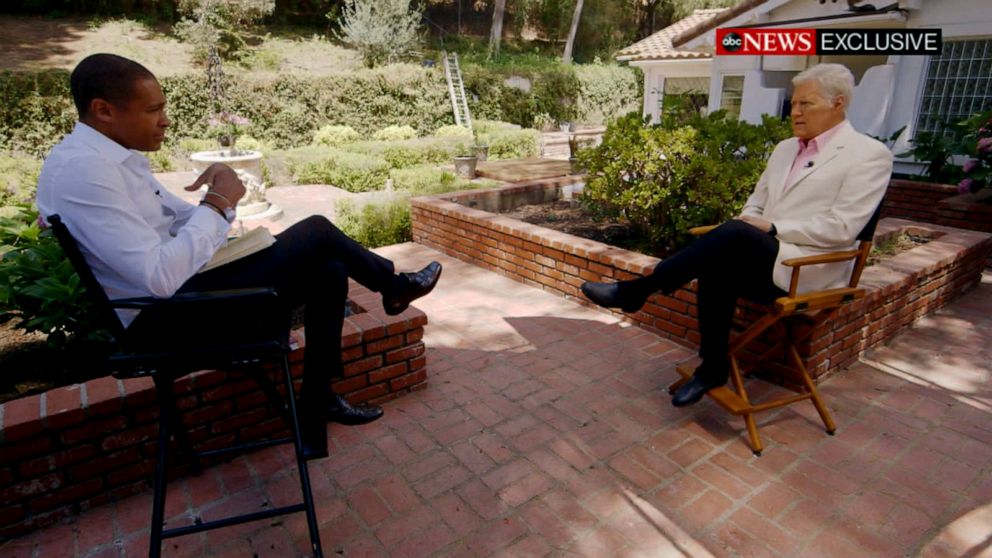 "This is not me. And as long as I'm on chemotherapy, this will always be here when I'm in public," said Trebek. "And that's fine. If I were no longer hosting the program I would not be wearing the hair piece."
All jokes aside, the 79-year-old host said he's had a lot of time on his hands during quarantine, and has spent most of it writing his memoir titled, "The Answer is…: Reflections on My Life."
He's also spent a lot of time in quarantine following headlines about the pandemic, which he's reflected about and says many younger folks have a "cavalier attitude" about the current situation.
"We've lost over 130,000 people, and the young people just, 'Hey, if you don't wanna catch it, don't go out, you know,'" he said. "What kind of attitude is that? There -- there isn't enough caring out there, as far as I'm concerned."
WATCH: Our favorite Alex Trebek moments from 'Jeopardy!'
"If Andy yearns for Brenda & Brenda cares about Charlene who pines for Andy, the 3 of them form one of these"
While writing his memoir has kept him busy, Trebek is mostly looking forward to getting back to filming "Jeopardy!," which begins production again in a few weeks.
And due to the pandemic and Trebek's condition, the show will look a little different when it airs on television.
"We've redesigned our set to separate the contestants and myself a little bit more from them," he said. "So we are taking all kinds of precautions. Our testing procedure now is done online."
Trebek also shared that production will consist of filming five shows a day and will tape for two days a week.
"We'll do three and take a short break, and then do the last two. And we'll see how that goes. And if it's too much for me, we can always cut back a little bit, maybe do four a day," he said.
But despite the changes in production, Trebek is excited about returning to the show, which he's helmed for 36 years, and has no intentions of stopping.
"It's the best kind of reality television I feel. And people watch it, and if they come up with one or two correct responses in that half hour, they feel pretty good about themselves," he said. "And that's great."
But, if he was ever faced with having to choose a replacement on the show, Trebek already has someone in mind.
"I joke with the audience all the time and I say, 'Betty White,' because they want somebody younger, somebody funnier," he said. "Betty and I have been friends for a long, long time."
In addition to his family and friends like Betty, Trebek has leaned on the constant support of his fans during these times.
"They are the most important elements in my life outside of my family and friends," he said. "Because they have expressed their feelings about me in so many positive ways that I can't help but be touched by what they have to say and by what I mean to them. It's humbling," he said. "It's nice to be humbled."