Gabby Windey and Rachel Recchia, who first appeared on Clayton Echard's season of "The Bachelor," began their journey as the first Bachelorettes to co-star in a full season on Monday by meeting their 32 potential suitors.
When viewers last saw them, Gabby, a 31-year-old ICU nurse from Denver and Rachel, a 26-year-old a flight instructor from Clermont, Florida, were devastated after Clayton simultaneously broke up with both of them, following his admission that his heart belonged to Susie Evans. On Monday, however, Gabby and Rachel were ready to move on -- even if that meant breaking all the rules on night one.
Both the ladies and their suitors -- including a set of twins, a magician and a meatball enthusiast -- tried their best to figure out the logistics of dealing with so many men and two Bachelorettes, which proved to be a daunting task. There simply wasn't enough time for the women to talk to every guy in the allotted time.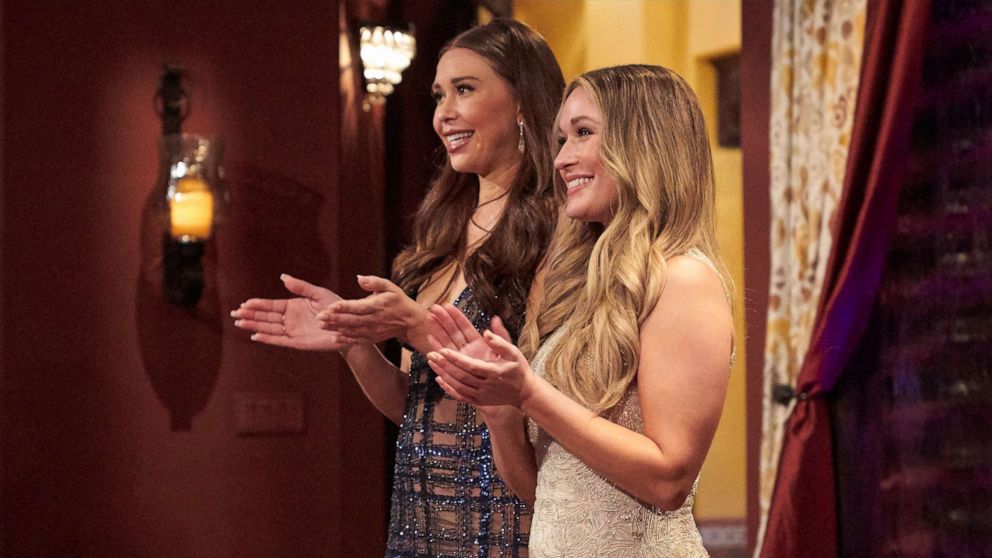 Two men -- Tino, a 28-year-old general contractor from Playa Del Rey, California, and Mario, a 31-year-old personal trainer from Naperville, Illinois -- were lucky enough to snag Rachel and Gabby's respective first impression roses.
As for the others, the two Bachelorettes decided to bend the rules, first, by eliminating three of the men with whom they did get to speak, but didn't feel a connection. They were Roby, the 33-year-old magician from Los Angeles; and Justin and Joey, the twins from Brookfield, Connecticut.
The remaining men were informed that, in the interest of giving all them a fair shot, Gabby and Rachel had canceled the first rose ceremony, meaning all of them would be moving forward.
Here are the remaining men after the rose ceremony:
Alec, 27, a wedding photographer from Houston, TexasAven, 28, a sales executive from San Diego, CaliforniaBrandan, 23, a bartender from Carlsbad, CaliforniaChris, 30, a mentality coach from Redondo Beach, CaliforniaColin, 36, a sales director from Chicago, IllinoisErich, 29, a real estate analyst from Bedminster, New JerseyEthan, 27, an advertising executive from New York, New YorkHayden, 29, a leisure executive from Tampa, FloridaJacob, 27, a mortgage broker from Scottsdale, ArizonaJames, 25, a meatball enthusiast from Winnetka, IllinoisJason, 30, an investment banker from Santa Monica, CaliforniaJohn, 26, an English teacher from Nashville, TennesseeJohnny, 25, a realtor from Palm Beach Gardens, FloridaJordan H., 35, a software developer from Tampa, FloridaJordan V., 27, a drag racer from Alpharetta, GeorgiaJustin B., 32, a physical therapist from Solana Beach, CaliforniaKirk, 29, a college football coach from Lubbock, TexasLogan, 26, a videographer from San Diego, CaliforniaMario, 31, a personal trainer from Naperville, IllinoisMatt, 25, a shipping executive from San Diego, CaliforniaMichael, 32, a pharmaceutical salesman from Long Beach, CaliforniaNate, 33, an electrical engineer from Chicago, IllinoisQuincey, 25, a life coach from Miami, FloridaRyan, 36, an investment director from Boston, MassachusettsSpencer, 27, a venture capitalist from Chicago, IllinoisTermayne, 28, a crypto guy from Naperville, IllinoisTino, 28, a general contractor from Playa Del Rey, CaliforniaTyler, 25, a small business owner from Wildwood, New JerseyZach, 25, a tech executive from Anaheim Hills, California
"The Bachelorette" returns Monday at 8 p.m. ET on ABC.