In huge news for "Star Wars" fans, the late Carrie Fisher will be featured in the new film, "Episode IX."
"Star Wars" made the announcement Friday by revealing the cast and writing, "The role of Leia Organa will once again be played by Carrie Fisher, using previously unreleased footage shot for 'Star Wars: The Force Awakens.'"
Fisher died in late 2016, after she had already filmed "Last Jedi," but before production began for "Episode IX."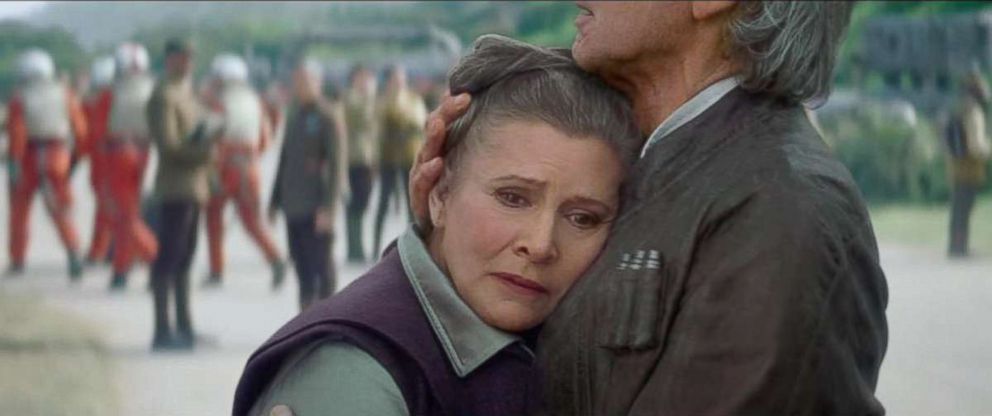 Director J.J. Abrams added in a quote about the surprising move, "We desperately loved Carrie Fisher. Finding a truly satisfying conclusion to the Skywalker saga without her eluded us. We were never going to recast, or use a CG character. With the support and blessing from her daughter, Billie, we have found a way to honor Carrie's legacy and role as Leia in Episode IX by using unseen footage we shot together in Episode VII."
Lucasfilm President Kathleen Kennedy had previously told ABC News that Fisher would not be in the conclusion to this most recent "Star Wars" trilogy.
Kennedy did say this while director Colin Trevorrow was still attached to "Episode IX" and before there was even a script. Abrams was hired to replace Trevorrow last September and having directed Fisher in "The Force Awakens," would of course be familiar with the unused footage and probably had lots of ideas for incorporating it. One thing Kennedy has ruled out entirely is the use of a Carrie Fisher "digital double," like the Leia character that was used in "Rogue One".
In addition to Fisher's surprising return, Daisy Ridley, Adam Driver, John Boyega, Oscar Isaac, Lupita Nyong'o, Domhnall Gleeson, Kelly Marie Tran, Joonas Suotamo, and Billie Lourd will also return for the latest epic about a "galaxy far, far away."
Also back are Mark Hamill and Billy Dee Williams. After the ending of "Last Jedi," there were questions about Hamill's return as Luke, as well! Keri Russell will also join the cast.
"Episode IX" is out December 2019 and begins production August 1.