Everybody has a favorite line from "Coming to America," John Amos said. From "Donations! Donations!" to "How come she always get the good ones?" to "Freeze, you diseased rhinoceros pizzle!"
But for Amos, the actor who portrayed Mr. McDowell in the iconic 1980s Cinderella-esque comedy starring Eddie Murphy as Prince Akeem, who was traveling to New York to find a bride, his favorite line is one he uttered himself: "I mean the boy has got his own money!
"Coming to America," which will celebrate its 30th anniversary next Tuesday, has become a movie staple. Just ask any cable network that always seems to have it playing. It centers on Prince Akeem, who travels with his (not so) trusty aide, Semmi, played by Arsenio Hall, to Queens to find a woman who loves him for himself -- not his crown. The only problem is that Prince Akeem and Semmi have to pretend that they're "ordinary African students."
When the film debuted June 26, 1988, it got terrible reviews. In fact, Duane Byrge wrote in his review for The Hollywood Reporter that the slap-knee comedy "flops into the blandest of sitcom formats."
But perhaps it's that very reason -- the fact that we all know Prince Akeem is going to get what he wants and marry the love of his life -- why the film still resonates today.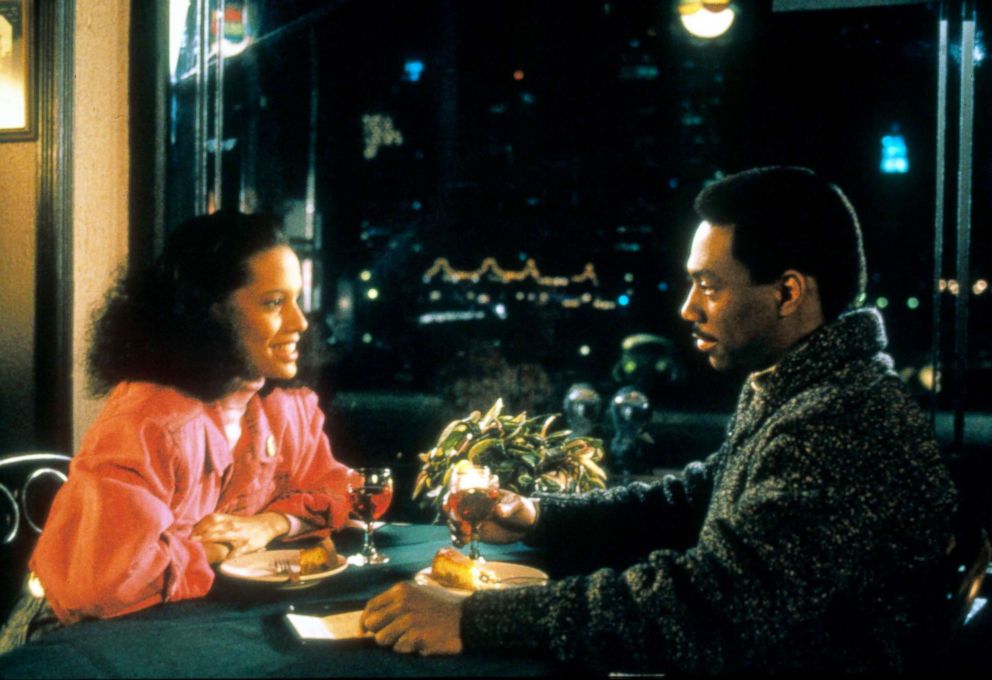 David Sheffield, one of the film's screenwriters, said Murphy, 57, came up with the concept, which he had scribbled out on eight to 10 pages of a yellow legal pad.
A year before the film was released, Murphy had signed a five-picture deal with Paramount, estimated in the millions, but the studio had yet to settle on a summer film. That is, until "Coming to America."
Sheffield, along with his longtime "Saturday Night Live" collaborator Barry Blaustein, wrote the script in five weeks.
"Labor Day weekend, we handed in the script," Blaustein, now a professor at Chapman University in Orange, California, told "Good Morning America." "The studio called us first thing Tuesday morning and said, 'We're shooting in January. It was a whirlwind experience that has not been duplicated."
We asked the film's screenwriters, actors and even an executive producer to break down the film's most iconic scenes and uncover for us its movie magic. You know, for old times' sake:
Meeting the beloved and spoiled Prince Akeem
https://giphy.com/gifs/america-FCjqNsgSZAlEc
It was "The Jamie Foxx Show" actress Garcelle Beauvais' first acting role at age 19. And despite the fact that she was "a little green," she told "GMA," she auditioned for the lead role of Lisa, which eventually went to actress Shari Headley. But director John Landis still wanted the former model to be in his film as a rose bearer.
Beauvais, now 51, said she didn't mind wearing the haltered crop top paired with a matching headwrap that Oscar-nominated costume designer Deborah Nadoolman Landis, Landis' wife, had picked out for her. "It all lent itself to the film ... and it was really a sign of the times," she recalled. "We really felt like we were from Africa. It was very regal. It made you hold yourself in a certain way."
The actress was in one of the first scenes where viewers meet Prince Akeem, on his birthday -- as he's awakened by violins, bathed and his teeth are brushed. And although we incorrectly forgot that Beauvais had a speaking part, the actress was quick to clarify with a laugh: "Don't take my 'Good morning, your highness' away from me!"
Dancers celebrate the wedding of Prince Akeem to his (not-so) future bride
Before Prince Akeem meets the woman his parents, King Jaffe Joffer and Queen Aeoleon, played by James Earl Jones and the late Madge Sinclair, want him to wed, Imani Izzi, he's treated to a dance from the royal court. The routine, which included about two dozen dancers dressed in ornate feathered headpieces and beading, was choreographed by Paula Abdul and filmed over two days.
"John Landis is a perfectionist, and Paula is a perfectionist," Beauvais, whose character stood next to Hall and Murphy during the performance, said. "It was so huge that it definitely took a long time to get."
Beauvais added that she's "never seen anything like it. It was a huge production. I will never forget that dance scene."
Oha sings at the royal wedding of Prince Akeem and his arranged bride
https://giphy.com/gifs/coming-to-america-an3XOq4MGH1zW
Blaustein, 63, admitted to "GMA" that when he and Sheffield wrote the song, "She's Your Queen to Be" the two "envisioned it sounding a little bit different -- more operative voice more traditional. We hadn't thought of the soulful version that Paul Bates did. But when Paul Bates came in an auditioned, [we said,] 'That's much better.'"
Prince Akeem and royal aide Semmi arrive in Queens
https://giphy.com/gifs/america-F3rRESBtCyC64
Although Prince Akeem's father thinks he's headed to Queens to "sow his royal oats," as the script read, what he was really in search of was his bride. Still, screenwriter Blaustein said he had a personal connection to where they filmed the exterior shots that would make it into the film.
"It was interesting when they came to America. The exterior of the apartment building where they were was a block away from my mother['s home]," the former "SNL" writer said. "She escaped from Germany. She lived in Williamsburg and it was one block away. It was one of those 'whoa' [moments]."
Executive producer Mark Lipsky, another of Murphy's managers, said he was on set during those "freezing" days when they shot the Queens scenes.
"I remember how cold it was," he told "GMA." "We had this big space heater giving us some heat. Eddie turned to me and said, 'Do you smell smoke?' My pants were smoldering. I had gotten too close to the space heater."
Prince Akeem visits the My-T Sharp Barbershop
https://giphy.com/gifs/eddie-murphy-coming-to-america-black-hollywood-JU8inzafg37Zm
Sheffield, 69, the other screenwriter, said it was Murphy's idea to portray multiple characters in a local barbershop. It was a bit that he and Blaustein had heard him do time and time again, Blaustein said, with his friend from high school, Clint Smith. The two would do a sketch called "Clinton and Edmond."
Blaustein added: "They were neighborhood barbers but they were also pimps and showbiz performers ... but they talked like these guys for hours, for hours." So when it was time to write the iconic barbershop scene, Blaustein and Sheffield said it was easy to reference.
Sheffield also pulled from personal experience when it came to writing such relatable black barbers despite never stepping foot inside of a barbershop.
"I grew up in Mississippi and I was the son of a public school teacher, so we were poor. At one point, my dad was working on his master's degree at the University of Mississippi, and we lived next door to a black orphanage."
https://giphy.com/gifs/laughing-eddie-murphy-coming-to-america-XH6MU5zmqIpAA
The writer, who's from a family of seven children, said he and his siblings used to play at the orphanage because "they had the better toys, so yeah, we hung out."
Lipsky, 75, also was on set during that time. He told "GMA" that in the barbershop some people mistakenly took Murphy, dressed up as Saul, the old Jewish customer, as his father. "The makeup was amazing," he added.
Prince Akeem and Semmi attend the Black Awareness Week Rally
https://giphy.com/gifs/80s-eddie-muhy-k6gDOGcuuMiJO
Sheffield said he and Blaustein envisioned the Black Awareness Week Rally, which featured a miniature sermon by Rev. Brown, another character portrayed by Hall, and, oddly enough, a pageant. Oh yeah, and did we mention the rally had a fundraiser too?
"We just thought it'd be a great place to meet Lisa, the woman that he ends up with," Sheffield explained. "That was the notion and we just wanted to give her an entrance, we wanted to see who she was, where she was from. She made a heartfelt speech, raising money for a park. She seemed like a wonderful person."
And although Murphy portrayed Randy Watson, the rally's featured performer, Blaustein said he had a person in mind when he was picturing Jackson Height's own. "I was a basketball fan and [the hairstylist] said, 'How big should the Jheri curl be?'" he recalled, noting that he showed them a picture of retired Los Angeles Clippers player Michael Cage. "He had a big messy Jheri curl."
Prince Akeem gets a job at McDowells
https://giphy.com/gifs/coming-to-america-filmedit-movieedit-vOcdcGV3tCwVO
"That was a Wendy's," Blaustein admitted of McDowells. "We bought it out for $50,000 so we could use it for a month. And so we had it converted into a McDonald's look-alike."
Blaustein added that it was relatively easy getting McDonald's permission to rip off their restaurant, including their Big Mac, which McDowells called the Big Mic.
"They only had one request," he recalled. "When the guy," Blaustein said, referencing now famed actor Samuel L. Jackson, "robs him and put the money into a bag, they asked to make it a plain white bag."
https://giphy.com/gifs/samuel-l-jackson-eddie-murphy-coming-to-america-UiiQwz80mwHD2
Lipsky remembers that the role of the "Hold-Up Man" was one of Jackson's first.
"John Landis had him do it over and over again. He didn't think Sammy was being threatening enough," he said.
Blaustein recalled that a real McDonald's was four blocks away from their set.
"When we started to put up the McDowell's sign, the [owner or manager] came over screaming, 'This is franchise infringement!' We had to talk the guy off the roof."
Prince Akeem returns to Zamunda to get married
https://giphy.com/gifs/filmeditor-wedding-royalty-3o6wrkRNgOs5fZpkWY
Amos told "Good Morning America" that it was the last scene he shot in the Paramount sound stage.
"It was unbelievable. I remember being on the Paramount studio lot with my wife, and we saw giraffe's walking around," Lipsky added, noting that the set designer was "just incredible."
Sheffield said he and Blaustein wrote the opulent world of Zamunda into the script and worked with Landis and the set designers and decorators to pull it off. "It's a fairy tale. We wanted to create the mythical national of Zamunda as a grand place," he added.
https://giphy.com/gifs/filmeditor-nah-eddie-murphy-3o6wrztLnEeJJPLplK
"We wanted to avoid any of the real life horrors of Africa at that time, and the systemic problems that continue today. We didn't want to deal with that," Sheffield added. "We wanted to show this storybook perfect world."
The film ends with Prince Akeem returning to his native Zamunda to marry -- much to his pleasant surprise -- the woman he found in Queens, Lisa.
And although the rumors that Landis and Murphy butted heads in the beginning of filming "Coming to America" were true, Lipsky told "GMA" the two "resolved that and the chemistry between them artistically was terrific, as you know."
"The movie ends with Eddie saying something like, 'We can still give all of this up,' and Lisa says, 'Nahhhh!' John said, 'Let's do another take.' Eddie said, 'No, I think we've got it,' and he was right."