It was a night full of improvements, a few perfect 10s and two sports-themed group dances, but week two of "Dancing with the Stars: Athletes" wasn't a slam dunk for two unlucky contestants.
After the judges' scores were tallied with America's live vote, NBA legend Kareem Abdul-Jabbar and Notre Dame basketball star Arike Ogunbowale were sent home, along with their respective partners, Lindsay Arnold and Gleb Savchenko.
Abdul-Jabbar and Arnold joined "Good Morning America" today to discuss their short-lived time in the ballroom and offer his prediction for who might take the whole competition.
"I was very glad that I was able to execute the dance, Lindsay did such a great job preparing me," he said. "I just was hoping my father, wherever he is, was looking down because he always enjoyed dancing and music, so I'm sure he participated wherever he was."
Arnold, who danced while perched atop another person's shoulders to match her 7'2" partner, said, "I thought it would only be fair to Kareem to finally have a dance partner his size and it was so much fun."
The retired NBA star revealed Olympic figure skaters Adam Rippon and Mirai Nagasu as his top two picks for the finals, "because they do it every day."
"They['ve] got a great presence on the dance floor and their execution of all the moves was impeccable and I think they're going to go on and push into the end," Abdul-Jabbar explained.
Former NFL running back and season 24 "Dancing" mirrorball champion Rashad Jennings told "GMA" that being back in the ballroom last night as a judge "was so much fun."
"I went back to my season as I'm watching all the contestants putting all this energy into a dance and a routine and I've been there before," Jennings said. "Now I can actually critique and give positive reinforcement to where they're at."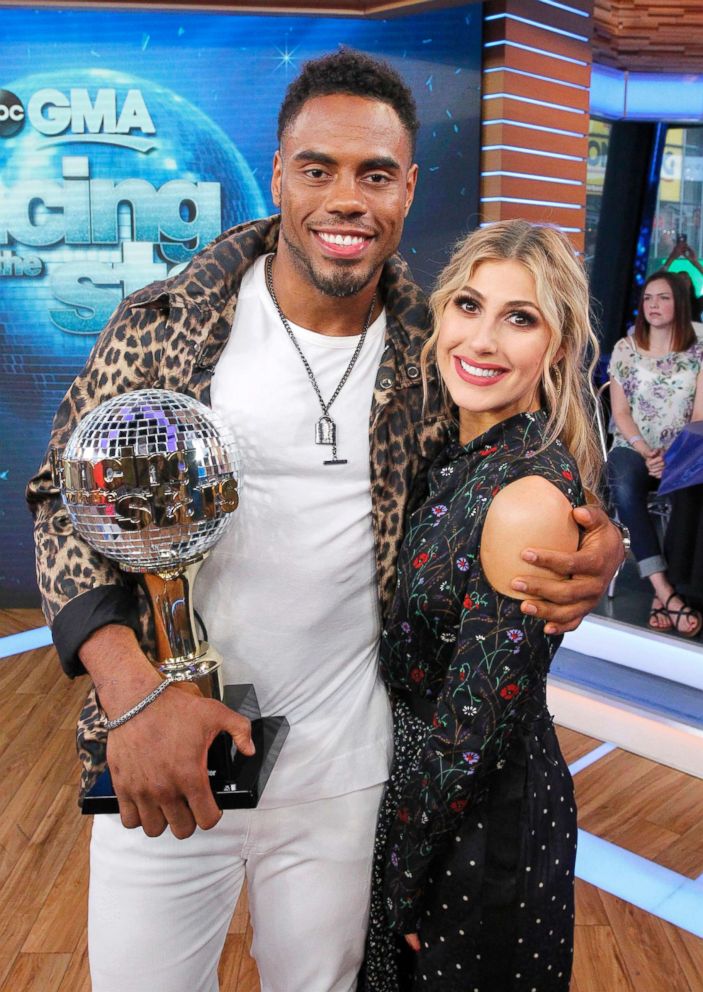 Jennings, a newly published first-time author of "The If in Life," said he thinks Olympic luger Chris Mazdzer, NFL cornerback Josh Norman or Olympic softball pitcher Jennie Finch will "slip into the final two or three."
And although Mazdzer and partner Witney Carson rounded out the bottom three on Monday night, the pair were declared safe.
On the plus side, the judges -- including guest judge and former "DWTS" champ Rashad Jennings -- all saw positive changes in the athletes from last week.
The night belonged to figure skaters and pals Adam Rippon and Mirai Nagasu, who tied for the best scores of the night with 37 out of 40.
Here's a recap of the night's dances and scores:
NFL player Josh Norman and Sharna Burgess did a fiery paso doble. The judges were wowed by Josh's passion. Judge Bruno Tonioli even made a Black Panther reference, saying Josh's performance was like "Erik Killmonger going for total domination!"Score: 30/40
Softball star Jennie Finch Daigle and partner Keo Motsepe performed a sassy cha-cha. Jennie was criticized for her lack of rhythm and timing, but judge Carrie Ann Inaba commended her for looking confident and doing what felt right to her.Score: 26/40
Kareem and Lindsay tackled their massive height difference in a very creative way to kick off their salsa. Lindsay started the dance on another dancer's shoulders, putting her at Kareem's eye level. Bruno called the trick "so clever" and "imaginative." Score: 26/40
Chris and Witney graced the stage with Viennese waltz. Chris was determined to be more focused than he was last week and he impressed the judges with his footwork and fluidity. Bruno dubbed him "the waltzing heartthrob," while judge Len Goodman said he's got "sway." They got the first 9 of the season, from Carrie Ann.Score: 33/40
Olympic figure skater Tonya Harding and Sasha Farber did a fun, woodland-themed quickstep to "Redneck Woman," where Tonya got to embrace her true country-girl self. The lively number even included a dancing grizzly bear. All the judges agreed it was a "high energy, high spirited" dance, and Carrie, in particular, said she really noticed Tonya's strength.Score: 33/40
Mirai and Alan Bersten did a Disney-themed foxtrot to "It's a Small World," where Mirai was transformed into Disney princess complete with a light-up dress. After being disappointed by her score last week, Mirai worked even harder this week to make sure the dance was perfect -- and it showed. Len called it the "best dance so far" and Rashad gave them a 10.Score: 37/40
Arike and Gleb danced an emotional foxtrot to Pink's "What About Us." Arike wore heels for the first time and showed a more graceful, vulnerable side. The dance brought Carrie to tears. Score: 33/40
Adam and Jenna Johnson did an energetic quickstep, despite Adam's lack of sleep and crazy schedule juggling Stars on Ice with DWTS rehearsals. Bruno gave them a 10, tying them with Adam's pal Mirai.Score: 37/40
Once the partner dances were complete, the contestants grouped into teams: Team '50s Tennis and Team '70s Football. As seen the rehearsal footage, practicing an extra dance proved challenging for these busy athletes. Josh had to run off for football practice and Arike had to leave early for college finals.
Team '50s Tennis performed first and danced to a reworked '50s-style version of Britney Spears' "Baby One More Time." The judges praised the number, saying everybody had a chance to shine.Score: 33/40
Team '70s Football incorporated fancy footwork with Afro wigs. Bruno had the most enthusiastic reaction of the night -- the dance had him jumping out of his seat. Rashad was equally as impressed, saying, "If this franchise was for sale, I'm buying it." Score: 37/40
The team scores were added to the individual scores, then combined with viewer votes to determine who was safe and who went home.
"Dancing with the Stars" returns next Monday night on ABC.