Elaine Welteroth may be well-known as a judge on "Project Runway," but it's her work in publishing that really caught the public's attention.
Along with stints at Ebony and Glamour, she transformed Teen Vogue as its editor-in-chief, changing its focus to feature politics and inclusion within all segments of style.
Now, she's taking her editorial skills to bookshelves with the release of her memoir, titled "More Than Enough: Claiming Space for Who You Are (No Matter What They Say)."
"

"

The reality is, no matter where you come from, no matter how big your dreams are, you already are more than enough, even if you are a work in progress.
The book is out Tuesday and, during an appearance on "GMA," Welteroth explained the meaning behind the book and what she hopes to accomplish with it.
"My mission with this book is to encourage every woman, every young person out there to push back against all of those messages that we've all been fed that make us feel like we're not enough," she said. "The reality is, no matter where you come from, no matter how big your dreams are, you already are more than enough, even if you are a work in progress."
Welteroth became the youngest person and only the second person of African-American descent to be an editor-in-chief title at in Condé Nast publication when she took the reins at Teen Vogue in 2016.
She used her platform to bring issues such as cultural appropriation, social justice and the presidential election to young readership.
"As a journalist, for 10 years, I spent my career elevating underrepresented stories that I thought mattered because I believed there were universal truths in the stories that women never get to tell," she told "GMA" co-anchor Robin Roberts.
"And so I looked up and realized, I have to take my own advice," she continued. "It's time to tell more of my story, because if I'm going to be held up as a trailblazer ... I need to be doing the work to make sure that I'm leaving that trail with some sign posts along the way that make it easier, less confusing, less daunting for the next generation that's coming up behind me."
So much of what she's learned -- and what she has to teach -- comes from her mother, Debra, she said, adding that she hopes her book will "multiply her mothering" to influence "millions of young people and women."
"I learned everything from her," she added. "And, most importantly, she taught me to be proud of who I am, no matter what anyone says, and that's been something that's helped me to be -- to have integrity throughout my whole career and my whole life."
From that guidance, she hopes to offer young people dealing with "burnout, complicated relationships, [and] negotiating your salary" takeaways they can find valuable in their careers and personal lives.
"Find your voice and tell the stories that only you can tell. We live in a click-bait culture where there is pressure to just chase the click," she said. "But what I will tell you is that the most transformative work you will do is the work that only you can do. Find your zone of genius sooner than later; zero in on that and don't be afraid to tell the story that no one else is telling."
Get a first look at Welteroth's book in the excerpt below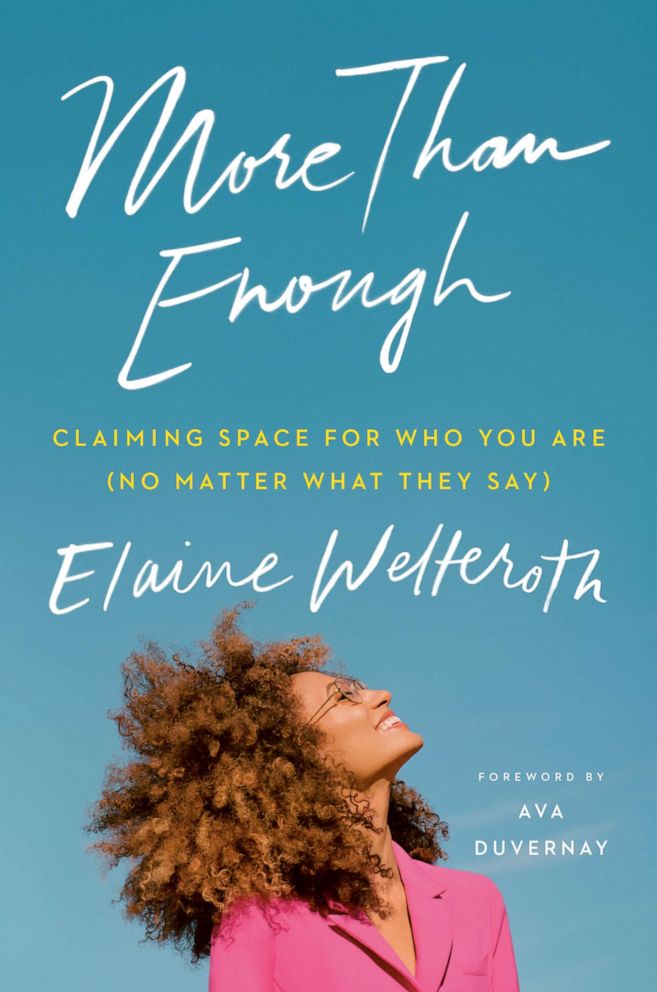 My aunt Janet's daughter, Chey, was a publicist at an entertainment PR firm in Los Angeles, and I begged her to hook me up with an internship during my winter intersession from school. When I landed the gig, Chey invited me to stay with her at her studio apartment in Koreatown. It was my first grown‑up adventure. And it was thrilling.
Within days of my internship, I met a young female TV producer, one of Chey's friends, who said within moments of speaking with me: "Have you ever thought about doing TV?"
I had not. Well, not in a serious way, since I imagined those career paths were reserved for people with connections.
Then she said something that struck me: "You are so much bigger than you even know."
I didn't know what she meant or what prompted her to say that to me, but it seemed like a good omen and it left me feeling sparkly, like I had a good aura accompanying me on this trip.
The next day, her company sent me to cover a Warner Bros. musical showcase as an on‑air reporter. My job was to interview Talib Kweli on camera. (My internal reaction when I got the call was basically Tom Hanks in that iconic scene from the movie Big where he's going ham on the supersized keys of a piano.) I was nineteen years old, walking into a packed room of reporters with my camera crew and producer, feeling bossy, but I very quickly got my reality check: the producers warned me that with this many reporters in one room, "You only eat what you kill." Which meant, not everyone was getting the interview. Plus, Talib might not even show, and if he did, there was already a list of approved interviews. There was a pecking order on the entertainment-reporter circuit. We were just a local TV station, and I was a completely unknown entity.
And yet, I felt totally in my element. As soon as I heard everyone start shouting, "Talib, Talib!!" I cut through the crowd like a hot knife through butter. I walked right up to my subject, introduced myself, and calmly, without skipping a beat, whipped my head around to my crew and said, "Let's go." Lights. Camera. Action. I asked my questions in a conversational manner, as if the cameras weren't there, and as we closed out, Talib shook my hand and said, "Good to meet you."
Boom. I got my sound bites, my job there was done— and then he dipped. No one else got an interview that day.
My crew reacted uproariously: "Daaamn."
I felt it, too. The rush of finding out what you're good at is priceless. And having the opportunity to actually get paid for doing it is, well, the dream. In LA, I felt electrified. Like there was actual magic coursing through my veins. I was finally waking up to my own possibilities, and to a deeper realization of the power of vision and faith— two of the most important tools I would need on my journey. For the first time, I understood that the bigness of my life would be determined not only by the bigness of my dreams, but also by my capacity to trust that there is a Higher Power who would always take those dreams and multiply them.
This was a reminder that there is a divine order, a divine flow to our lives. We don't need to have all the answers. But our job is to keep on dreaming and trusting enough to put one foot in front of the other.
To keep moving forward.
To keep pushing beyond whatever feels confining.
To keep searching for where the magic is.
To continue expanding, staying open to being stretched.
And allowing room to be completely awed by how much better it gets along the way.
Reprinted from MORE THAN ENOUGH: Claiming Space for Who You Are (No Matter What They Say), with permission from Viking, an imprint of the Penguin Publishing Group, a division of Penguin Random House LLC. Copyright (c) 2019 by Elaine Welteroth.