Emmys 2020 host Jimmy Kimmel reveals what to expect from the awards show
Kimmel will host the show live, but the celebs won't be there.
Jimmy Kimmel is gearing up to host the Emmy Awards for the third time, but this will be an experience unlike any other.
Due to the COVID-19 pandemic, this year's awards ceremony will be virtual, which means the late night host will be performing to an empty house Sunday at the Staples Center in Los Angeles.
Instead of walking the red carpet and packing a crowded theater, all the nominees will be watching from home, armed with state-of-the-art cameras provided by the Television Academy, so that they can participate in the ceremony from afar.
In an interview with "Good Morning America," Kimmel joked that he's relieved to know in advance what response his performance will get: silence.
"I am nervous about the technical end of it, because it's not something I know much about, not something I can control," he said. "Think about just trying to Zoom with your grandparents, and now imagine that we've got 150 celebrities who haven't made themselves lunch in, like, 19 years, many of them, are now trying to connect technically to an awards show. Those are the challenges we're facing."
"My nightmare is that I'm on prime-time television, completely alone, unable to speak to anybody, and I've got a bunch of Emmys that need to be handed out and I don't have anyone to give them to," he continued. "I guess I could just take them!"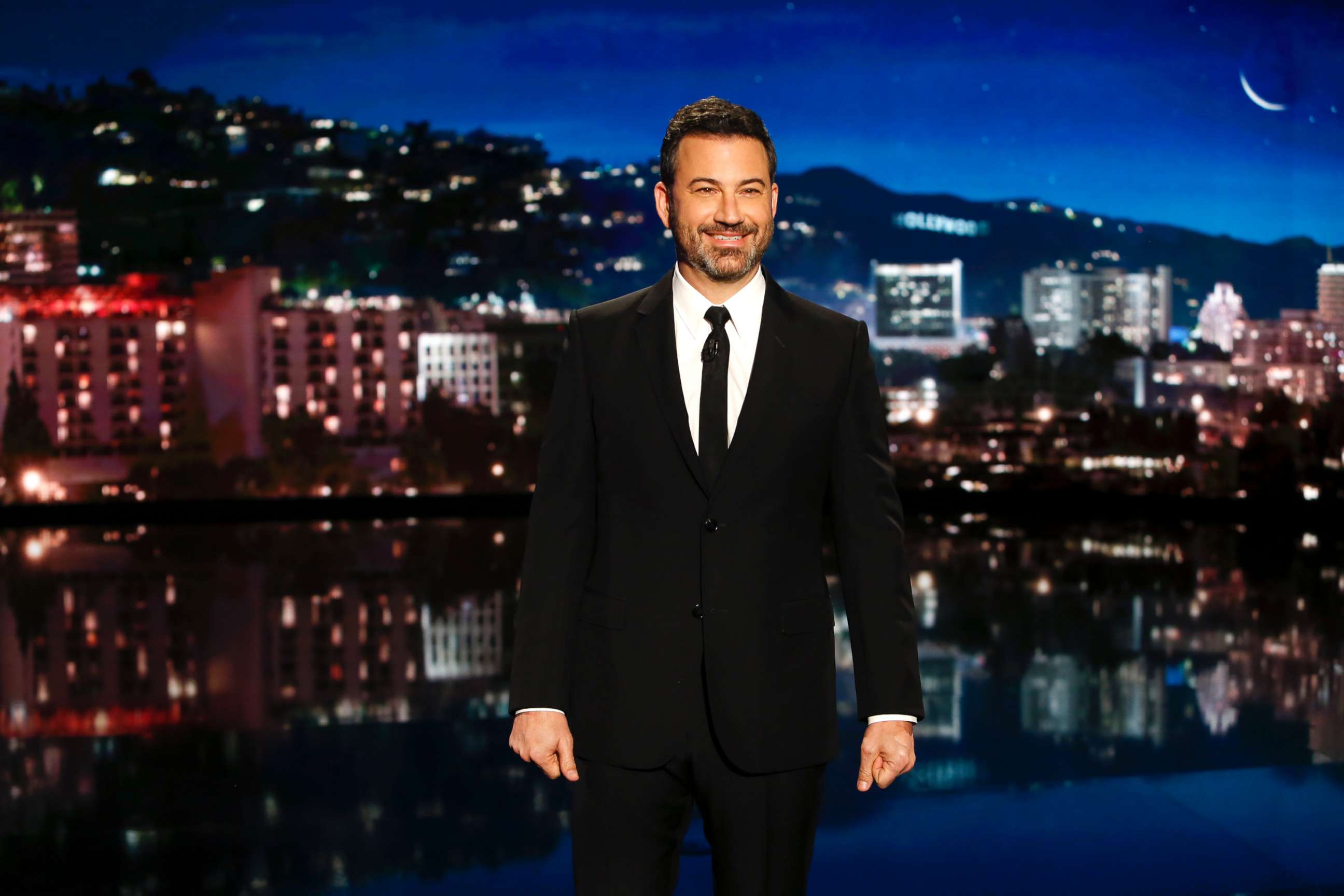 Kimmel, 52, was announced as the host of the 72nd Emmy Awards in June, and he joked at the time, "I don't know where we will do this or how we will do this or even why we are doing this, but we are doing it and I am hosting it."
Although the COVID-19 pandemic has presented production challenges, the "Jimmy Kimmel Live!" host said that one benefit of having a virtual ceremony is that no big rehearsal is necessary. Another perk is that the nominees, some of whom Kimmel said will be in "designer pajamas," will be surrounded by their loved ones during the broadcast.
"I do think it is gonna be fun, because [usually during] these award shows, people get up on stage and they say, 'Good night to my kids.' Well, now their kids are gonna be right there with them," he said. "It's one thing when your co-producer is standing next to you, clapping, or one of your co-stars. And it's another thing when it's your 9-year-old daughter."
As for Kimmel, he will have a few special guests of his own in the Staples Center, cheering him on and helping him out. However, he said, there will be "no friends, no family."
"I would guess there won't be more than 30 people in the whole Staples Center," he said. Then, jokingly, he added, "We're doing this as safely as we possibly can, because, as we know, there's no one more important than celebrities."
The 72nd Emmy Awards will air live Sunday, Sept. 20, at 8 p.m. ET/5 p.m. PT on ABC.