'Falcon and the Winter Soldier' review: High praise to Anthony Mackie, kudos to Sebastian Stan
Will Sam take charge as the new Captain America?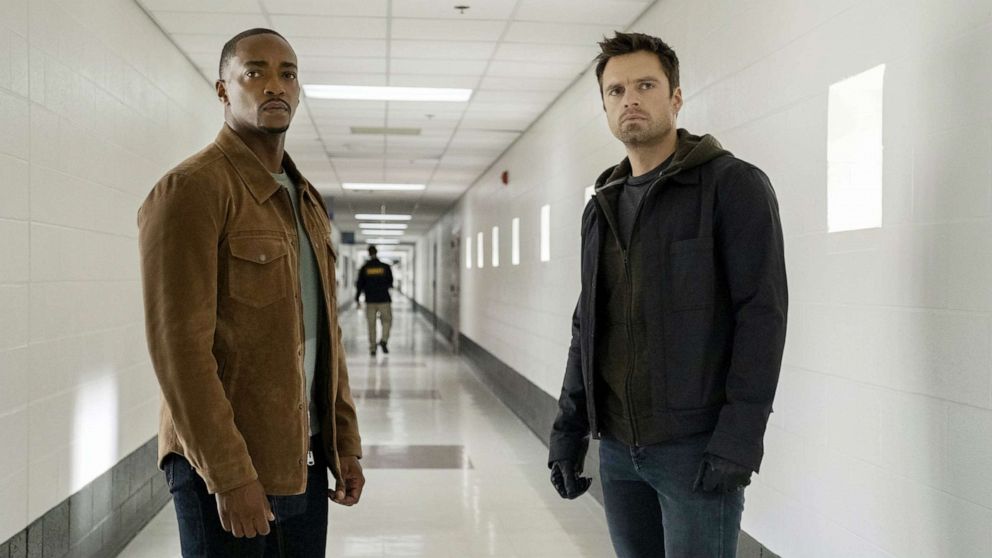 For those hungering for another Marvel fix after "WandaVision," "The Falcon and the Winter Soldier," now streaming exclusively on Disney+, more than fills the bill as spectacular entertainment. Judging from the first hour-long episode in the six-part series, we're in for an adrenaline rush of action and adventure. At a reported $25 million per episode, the production values are top tier, beginning with an aerial combat sequence that can take its place with Marvel's most thunderously exciting. More crucially, the movie is lifted above the usual buddy-comedy epic by two gifted actors who know how to ground characters in genuine emotion.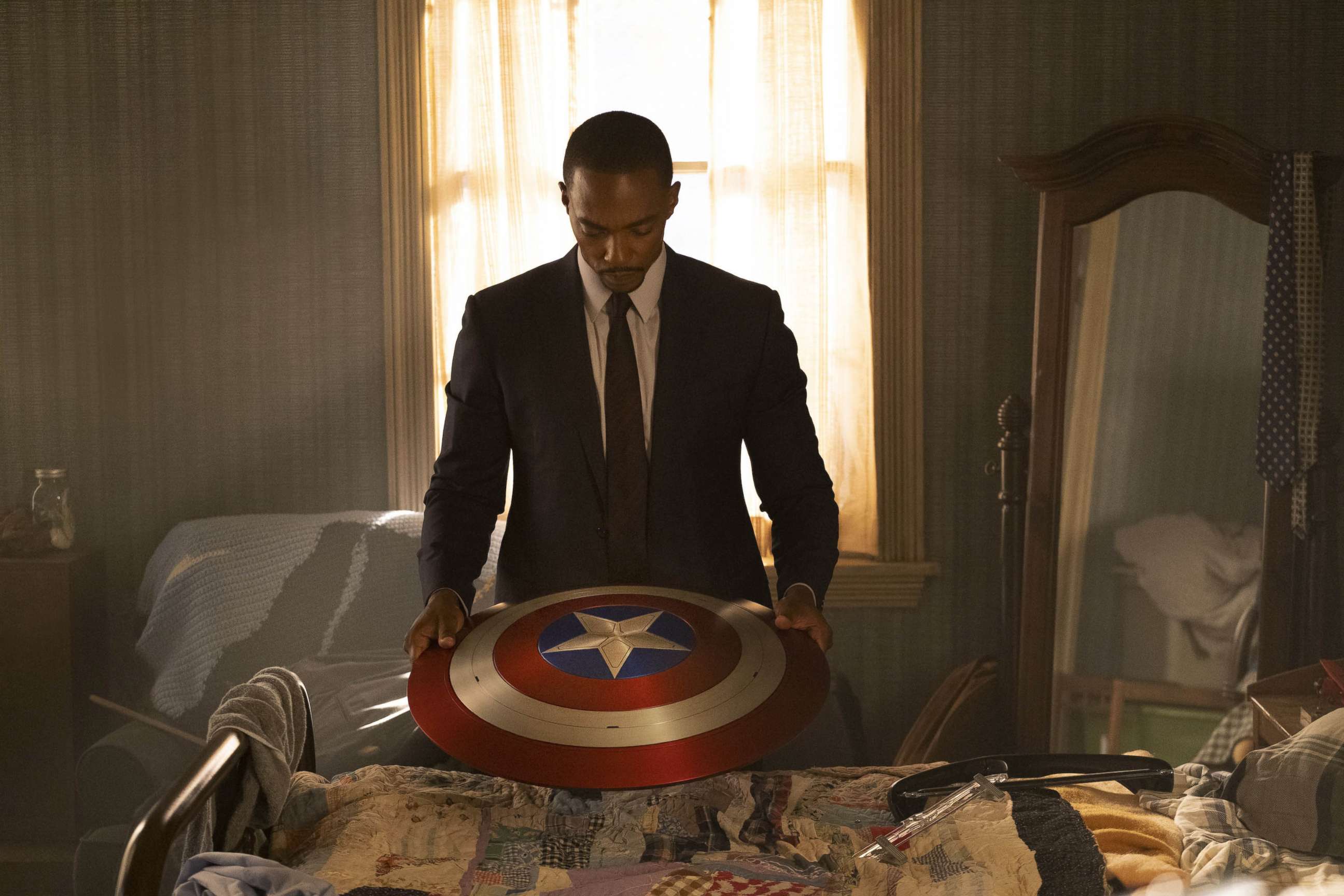 So high praise to Anthony Mackie as Sam Wilson, known as Falcon because of jet-powered wing harness that keeps this pararescue soaring as a Black Avenger in the spirit of Black Panther. And kudos to Sebastian Stan as Bucky Barnes, known as Winter Soldier because this World War II combat veteran was genetically programmed as an assassin and kept on ice between gigs before reforming as an ageless but century-old Avenger with clear-cut PTSD.
Both Sam and Bucky were mentored by Steve Rogers (Chris Evans), aka Captain America, who disappeared after "Avengers: Endgame," leaving his shield to the nonplussed Sam, who wonders in a pertinent stab at racial politics — how a Black man can represent a country that does not represent him. For Sam, the shield "feels like someone else's." And so "The Falcon and the Winter Soldier" becomes a quest for identity. Will Sam take charge as the new Captain America? Or will it be Bucky? Or maybe someone else we never figured on?
That's the kickoff for a plot involving those bantering frenemies Sam and Bucky—sidekicks who've graduated to the main event—taking on a global threat from a masked militia group and Helmut Zemo (Daniel Brühl), the Nazi-ish Baron from "Captain America: Civil War" who believes "superheroes should not be allowed to exist." Any resemblance to the terrorists who stormed the Capital on Jan. 6 is unintentional since the script was written beforehand, but it's impossible not to see the parallels.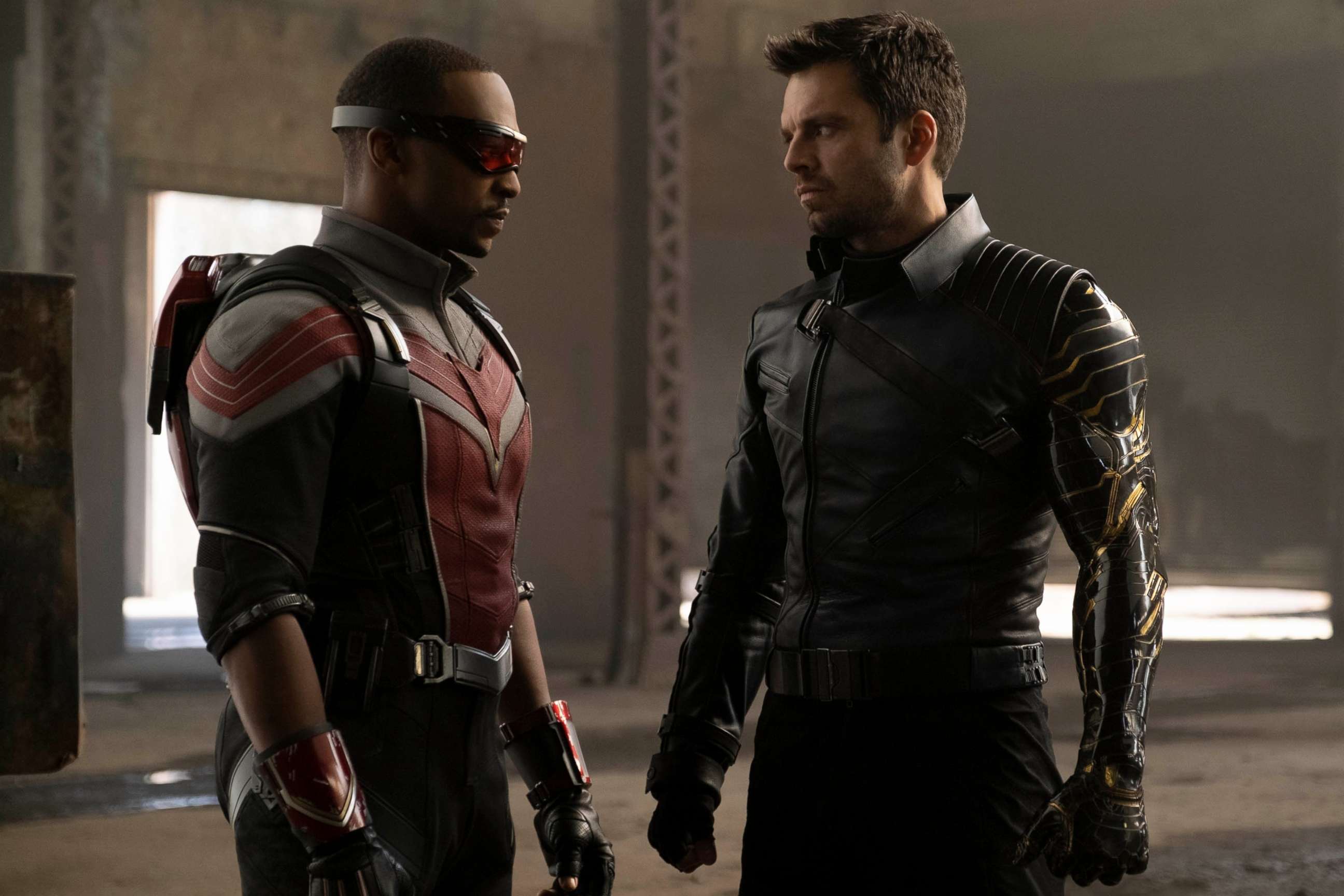 Still, it's the personal backstories of Sam and Bucky that led series director Kari Skogland and head writer Malcolm Spellman to work up the nerve to follow the 23 mega-successful epics in the Marvel Cinematic Universe with a TV series that would show us who Sam and Bucky are as people six months after the blip that turned half the world to dust for five years.
For example, how would Sam continue to run the family business with his sister Sarah (Adepero Oduye) with limited financial resources? And, on a lighter note, how would Bucky deal with a dating service since he's 106 years old?
Disney+ costs $6.99 per month or $69.99 per year. There is also a bundle featuring Disney+, ESPN+ and Hulu for $12.99 per month. Click here for more information.
Download the all new "Popcorn With Peter Travers" podcasts on Apple Podcasts, Spotify, Tunein, Google Play Music and Stitcher.
To avoid spoilers, I won't say how much the terrific Wyatt Russell figures in the plot as the government's mystery man or how Erin Kellyman adds conflict as the anarchist leader of the Flag-Smashers. It's clear that surprises will keep bubbling up before "The Falcon and the Winter Soldier" ends its first season run on April 23. I will say that thanks to the fab teamwork of Mackie and Stan, and the commitment by Marvel to deepen characters for streaming without skimping on the cinematic dazzle, I couldn't have it liked it more. Season 2, please, and soon.
Disney is the parent company of "Good Morning America," ABC News and Disney+.