— -- The issues of gender equality and diversity were front and center at the Oscars Sunday night.
In a year that saw a reckoning over sexual misconduct in Hollywood as well as the success of groundbreaking films like "Lady Bird" and "Get Out," the Academy addressed the issues head on -- from the red carpet to Jimmy Kimmel's opening monologue to a powerful clip featuring a diverse group of past and present game changers.
Inclusion was also celebrated in the performances, by the presenters and in the speeches given by winners, including Jordan Peele and Guillermo del Toro. One of the most memorable moments of the night came at the end when Frances McDormand was accepting the Oscar for lead actress.
"If I may be so honored to have all the female nominees in every category stand with me tonight," she said, urging Meryl Streep to get up first so others would follow, "the filmmakers, the producers, the director, the cinematographer, the designers..."
"Look around ladies and gentlemen, because we all have stories to tell," she continued, encouraging the Hollywood powerbrokers to take a meeting with them.
She also left the audience with two words: "inclusion rider."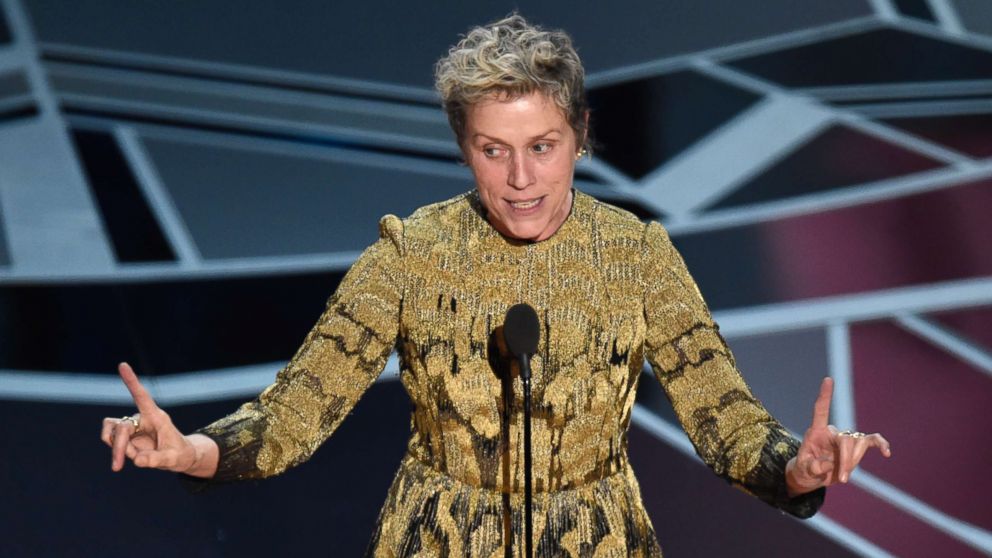 The night began with Kimmel, far from shying away from the issues, joking about Harvey Weinstein and the flap over Mark Wahlberg and Michelle Williams' salaries on the reshoot of "All the Money in the World."
He also highlighted all the ways "ceilings have been shattered," calling out the first female cinematographer nominee Rachel Morrison, "Get Out" director Peele, "Lady Bird" director Greta Gerwig and the crushing success of "Black Panther."
Later in the show, Weinstein accusers Ashley Judd, Salma Hayek and Annabella Sciorra joined together to give an emotional tribute to the #MeToo movement and inclusion in Hollywood by way of introducing the video clip.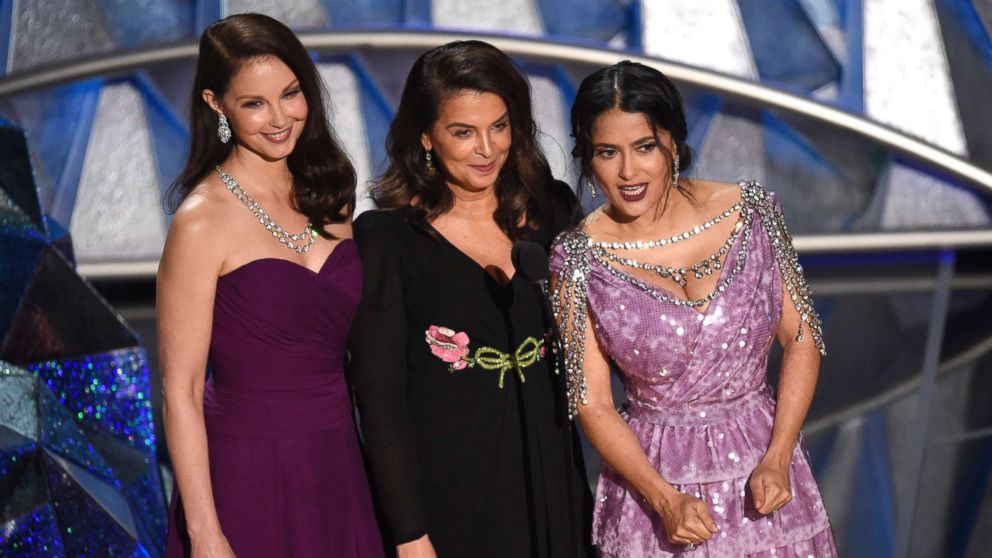 Oscar winner Mira Sorvino, who was one of the first women to speak out about the now disgraced producer, was featured prominently in the clip saying, "The status quo does not have to be status quo anymore."
She also said future filmmakers have the opportunity to "lionize beauty and truth and justice."
Sorvino and dozens of women accused Weinstein late last year of sexual misconduct, including rape, which allegedly happened over several decades. Though the former movie mogul has admitted to wrongdoing and sought professional help, his spokeswoman told ABC News previously that "any allegations of nonconsensual sex are unequivocally denied by Mr. Weinstein."
Still, Weinstein was fired from the company that bears his name, banned from the Producer's Guild of America and expelled from the Academy of Motion Picture Arts and Sciences.
Other big names included in the Oscars clip included Lee Daniels, Greta Gerwig and Geena Davis.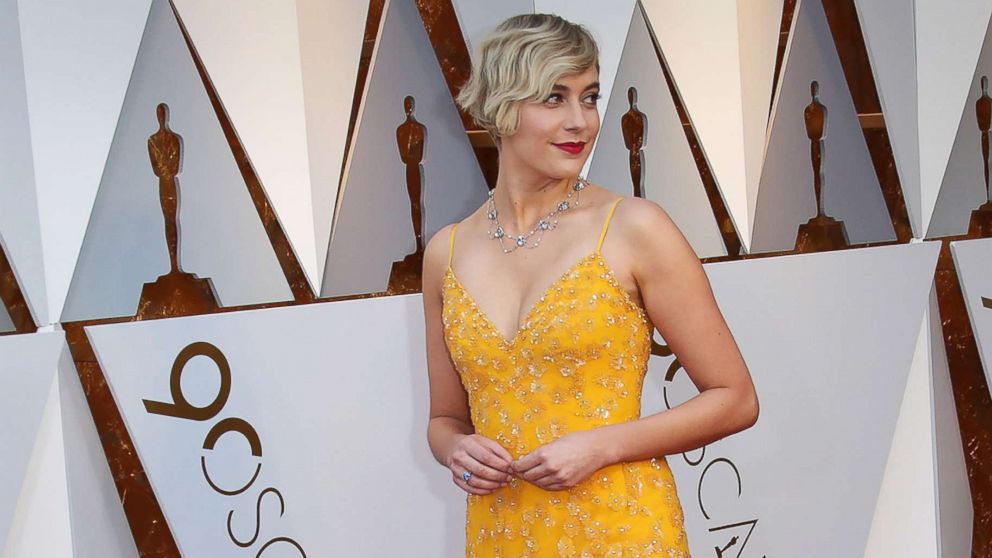 Gerwig, who is the only woman nominated for best director tonight for her film "Lady Bird," asked other women out in the world who want to be writers and directors to "make your movie, we need your movie, I need your movie."
Davis reflected back on her inspiring 1991 film "Thelma & Louise" and how that was supposed to be the moment when women got a chance to compete with men and be front and center in films.
"That did happen ... but this is now that moment," she said, referencing films like "Wonder Woman."
"Moonlight" director Barry Jenkins, whose film won best picture last year, spoke about seeing women in the screening of "Wonder Woman" crying tears of joy for finally having a place in a man's world.
"[I said to myself] this is what white men feel all the time," he said.
Daniels added that moviegoers should get ready for more films like "Get Out."
"We're here and we're not going anywhere," he closed.
Kobe Bryant, who won his first Oscar for his animated short film, "Dear Basketball," clapped back at Fox News anchor Laura Ingraham when he referred to her controversial comments during his acceptance speech. "As basketball players we're really supposed to shut up and dribble," he quipped. "I'm glad we're doing much more than that."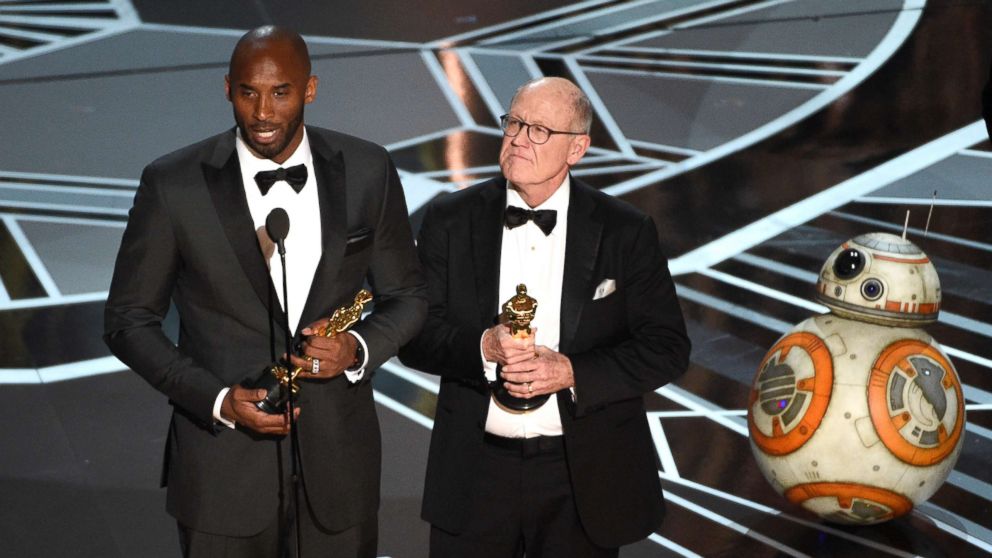 But his win also drew mixed reactions on Twitter, where some brought up his alleged sexual assault case from 2003. Bryant was arrested on felony charges, but the case was dropped after his accuser refused to testify.
For most of the night, the push for inclusion and equality was on full display. For their performance of the Oscar nominated "Stand Up for Something," Common and Andra Day were joined on stage by transgender activist Janet Mock, Sandy Hook mom Nicole Hockley, Black Lives Matter's Patrisse Cullors and #MeToo founder Tarana Burke among others.
Announcing the nominees for best director, Emma Stone introduced "these four men and Greta Gerwig."
This year's Oscars also featured the first transgender presenter, Daniela Vega, who appears in Chile's "A Fantastic Woman," which won the Oscar for best foreign film, and Yance Ford, the first transgender filmmaker to be nominated for an Oscar for his documentary "Strong Island."
Earlier on the red carpet, Sorvino and her date for the night, Judd, spoke about the Time's Up gender equality campaign and legal fund.
"This movement isn't stopping," Sorvino said. "We're going forward until we have a safe and equitable world for women."
Judd, who was one of the first accusers of Weinstein to go public, said she has been telling her story since 1997 when it happened. "Finally the world is able to hear," she said.