R. Kelly released a new lengthy track titled "I Admit" where he sings about sleeping with "young ladies" and shares that he was "touched" by a family member as a child.
He also addresses several rumors about his life, including that he's illiterate, on the 19-minute-long song, which was released on Facebook Live.
But the majority of "I Admit" addresses decades-long claims of sexual misconduct, including 21 counts of child pornography. R. Kelly, whose birth name is Robert Kelly, was acquitted on those pornography charges in 2008, ending a six-year investigation.
In April, R. Kelly faced renewed pressure when Time's Up unveiled a new campaign, #MuteRKelly, that targeted the R&B singer.
The campaign released an open letter that drew attention to the numerous sexual misconduct allegations R. Kelly has faced and referenced a 2017 BuzzFeed report that claimed Kelly held several young women in a "cult."
In a statement to ABC News, R. Kelly's attorney, Linda Mensch, denied the cult allegations.
"Mr. Robert Kelly is both alarmed and disturbed at the recent revelations attributed to him," she said in a statement in July 2017. "Mr. Kelly unequivocally denies such allegations and will work diligently and forcibly to pursue his accusers and clear his name."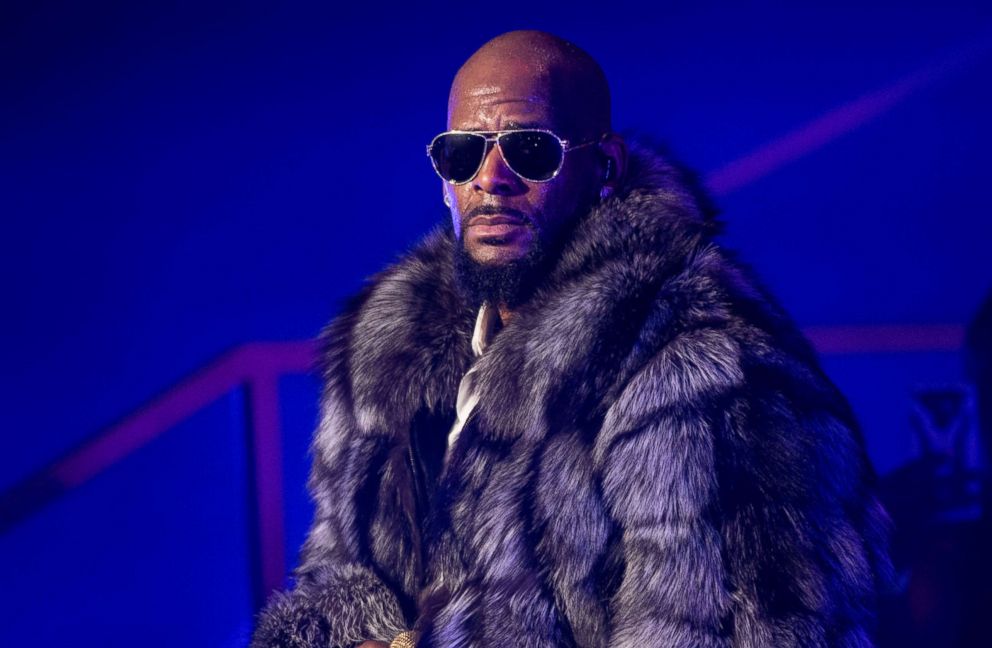 In a separate statement the singer's rep said in part that he "supports the pro-women goals of the Time's Up movement. We understand criticizing a famous artist is a good way to draw attention to those goals---and in this case, it is unjust and off-target."
Still, R. Kelly shared a never-before-heard incident that occurred when he was "a child to the age of 14" where he claims in the song that "a family member touched me...while I laid asleep, took my virginity."
"So scared to say something, so I just put the blame on me," he sings on "I Admit." "Now here I am, and I'm tryin' my best to be honest/'Cause the sources out there tryna keep me from being an artist/I admit I'm at rock bottom."
The singer -- who compares himself to disgraced comedian Bill Cosby, who was found guilty of sexual assault earlier this year -- also explained on his song why he decided to address the rumors this way.
"I never thought it would come to this, to be the most disrespected artist/So I had to write a song about this, 'cause they always take my words and twist it," he sang. "Believe me it's hard to admit all this, but I'm in my feelings about this s---/But I had to set the f---in' record straight."
Here's a breakdown of the song's lyrics:
R. Kelly on creating a cult
"What's the definition of a cult?/
What's the definition of a sex slave?/
Go to the dictionary, look it up/
Let me know I'll be here waiting...
Some like to get branded/
And what some of these girls want, is too much for the radio station/
Look I'm just a man y'all/
Not a monster or beast/
But I admit there are times when these girls so fine, they'll chill with a n---- for a week."

R. Kelly on rumors that he's slept with underage women
"I admit I f--- with all the ladies, that's both older and young ladies/
But tell me how they call it pedophile because that s--- is crazy/
You may have your opinions, entitled to your opinions/
But really am I supposed to go to jail or lose my career because of your opinion."

R. Kelly on past sex tape with teenage girl
"She said 'What about the tape?'/
I said hush/
I said my lawyer said 'Don't say noth'"/
But I can tell you I've been set up (up)."

R. Kelly on rumors that he is illiterate
"I admit I can't spell for s---/
I admit that all I hear is hits/
I admit that I couldn't read the teleprompter when the Grammy's asked me to present."

R. Kelly on Time's Up movement
"Cancel my shows, that s--- ain't right/
How they gon' say I don't respect these women, when all I've done is represent/
Take my career and turn it upside down, 'cause you mad I've got some girlfriends...
Ain't seen my kids in years, they tryna lock me up like Bill/
...Now here comes this big a-- conspiracy."

A rep for the singer didn't immediately return ABC News' request for comment.