Nia Franklin was crowned the new Miss America Sunday night, bringing the honor back to the state of New York.
In her acceptance speech, the 24-year-old said, "It took a lot of perseverance to get here" and thanked her family for all their support.
But there's much more to Franklin besides her determination to take home the crown.
Here are five things to know about her:
1 - Healthcare is a passion close to her heart.
Franklin thanked her family last night following the win, including her father, who is a cancer survivor.
In a past Instagram post, she recounted his battle with lymphoma and how she helped save his life with a stem cell transplant.
Last month, she posted a video trying to get everyone to support the non-profit Children's Miracle Network Hospitals, where she donated the stem cells for her father's treatment.
I know firsthand the impact that CMN Hospitals can have in a family's life. As a former patient and daughter of a patient, I have witnessed the exceptional care and love CMN Hospitals provide. Visit the CMN Hospitals website, and help make miracles happen today????@CMNHospitals pic.twitter.com/uOqjfAFE91

— Miss New York (@MissAmericaNY) August 26, 2018
2 - She's loved music her whole life.
Franklin, who performed an opera song for the talent portion of the competition, is also a champion for arts education.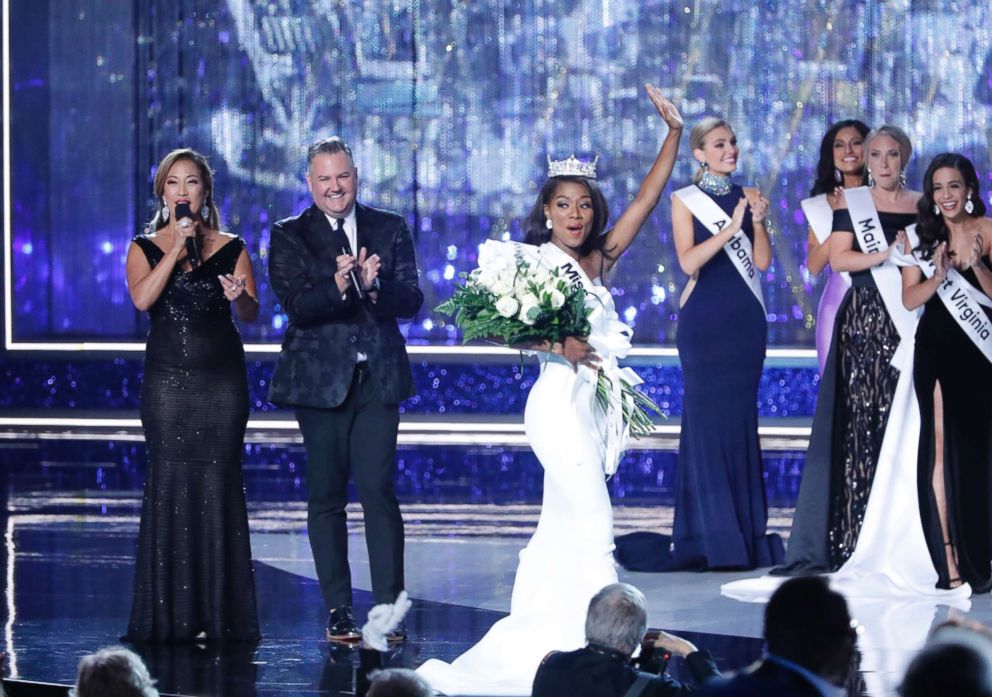 According to her contestant bio, she's had a passion for music since she was a little girl.
"I composed my first song at age six," she wrote in the bio. "My dedication to the arts influenced my educational choices, resulting in my master of music composition degree. Although I was a minority in my school, I connected with my peers based on our mutual love of the arts. For the Miss America Organization, I will bring my zeal for music and performance, and be a strong support for arts in education."
She also has Grammy aspirations.
3 - She has some adorable fans.
Franklin's mother teaches fourth grade and you can bet the entire class will be celebrating her big win.
Earlier this month, Franklin took to Instagram to some special fan mail that made her emotional.
"Okay... I cried when I read these! My mom's 4th grade class believes in me so much. I'm doing all I can to make them, and all the other kids out there watching me proud! #emotional #blessed," she wrote.
4 - She has a healthy sense of humor.
Franklin took to her social media recently to make a few jokes, one about a recent experience golfing for the first time.
"The real house wives of Miss America - the Cali trophy wife, the New York wife that married a man 20 years her senior, and the Carolina Country Club mom of three," she captioned a photo with two of her fellow contestants.
5 - She loves to travel.
Franklin also has posted in the past about her love for travel.
"These are my favorite travel essentials ... The only thing I'm missing is an eye mask for those long flights," she wrote on Instagram.
As Miss America, she'll certainly be traveling a lot in the next year!
ABC News' Catherine Thorbecke and Katie Kindelan contributed to this report.