Oscar-winner Leonardo DiCaprio is joining a number of celebrities who have donated money to Australia fire relief as the continent battles the raging fires.
The Australia Wildfire Fund -- launched by Earth Alliance, which merged with the Leonardo DiCaprio Foundation last year -- pledged $3 million toward Australia fire relief.
The website is also encouraged visitors to contribute funds, to which it said 100% of the proceeds would go to assisting firefighters, supporting the local communities, wildlife rescue and recovery efforts, and implementing "long-term solutions to restore and repopulate unique ecosystems destroyed by the wildfires, increasing climate resilience and reducing the threat of future wildfires."
DiCaprio isn't alone when it comes to celebrities committing financial resources to fight the fires. Elton John and Chris Hemsworth also stepped up to help those on the ground battling the Australian brush fires.
On Tuesday, John made the announcement to his fans at his show at Qudos Bank Arena in Sydney. "There are people out there who lost their lives trying to save homes. There are people who have lost their lives and their homes. And, lastly, is the plight of the animals and the loss of their habitat that, frankly, is on a biblical scale and heartbreaking," he told the crowd.
"Therefore, tonight, I will be pledging $1 million to support the bushfire relief fund," causing the audience to erupt in cheers.
Hemsworth, meanwhile, took to Instagram, where he posed a serious video announcing his donation and encouraged his fans to contribute what they can.
"My family and I are contributing a million dollars. Hopefully you guys can chip in, too. Every penny counts, so whatever you can muster up is greatly appreciated," the 36-year-old, Australian-born star said. "Beyond appreciative to everyone around the world for their well wishes and donations. It really does make a difference, so dig deep!"
Hemsworth also explained the severity of the blazes, saying they have caused "massive devastation." He also shared a grim forecast of what's ahead, saying that the fires "continue to burn, there's warmer weather on its way, and we're really still in the thick of it here, as is plenty of challenging times ahead and still to come."
The actor went on to explain that all donations go directly go to the firefighters and those on the front lines risking their lives battling the numerous brush fires.
Those wanting to make a donation can do so by clicking the link on Hemsworth's Instagram bio, or by visiting fundraise.redcross.org.au/ to donate to Australian Red Cross' Disaster Relief and Recovery and wires.org.au to donate to WIRES, an organization committed to helping the wildlife in Australia.
The wildfires devastating Australia have led a number of celebrities to take action by donating money to support fire relief and inspiring their followers on social media to join them.
Rock band Metallica, along with their charity All Within My Hands, also pledged to help, announcing Tuesday they'd donate $750,000.
"We are totally overwhelmed by the news of the wildfires sweeping through millions of acres across Australia, with major impact in New South Wales and Victoria," the band said in a statement. "The resulting destruction and devastating effects on all residents, animals, the environment and the incredible land in Australia is truly heartbreaking."
The $750,000 will go directly toward the NSW Rural Fire Service and to the Country Fire Authority in Victoria, Australia. The band adds that their donation will help assist "services related to and victims of these particularly destructive Australian bushfires."
Over the weekend, singer Pink and actress Nicole Kidman along with her husband, country singer Keith Urban, each pledged on Instagram that they are donating $500,000 to the Rural Fire Services in Australia.
"I am totally devastated watching what is happening in Australia right now with the horrific bushfires," Pink wrote in an Instagram post with an image of a list of local fire services in Australia. "I am pledging a donation of $500,000 directly to the local fire services that are battling so hard on the frontlines. My heart goes out to our friends and family in Oz."
For Kidman, who was born to Australian parents and holds dual citizenship with her husband, the fires have hit close to home.
Sharing the same list of fire services on Instagram, Kidman wrote, "Our family's support, thoughts and prayers are with everyone affected by the fires all over Australia. We are donating $500,000 to the Rural Fire Services who are all doing and giving so much right now."
The Australian Red Cross is supporting the communities affected by fires with recovery programs and emergency assistance. Learn more about their work and how to donate here.
Celebrities from Selena Gomez to Jennifer Garner have shared photos of people and animals affected by wildfires and have expressed their support toward relief efforts.
Celebrities who have a connection with Australia, or have traveled there, shared with their followers the beauty of the country and the wildlife that inhabits it.
Actress Margot Robbie, who is from Australia, shared a video on Instagram Sunday of a few scrapbook photos of her childhood living in Australia with her family.
"I don't normally do this," she began in the video. "I'm sure you're all aware of what's happening in Australia at the moment with the fires and I didn't want to show you more pictures of the devastation. I wanted you to see how beautiful our country is, because it's so beautiful and it's really really hurting right now."
"For whatever amount you would spend on your next cup of coffee, even a dollar would help -- it's so needed right now," she continued. "Let's give future generations the kind of childhood I was so lucky to have."
Others have reacted by putting a spotlight on how the wildfires are a result of climate change.
Hillary Clinton wrote on Twitter last week, "With Australia on fire and the Arctic in meltdown, it's clear we're in a climate emergency."
Actor Leonardo DiCaprio also expressed his concern about the wildfires and reposted climate activist Greta Thunberg's Instagram message calling on political action: "We still fail to make the connection between the climate crisis and increased extreme weather events and nature disaster like the Australia Fires. That has to change. And it has to change now."
Since the wildfires began in September, more than 12.35 million acres of land have burned and more than 1,630 homes. The fires have also claimed at least 24 lives.
University of Sydney ecologists have estimated that around 480 million animals have been killed.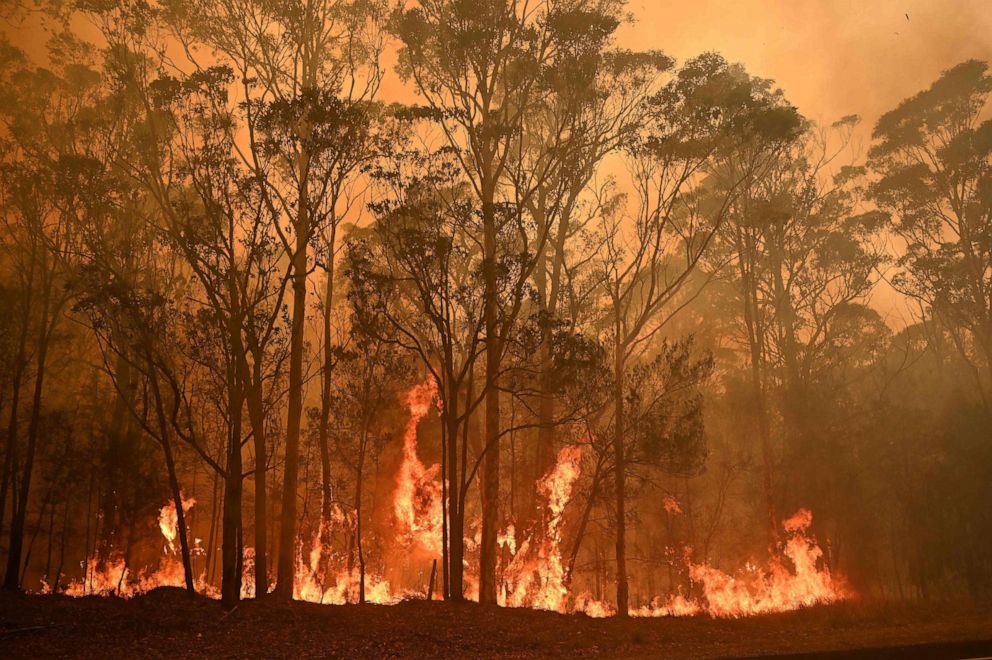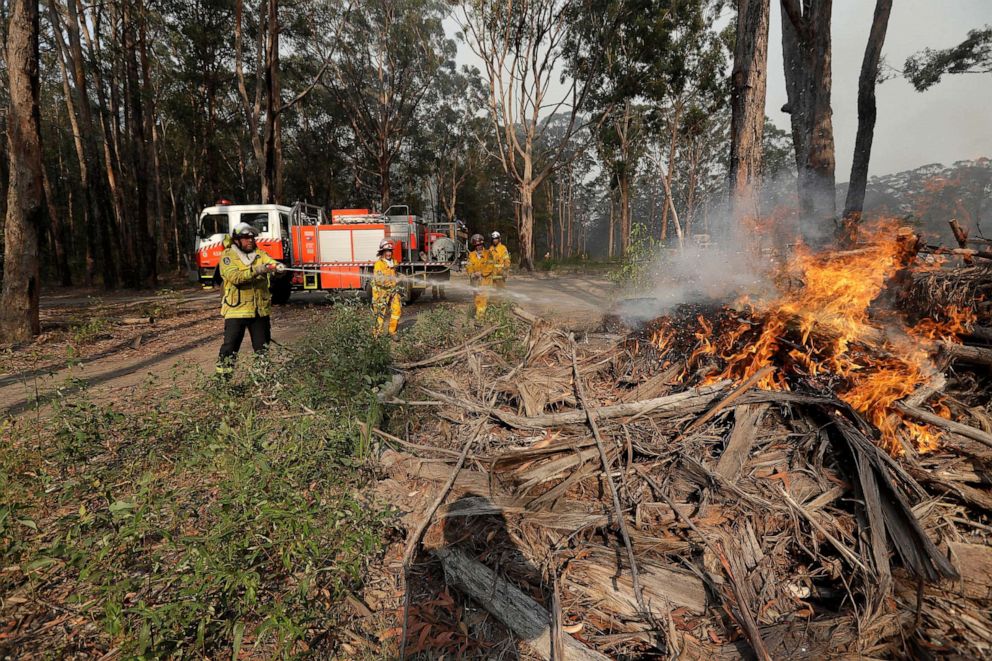 ABC News' Anthony Morrison contributed to this report.