Queen Elizabeth II sits next to Anna Wintour at London Fashion Week show
The 91-year-old monarch sat front row next to Vogue's Anna Wintour.
— -- British royalty rubbed shoulders with fashion royalty today at London Fashion Week.
Queen Elizabeth II made her first ever appearance at London Fashion Week and sat front row next to Vogue's Anna Wintour at designer Richard Quinn's runway show.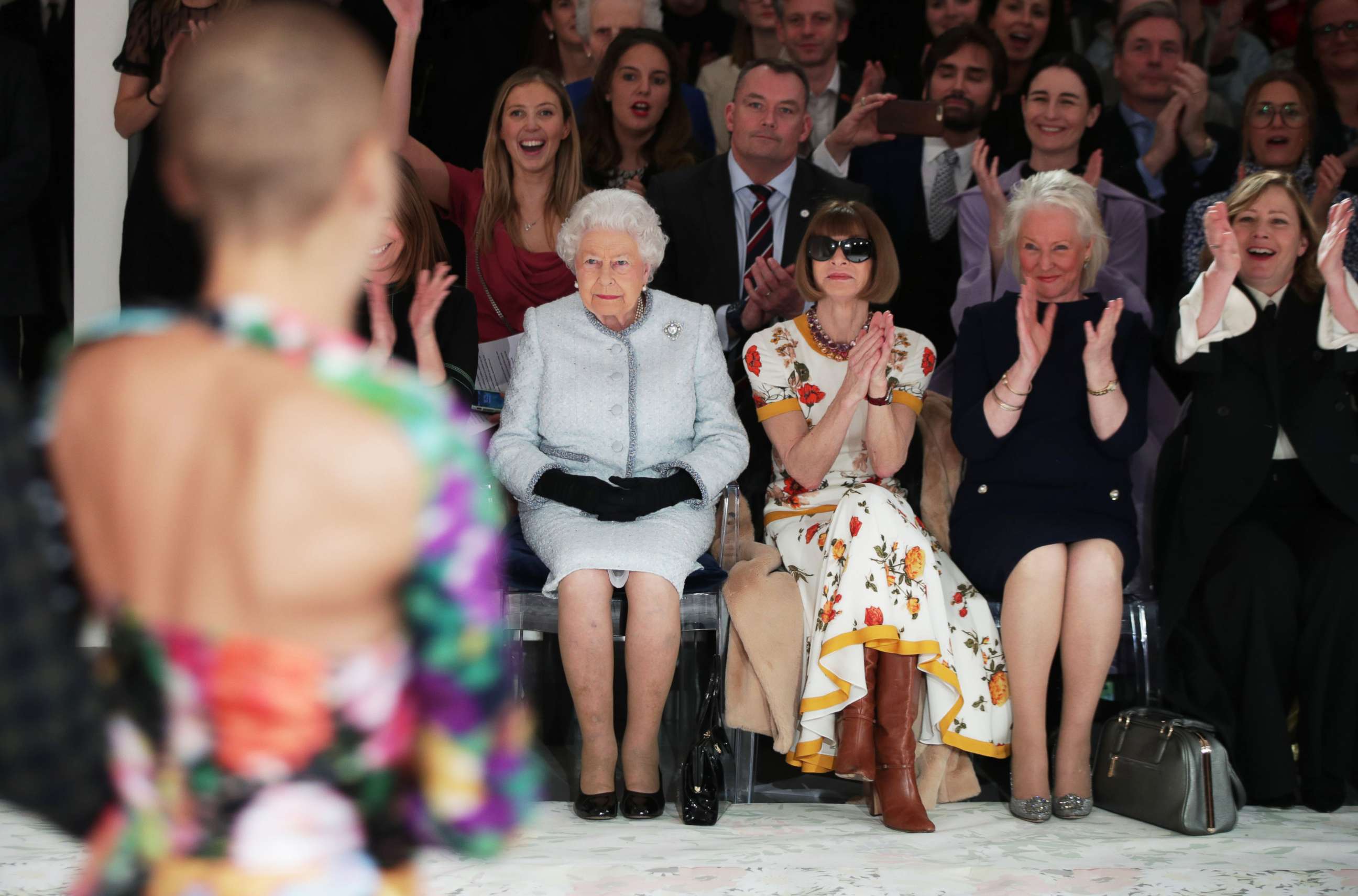 The 91-year-old monarch sparkled in a blue tweed dress and jacket while viewing the emerging designer's bold printed looks on the runway. She chatted with Wintour, who didn't remove her signature sunglasses.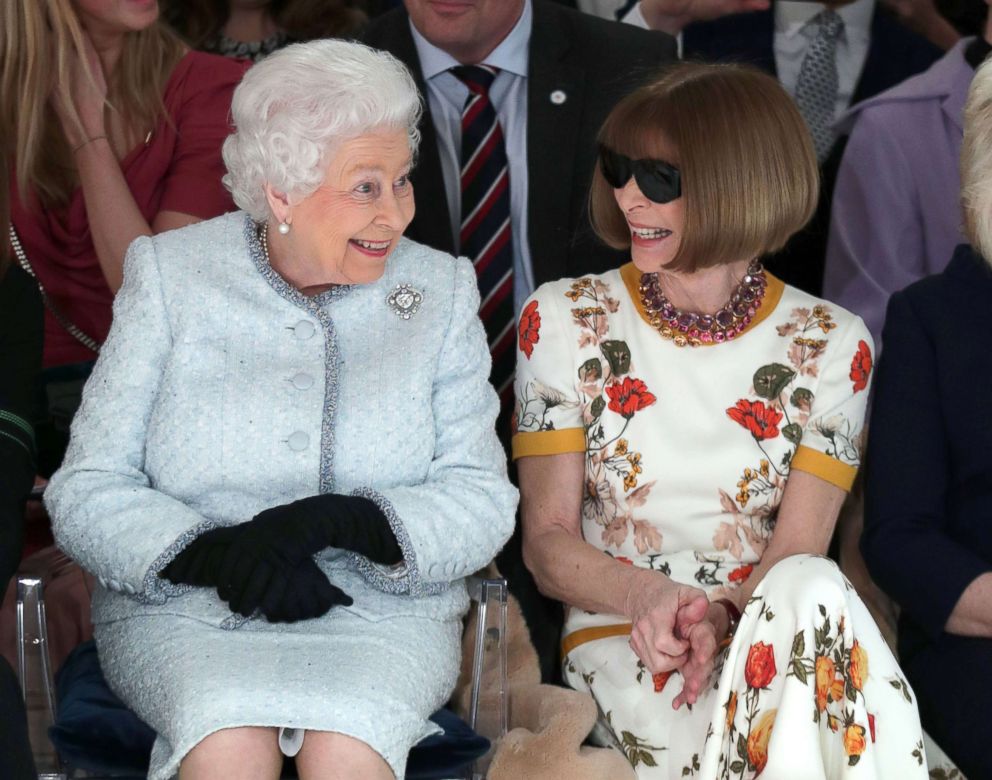 Quinn, who started his own label in 2016, is the inaugural recipient of the Queen Elizabeth II Award for British Design, established to recognize emerging British fashion talent.
The award, initiated in recognition of the role the fashion industry plays in society and diplomacy, will be awarded annually to an emerging British fashion designer of womenswear, menswear or accessories that shows exceptional talent and originality, while demonstrating value to the community and/or strong sustainable policies, according to a statement issued by Buckingham Palace.
The British Fashion Council selected Quinn for his creative talent and for his work establishing a print studio, which offers high-quality and accessible services to students and fellow up-and-coming designers.
"From the tweed of the Hebrides to Nottingham lace, and of course Carnaby Street, our fashion industry has been renowned for outstanding craftsmanship for many years, and continues to produce world-class textiles and cutting-edge, practical designs," the queen said. "As a tribute to the industry, and as my legacy to all those who have contributed to British fashion, I would like to present this award for new, young talent."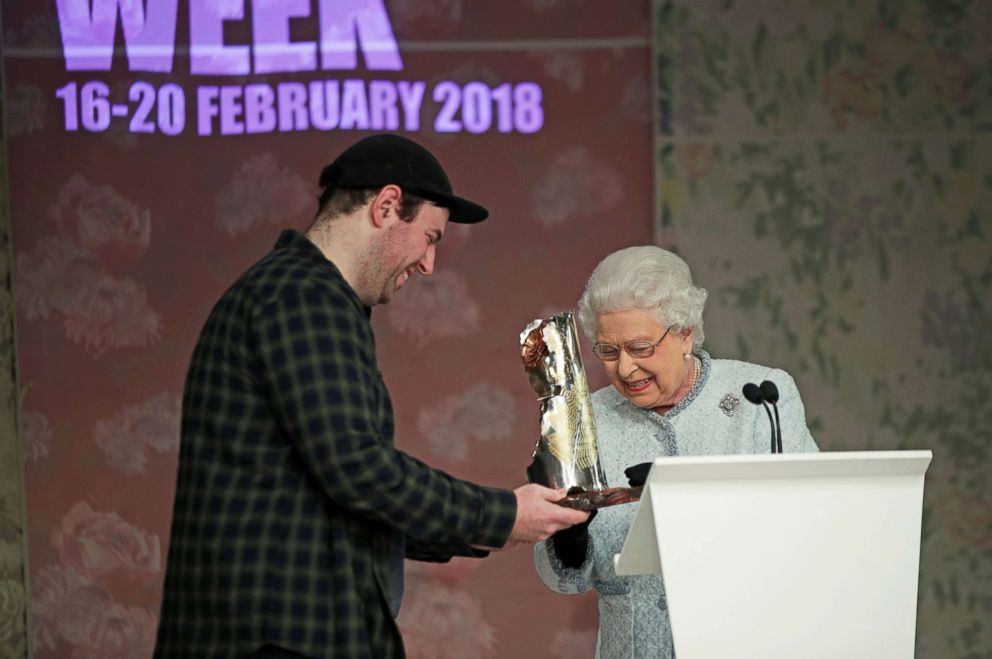 The award was the idea of the queen's personal advisor, Angela Kelly, who accompanied her and has coordinated her wardrobe for over 26 years.
Caroline Rush, the chief executive of the British Fashion Council, acknowledged Queen Elizabeth's role as a fashion icon and her groundbreaking effect on the industry when she ascended the throne.
"Your Majesty, it is a true honor to have you here and to have your support for British fashion," Rush said today. "Throughout your reign you have embraced fashion, using its power of diplomacy to communicate understanding between cultures and nations."
Earlier in the day, the monarch visited showrooms to meet designers.