LONDON -- The Royal Family paid tribute to Queen Elizabeth at a star-studded birthday party at Royal Albert Hall tonight -- where the likes of Sting, Sir Tom Jones, Shaggy, Kylie Minogue and Shawn Mendes joined a cast of commonwealth Nation artists to pay tribute to the 92-year-old Queen.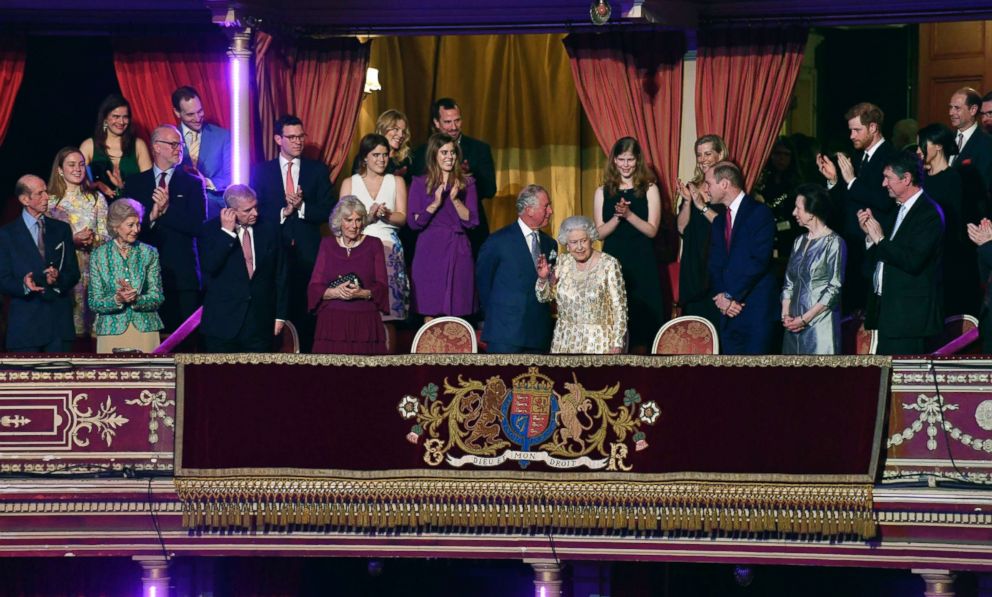 The monarch took her seat at the concert hall flanked by her two heirs, Prince Charles, the Prince of Wales, and Prince William, the Duke of Cambridge. Prince William attended solo for the "Queens Birthday Party" as the event was named without Kate, who remained home with Prince George and Princess Charlotte and is due to give birth any day.
The second in line could be seen periodically peering down at his phone, no doubt checking in his very pregnant wife.
Prince Philip, who would normally be seated at Queen Elizabeth's side, was home recovering from hip replacement surgery.
Roads were shut down, concrete and steel barriers installed along with magnetometers, and heavily armed police showed a massive presence in one of the most high profile security operations ever seen in London, with 40 members of the Royal Family all congregating in one place.
The security did not dampen the spirit of the crowd. Queen Elizabeth was beaming at her birthday party.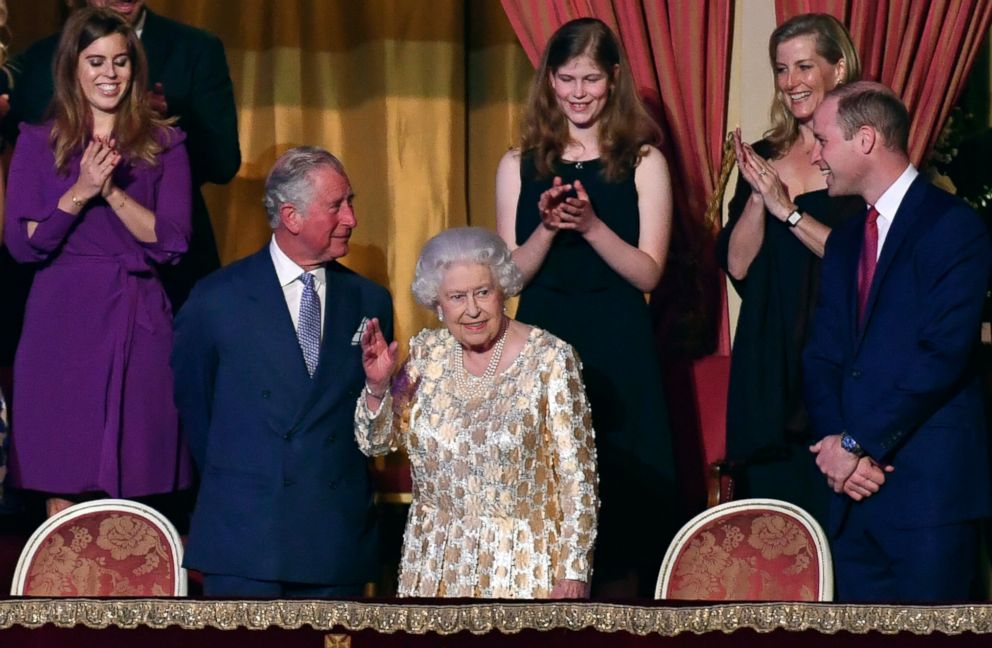 Welshman Sir Tom Jones kicked off the night with a rendition of his classic hit "It's Not Unusual," followed by a rousing duet by Sting and Shaggy.
Prince William appeared to lean down to explain to his grandmother who Shaggy was.
The concert included acts from across the generations. Queen Elizabeth at one point was seen bopping and clapping to a George Formby medley while her family looked on, thrilled that she was enjoying herself so much.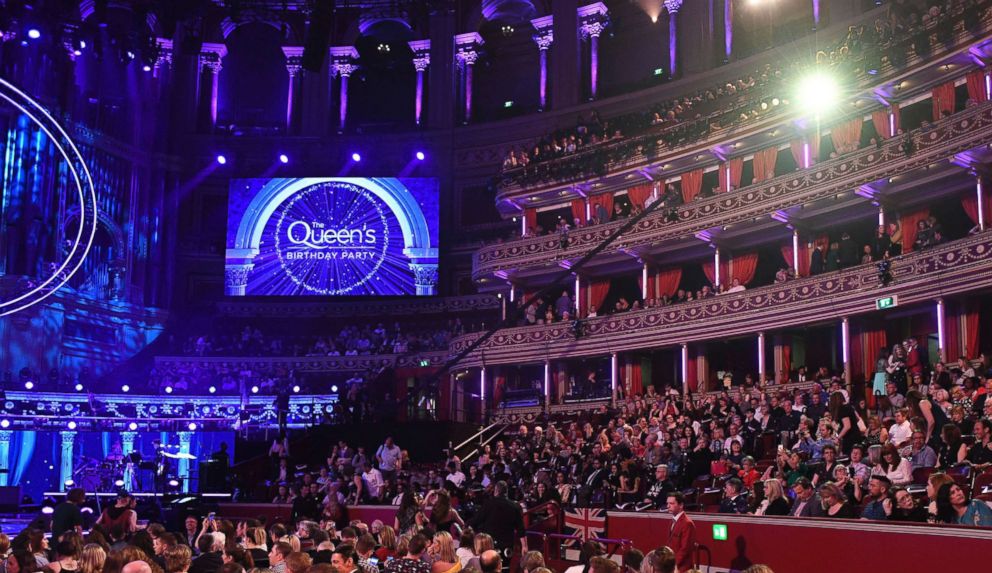 Prince Harry made a poignant tribute to his grandmother in his first speech in his new role as President of the Queens Commonwealth Trust. He vowed to carry on her work and legacy.
"Tonight we are celebrating the Queen's Birthday but Your Majesty, if you do not mind me saying, you are not someone who is easy to buy gifts for. But I think we have the perfect present," he said, referring to the Queen's Commonwealth Trust charity of which he was appointed president last week.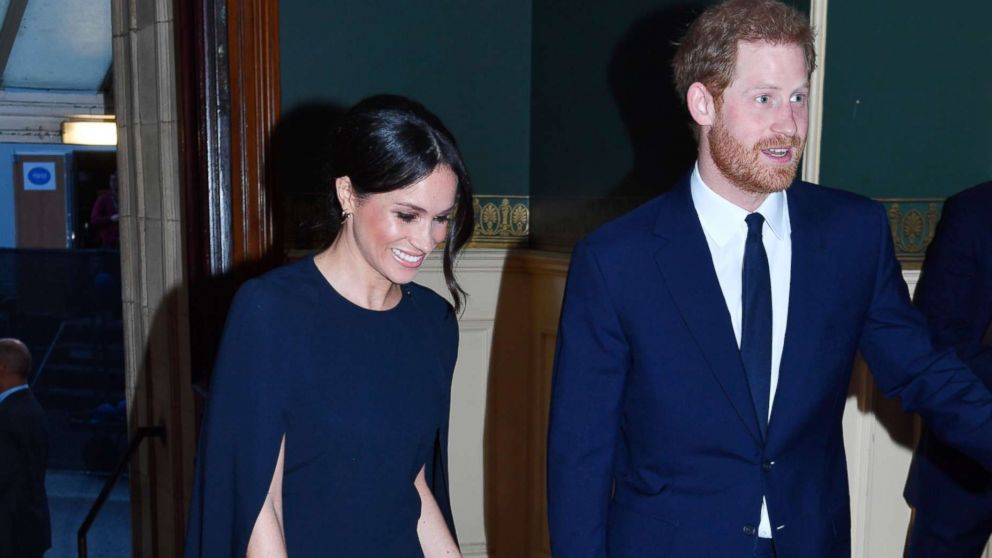 The fifth in line, who was accompanied by his fianceé, Meghan Markle, was also appointed by Queen Elizabeth this week as the Commonwealth Youth Ambassador, a role that will see Harry and Meghan using their magic as humanitarians and role models to the 2.4 billion Commonwealth citizens, 60 percent of whom are under the age of 30.
"As we celebrate your 92nd birthday this evening and in recognition of your incredible life of service, I am delighted to say that the Queen's Commonwealth Trust has now been launched to support young leaders around the Commonwealth. This organization, in your name, will provide a platform for those working to make a difference in their communities across 53 countries. Happy Birthday, Your Majesty," Harry added.
Prince Charles closed the show on stage with his mother, asking the audience to give a "hip hip hooray" to "Your Majesty, Mummy" before the iconic venue dropped balloons and shot off firecrackers inside the hall.