Review: 'Coming 2 America' a comedy whose heart remains in the right place
Eddie Murphy returns with most of the original cast.
More than three decades after the first "Coming to America," Eddie Murphy returns with most of the original cast to star in "Coming 2 America," a predictable and played-out sequel available March 5 in theaters and on Amazon Prime. The 1988 original, which became one of Murphy's most lasting hits despite tepid reviews, had charm to spare. It was also quietly revolutionary in featuring a mainly Black cast, many playing Black royalty. Take that, "Black Panther."
To nudge your memory, the first movie showcased Murphy -- hot off a trail of boffo movies ("48 Hrs.," "Trading Places," "Beverly Hills Cop I and II") that followed his firecracker run on "Saturday Night Live" -- as Akeem Joffer, the sweet prince of the fictional African nation of Zamunda, who took the royal jet to Queens, New York, with his bestie Semmi (Arsenio Hall) to find a bride who would talk back to him. He found her in Lisa (Shari Headley), the headstrong daughter of Cleo McDowell (John Amos), the owner of a chain of McDonald's rip-offs.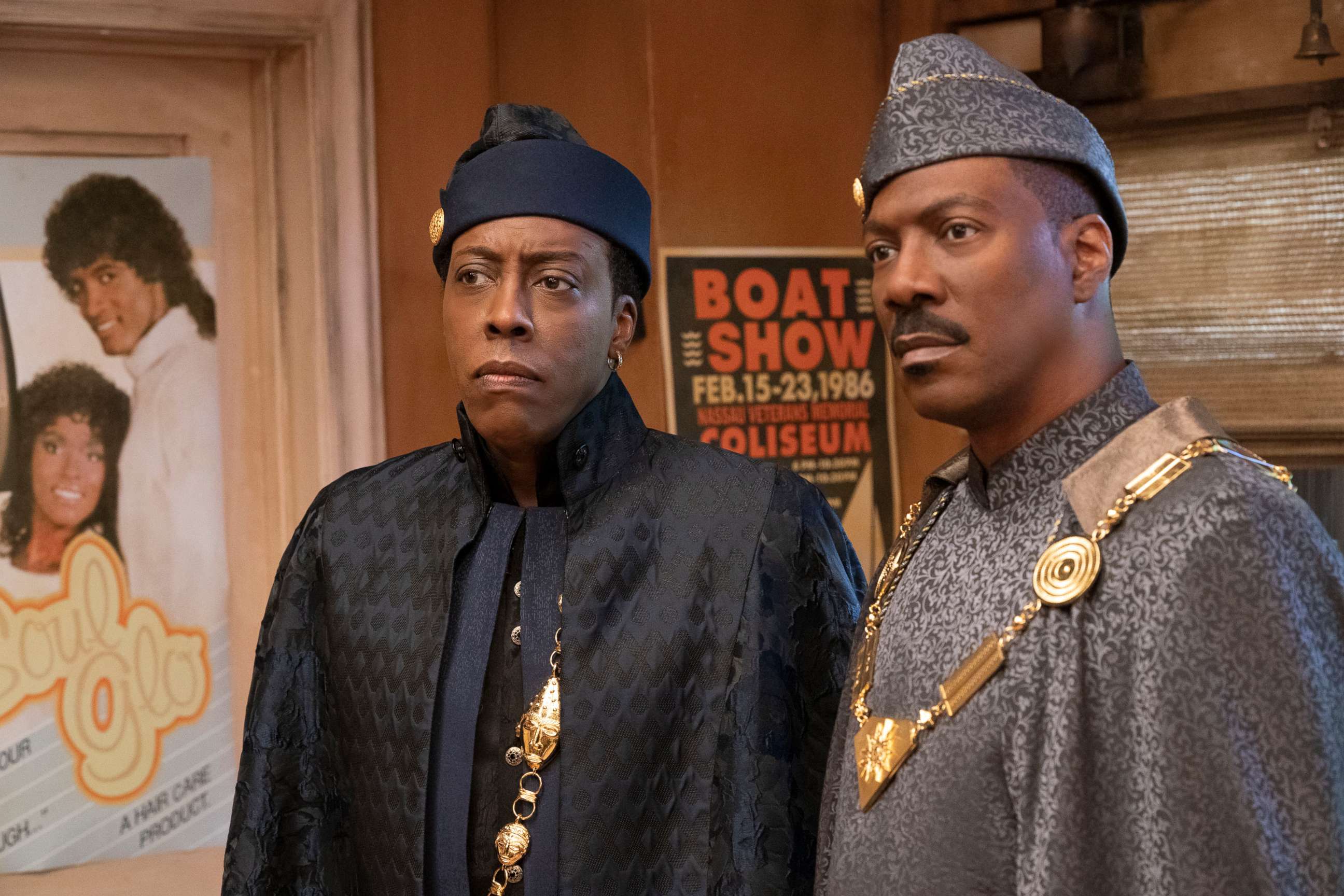 To up the film's hilarity quotient, Akeem also found the crew at the My-T-Sharp barbershop, including blabbermouth barber Clarence and his grumpy Jewish customer Saul, both played by Murphy with elaborate makeup that peaked when Murphy showed up as Randy Watson, the lead vocalist of Sexual Chocolate. Murphy never let the prosthetics wear him; he made those characters real and outrageously funny.
The old gang is back in "Coming 2 America," which is welcome but also part of the problem. The sequel is practically a remake of the original that keeps in the sexist jokes about the prince's bare naked bathers without finding a more pertinent reason for being. Akeem -- now king after the death of his father (James Earl Jones) -- is bound by sexist Zamunda tradition to produce a male heir. One problem: Akeem and Lisa, after 30 years of marriage, have three daughters. Murphy's own daughter, Bella, plays the middle princess.
Where is a son going to come from? The convoluted script suggests that back in Queens, Akeem had a one-nighter -- he was drugged -- with a hooker named Mary Junson (hey ho Leslie Jones), who gave birth to a son named Lavelle. Akeem and Semmi jet back to America to find the grown Lavelle (Jermaine Fowler) working as ticket scalper for his Uncle Reem (a wasted Tracy Morgan). What to do? Easy. Fly Lavelle and his family back to Zamunda, where the "bastard from Queens" can claim the throne and avoid war by marrying the daughter of Akeem's rival, General Izzi (a sensational, scene-stealing Wesley Snipes).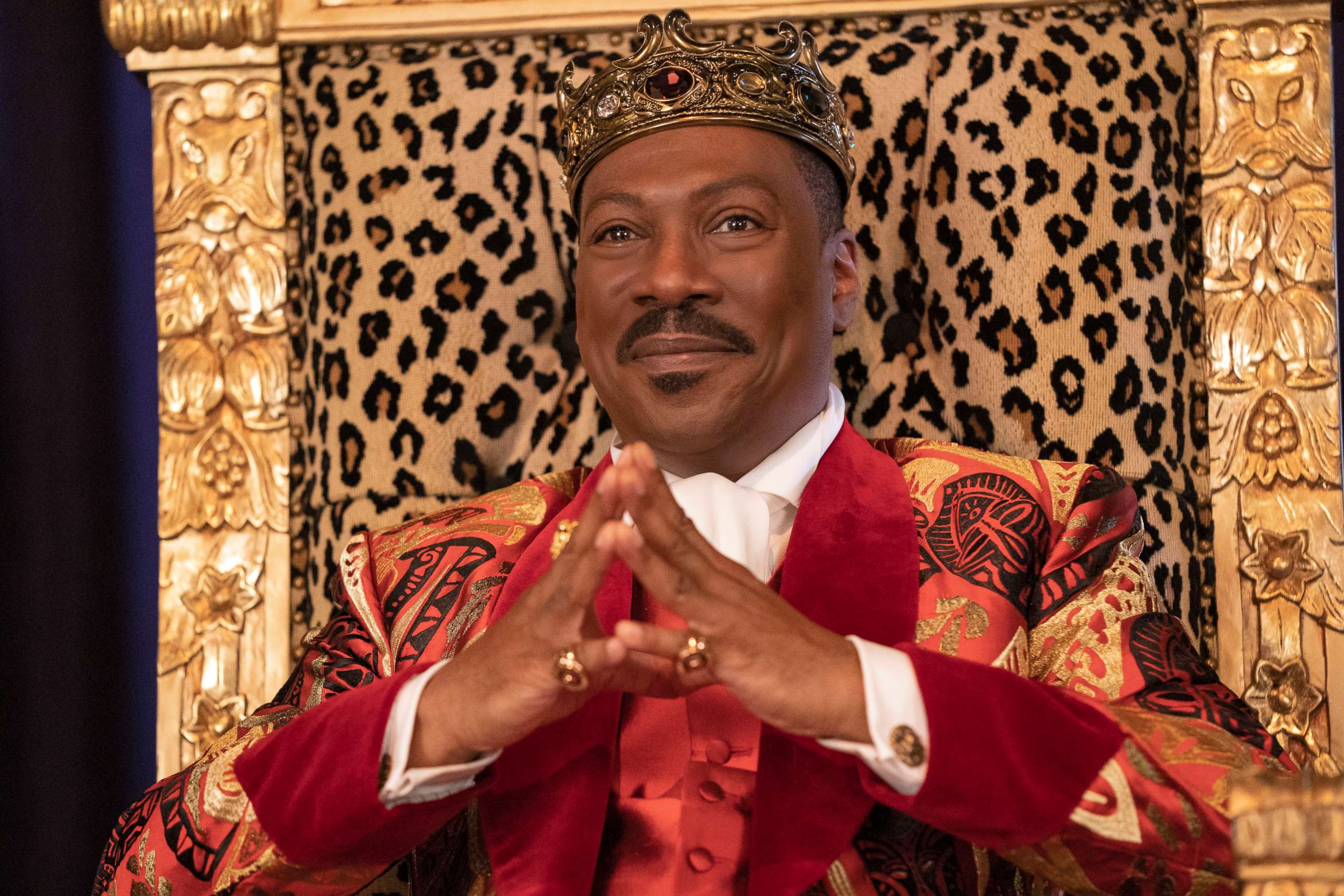 Complications ensue, all of them obvious enough to induce cliché fatigue. Will Akeem learn that women are his equal? Check. Will Lavelle see that true love is preferable to a marriage of convenience? Come on. Will audiences reject a sequel that repackages ancient jokes to diminishing returns? Maybe not. Expect goodwill for these beloved characters to go a long way. Murphy's feud with director John Landis reportedly made for a contentious set on the first film. For the sequel, the job went to Craig Brewer whose sympatico work with Murphy on 2019's "Dolemite Is My Name" resulted in the star's late-career triumph.
Download the all new "Popcorn With Peter Travers" podcasts on Apple Podcasts, Spotify, Tunein, Google Play Music and Stitcher.
No triumph here. Though it's still a blast to watch pals Murphy and Hall play broad comic characters to offset the blandness of Akeem and Semmi, nothing can top Murphy's acting genius with makeup in 1996's "The Nutty Professor" (still his best performance in a photo finish with "Dreamgirls"). What fun there is comes in seeing a paunchy Murphy, now pushing 60 and the father of 10, play his own age in a comedy whose heart remains resolutely in the right place.
The sequel is a pale, PG-13-rated shadow of its raucous R-rated predecessor, not to mention an also-ran in mythic creation when compared to "Black Panther." Zumunda Forever? Wakanda has nothing to worry about. "Coming 2 America" slides by on nostalgia (Soul Glow -- yes!), but never risks updating its defiant spirit to speak to a new era of Black Lives Matter. That's a missed opportunity. Eddie Murphy tame is no substitute for Eddie Murphy raw.