Review: 'Deep Water' errs in updating the plot to the present
The film stars Ben Affleck and Ana de Armas.
Early reviews have been harsh to "Deep Water." And yet this psychological thriller starring Ben Affleck as Vic Van Allen, a tech tycoon and artsy publisher from New Orleans whose sexy wife, Melinda (Ana de Armas), flagrantly cheats on him, sets us up for a perversely fascinating murder mystery. Too bad there's no follow through.
"Deep Water" is an epic fail when compared to the classic 1957 novel by the late, great Patricia Highsmith, who wrote "Strangers On a Train," "The Talented Mr. Ripley" and other crime fiction that tackled obsession with an existential dread that evoked -- no kidding -- Dostoevsky. Charming psychopaths, the kind you root for against your will, are a Highsmith specialty.
Affleck starts strongly with a detached blend of mirth and malice when Vic tells Melinda's young and dumb new lover, Joel Dash (Brendan C. Miller), that he killed her last boyfriend, the one who went missing. He's joking but, hey, maybe homicide is not such a stretch for a man who invented microchips used in drone warfare.
Where the movie errs most is in updating the plot to the present.
In the book, passive Vic is the essence of 1950s conformity (he's so slow he keeps pet snails!). Vic has no interest in sex, wanting only to maintain an illusion of propriety so that he and Melinda can avoid divorce for the sake of their 6-year-old daughter, Trixie (Grace Jenkins), a casualty of mom's neglect.
Melinda, a natural disrupter, soon bursts Vic's bubble by brazenly parading her lovers in front of him and the neighboring couples they call friends. With his fragile sense of identity shaken -- Vic is all about how other people see him -- the husband is goaded to cross the moral line.
Director Adrien Lyne, returning to film after 20 years, is infamous for such sizzlers as "Fatal Attraction," "Unfaithful" and "Indecent Proposal." So there's no way he's going to neuter a star object of desire like Affleck. Now Vic really is hot for his wife, which turns him into a cliched jealous husband instead of the avatar of fragile masculinity that Highsmith created.
In sexually liberated 2022, this updated "Deep Water" doesn't make a lick of sense.
Lyne even skips Highsmith's decision to make Melinda's lovers notably unattractive, the better to humiliate Vic in front of his friends.
On film, the lovers are mostly hottie boytoys, including Jacob Elordi of "Kissing Booth" as a jazz pianist who drowns in a swimming pool.
Did Vic do it? Melinda thinks so. And so does local writer Don Wilson (Tracy Letts). But the real victim here is the genius of Highsmith who chronicled dark impulses with a wicked mischief that is missing from the script co-written by Sam Levinson of the frisky HBO Max series "Euphoria."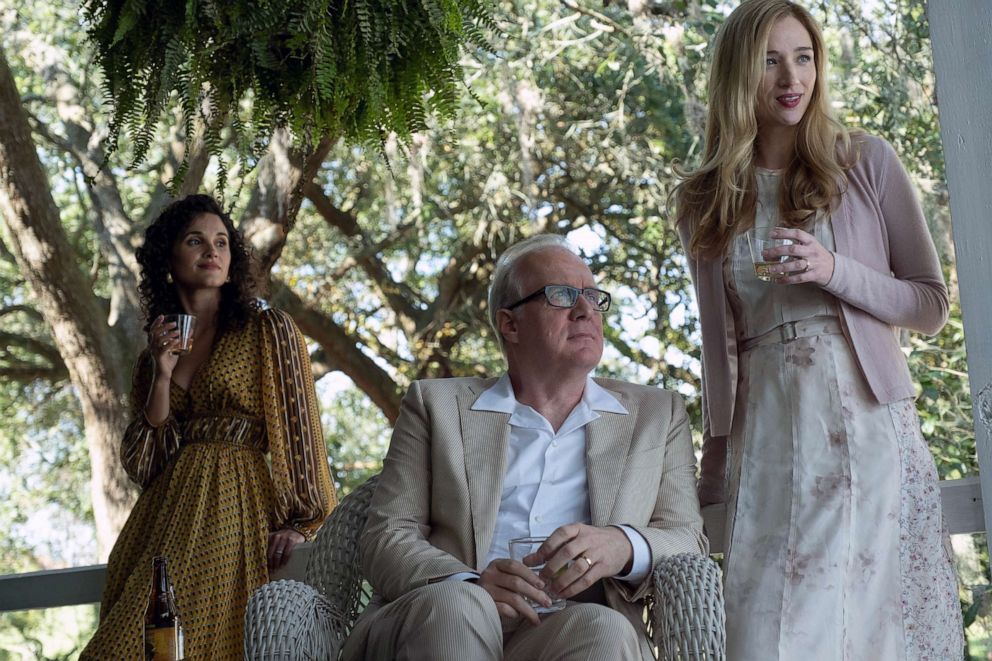 Even when Wilson joins Melinda in naming Vic as the who in this whodunit, the film fails to generate suspense or a rooting interest. Affleck pastes on a smirk that rarely fades. His buddy Matt Damon played a seductive psychopath far better in "The Talented Mr. Ripley."
In response, de Armas (so good in "Knives Out" and "No Time to Die") chews every piece of scenery that's not nailed down. Though the Cuban-Spanish actress and Affleck had a brief affair that titillated the tabloids before J.Lo came on the scene, their erotic chemistry is undetectable.
What you can detect here are glimmers of what "Deep Water" could have been on film. But instead of the enduring suspense landmark that Alfred Hitchcock made of Highsmith's "Strangers on a Train" in 1950, Lyne drowns "Deep Water" in bad decisions that fail to trust the Highsmith take on the dark side of human nature.
My advice? Skip the movie, read the book.