All eyes are on "Ted Lasso," the underdog that went from nowhere to the show everyone is watching. Having scored the most Emmy nominations ever (20) for a freshman comedy series, the show begins its second season this week on Apple TV+ and begs the question: Will it equal or top what came before or just be a one-hit wonder?
Come on people, have faith in Jason Sudeikis, who co-created the series and stars in the title role. He's a lock to win that Emmy in September for shaping something bracingly original out of a character that's been done to death and then warmed over: Mr. Nice Guy.
Returning for a sophomore season that generates even more laughs and real-deal emotion, Sudeikis deepens his performance as a clueless football coach from Kansas who's been hired to turn around a struggling British soccer team even though he has zero knowledge of the sport.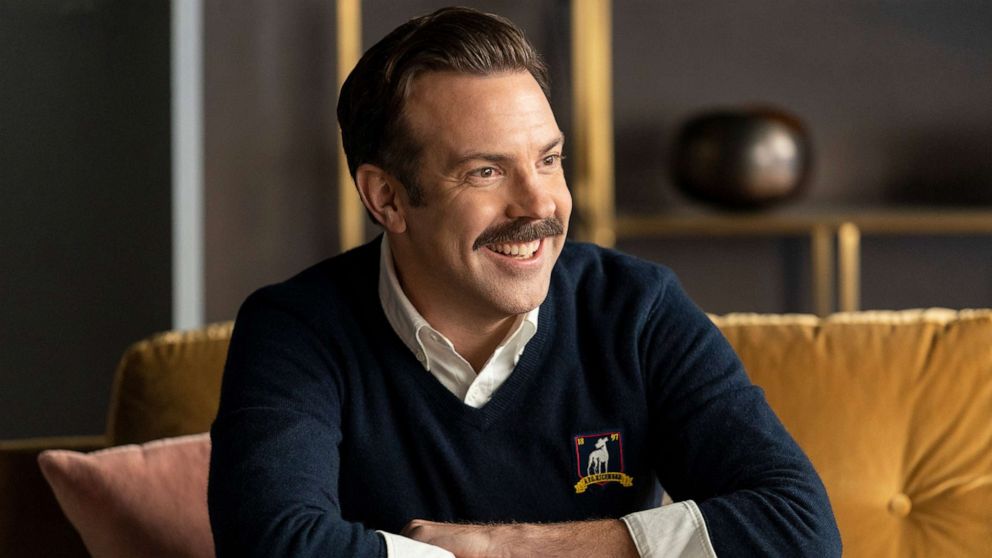 Ted Lasso is not a role Sudeikis was born to play. Having specialized in conceited jerks on "SNL" and in such movies as "Horrible Bosses" and "Sleeping with Other People," the master of snark has added a new and becoming color to his acting palette. It's called sincerity.
There's nothing more impossible to act than virtue and decency. But Sudeikus nails it, giving the mustachioed loser in Ted an undercurrent of sadness as a divorced dad whose adored son lives an ocean way. Between baking homemade biscuits, Ted is having panic attacks.
"Believe" is the word Ted tapes on his wall. And he believes in his team, AFC Richmond, even though owner Rebecca (stellar Hannah Waddingham) hired Ted to coach her Premier League club thinking this Yank idiot would destroy what her cheating ex-husband loved more than her.
Ted's failed season one coaching run dropped the team out of the top league, but now even Rebecca wants to win, adding tough love in the form of sports psychologist Sharon Fieldstone (a superb Sarah Niles), who helps star player Dani Rojas (Cristo Fernández) through a personal trauma.
There's conflict, of course. Will retired team captain Roy Kent (Brett Goldstein, a bristling delight) find happiness with team marketing wiz Keeley Jones (the sublime Juno Temple) even as his hotheaded verbal spewing nearly ends his new career as a TV sports pundit?
Download the all new "Popcorn With Peter Travers" podcasts on Apple Podcasts, Spotify, Tunein, Google Play Music and Stitcher.
And there's fresh hell for Keeley when Nigerian player Sam Obisanya (scene-stealer Toheeb Jimoh) takes a public stand against his country's corrupt government and former Richmond star Jamie Tartt (Phil Dunster) asks to rejoin the team after a disastrous "Bachelor"-like TV gig.
And what happens when Nate (a terrific Nick Mohammed) joins the coaching team with Ted and Coach Beard, played by a pricelessly deadpan Brendan Hunt, who co-created the series with Sudeikis, Bill Lawrence, and Joe Kelly?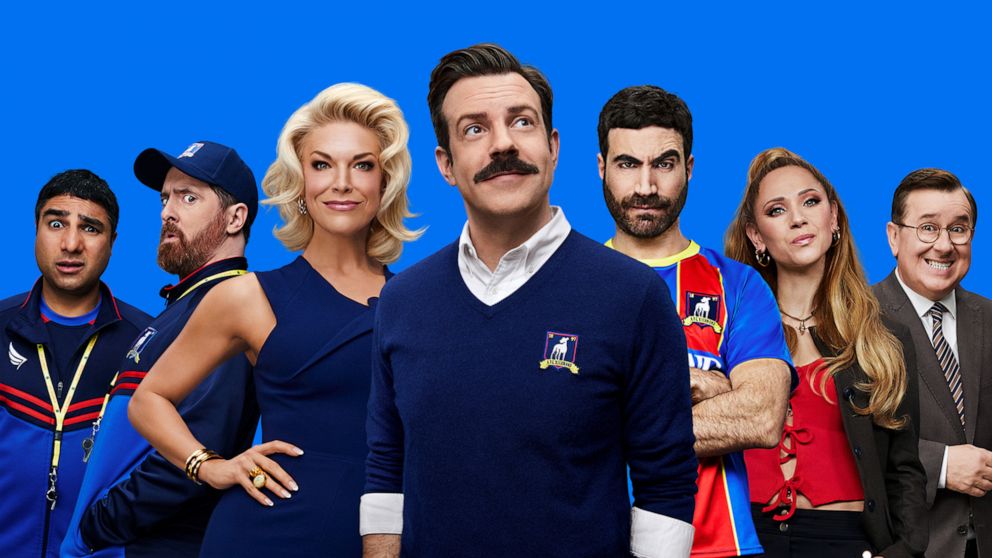 No spoilers except that when operations director Higgins (the wonderful Jeremy Swift) throws a Christmas party for this ragtag team, it becomes clear that the show is only accidentally about sports and more about the human need to just, dammit, be decent to each other.
Corny? Nah. It's comic gold from the best ensemble cast on television. Sudeikis, who never hogs the spotlight at the expense of others, claims that the series will only run for three seasons. Is it out of a fear that success can spoil an underdog story? As Ted would say with his usual pop-culture shoutouts, "Don't you fret Boba Fett."
"Ted Lasso" gloriously provides the shot of upbeat we need and not just during a pandemic. Yes, the coach cheers hard for kindness, but he doesn't kill you with it. He just makes you laugh at how simple it is, turning an exuberant gift of a series into an enduring comedy classic.