The first close-up you see in Steven Spielberg's stirring, often thrilling reimagining of "West Side Story," only in theaters, is of a wrecking ball. A hurtling ton of forged steel just like was used in the 1950s to demolish the crumbling tenements that occupied 10 blocks on New York's Upper West Side, displacing a largely immigrant population to make way for the new.
Wait a minute. Is Spielberg out to take his own wrecking ball to the 1957 Broadway game changer and the beloved 1961 film musical about a gangland Romeo and Juliet that won 10 Oscars, including Best Picture, despite miscasting the lovely Natalie Wood, born to Russian immigrants, as its Puerto Rican Juliet?
Not to worry. Spielberg is respectful, but he's not genuflecting to a 60-year-old classic. Taking on his first musical, the visionary filmmaker teams with screenwriter Tony Kushner to give the plot context, diversify the cast with young actors who can also sing and dance, and set the result before a generation of millennials who maybe -- sacrilege! -- never heard of it.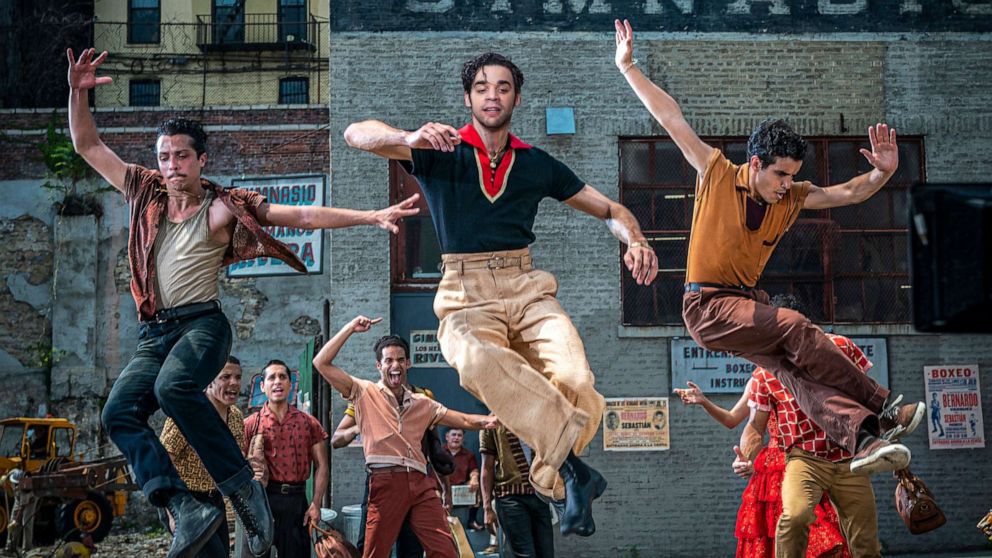 The plot, famously updated from Shakespeare's "Romeo and Juliet," is a racially-charged love story between Tony (Ansel Elgort) and Maria (Rachel Zegler) set against a turf war between two rival gangs -- the nativist white Jets, led by Riff (a terrific Mike Faist), and the Puerto Rican Sharks, led by Maria's brother, the quick-tempered Bernardo (an explosive David Alvarez).
It's refreshing to see a Latinx cast, with a standout Ariana DeBose as Bernardo's lover Anita, bring the Sharks and their relationships to vivid life. And the glorious Zegler, a newcomer barely out of her teens, gives a breakout star performance that will be talked about for years.
And thanks to the brilliance of Kushner, a Pulitzer-winner for "Angels in America," the characters get their hands dirty. They even have backstories. Tony, yearningly sung and acted by Elgort, is now a parolee who can no longer risk hanging with his Jets team.
And Zegler's Maria is just in from San Juan and taking low-paying cleaning jobs before she defies blood ties to hook up with Tony behind the bleachers during the dance at the school gym, which degenerates into brutal chaos when someone pulls a knife.
With all due to respect to the gifted Justin Peck who redid the dances, the original choreography by Jerome Robbins is much missed. The soaring, finger-snapping, arms-extended leaps that opened the original film now feel less balletic and more earthbound.
Fortunately, the immortal score by Leonard Bernstein with virtuoso lyrics by Stephen Sondheim has never sounded better, from the lovers' duet to "Tonight" on a fire escape to "One Hand, One Heart," set at the Cloisters museum with its spiritual aura of hope. Both touch a raw nerve about divisions in society, yesterday and today. But we expected that, right?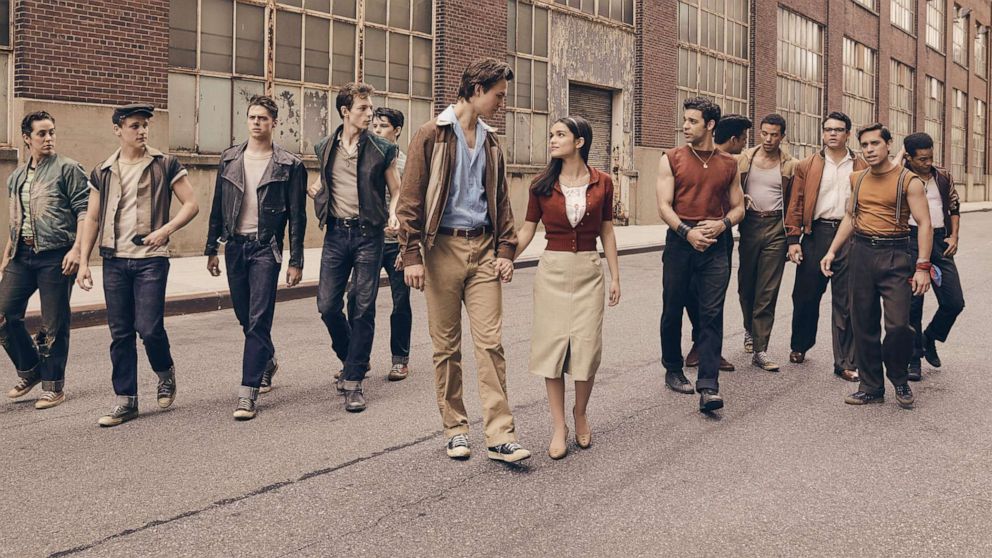 What didn't we expect? A redo of "America" that moves off the first film's rooftop and into the teeming streets with DeBose crushing the vocals and footwork. Spanish is spoken but not translated with subtitles. And when Maria sings "I Feel Pretty," she's cleaning a department store display of white America enjoying is privileges. And the rumble, well just you wait.
Those numbers make you wish Spielberg had taken more radical departures. The film lifts off most powerfully when the director forgets he ever saw the first movie. And as good as Alvarez is -- his Bernardo now pursues a career as a prizefighter -- he can't quite match the seething danger and erotic sizzle that helped win George Chakiris an Oscar.
It falls to DeBose to edge Anita out of the long shadow cast by Oscar champ Rita Moreno. Not an easy task since Moreno is right there in the new role of Valentina, the widow of drugstore owner Doc. She mentors Tony and defies the Jets when they attack Anita, an electrifying scene that puts two Anitas -- DeBose and Moreno -- in the same frame and spins the plot into tragedy.
Download the all new "Popcorn With Peter Travers" podcasts on Apple Podcasts, Spotify, Tunein, Google Play Music and Stitcher.
Moreno is not doing a cameo. It's a solid role that lets her take on one of the score's most iconic songs (no spoilers), which she rides to glory like the legend she is. Could Moreno, who just turned 90, strike Oscar gold again in this new "West Side Story?" Why not? She's dynamite.
Of course, "West Side Story" has always had detractors who slam it as frenzied hokum that strains laboriously for greatness and rings false as the two gangs reconcile to bury their dead. And yet Spielberg and Kushner work studiously against laying it on too thick.
Sondheim, who died the day after Thanksgiving but whose inspiring legacy lives on, always encouraged interpretation as a way to keep art alive. Before his death at 91, the master hailed the Spielberg version: "The whole thing has real sparkle to it and real energy, and it feels fresh."
That it does. Spielberg may sometimes play it safe out of devotion to a movie he grew up with, but you can feel him striving to create something on his own terms that might also live for 60 years. While we're waiting, Spielberg's "West Side Story" sets the screen ablaze.