Robin Roberts, Amber Laign share 18-year love story ahead of upcoming wedding
Roberts and Laign have been a couple for nearly 20 years.
When "Good Morning America" co-anchor Robin Roberts says "I do" next month at her wedding to Amber Laign, it will be the start of a new chapter nearly two decades in the making.
Roberts' and Laign's love story began 18 years ago when they were set up on a blind date by mutual friends.
Both Roberts and Laign said they canceled several planned first dates with each other over the course of a year before their friends made that first meeting happen.
"Our two friends, my friend Alex, her friend Bert, finally said, 'Enough, you two are going to meet,'" Laign recalled, adding of their eventual first meeting, "I remember just walking up and she's just beautiful, and she took my breath away, and she still does."
Roberts recalled that she told their mutual friend she only wanted to meet Laign for drinks, but if it was going well she would kick him under the table to let him know they should stay for dinner.
"Within a few minutes [of the date], I was kicking my friend Bert under the table," Roberts said. "And we asked if they would like to stay for dinner, and her friend couldn't stay, but she did."
At the time of their first meeting, in 2005, Roberts had recently made the move officially from ESPN to "GMA," taking a seat at the anchor desk alongside Charles Gibson and Diane Sawyer.
The new role for Roberts allowed her and Laign a unique opportunity to see each other daily at the start of their relationship.
Laign said at the time, she didn't follow sports coverage and didn't watch "GMA," so she had to Google Roberts to learn more about her. As they got to know each other more, she said she changed her route walking to work every day so she could cut through Times Square, where "GMA" broadcasts live each morning.
"I'd cut through Times Square and Sam [Champion] would be doing the weather," Laign recalled. "And when Sam would do the weather, Robin would walk over to the windows and she'd wave and we would time it."
She continued, "It just put a little extra pep in my step. I don't know how we finally got the timing down, but that went on for quite a while."
Roberts remembers waiting each morning for the time to come to wave to Laign, saying, "I do remember looking forward to that time in the morning when she would walk by and I could just go, I'd just run [to the window]."
Overcoming health obstacles, personal loss together
As their relationship solidified, Roberts and Laign faced an obstacle early on, in 2007, when Roberts was diagnosed with breast cancer.
"We had only been dating not even two years when I was diagnosed with breast cancer," Roberts said. "She could have bailed early on in the relationship. No one would have blamed her."
Instead, Laign stuck by Roberts' side, helping her as she recovered from treatments and surgery. Through it, Laign embodied the nickname Roberts gave her early on, "Sweet Amber."
"People ask me how did I start calling her 'Sweet Amber,' and it was so organic," Roberts said. "It's just the aura about her. She's so kind. She's just really, really kind, and it's so genuine, you know? It's not trying to be anything other than who she is."
In the years ahead, Roberts and Laign would overcome more health and personal obstacles together, from grieving the loss of Roberts' father Col. Lawrence Roberts to enduring the devastation of Hurricane Katrina in Roberts' home state of Mississippi to mourning the death of Roberts' mom Lucimarian Roberts in 2012.
Shortly after her mom's death, Roberts was diagnosed with myelodysplastic syndrome and underwent a lifesaving bone marrow transplant, requiring her to spend nearly six months off the air at "GMA."
"It can either tear you apart or bring you closer together, and thank the good Lord, it brought us closer together," Roberts said of the obstacles they've faced. "We are partners. We will do whatever it takes, and I think that the illnesses that we have gone through, and are going through, have only strengthened us and made us more compassionate with each other and have a better understanding of each other."
In 2020, Roberts was there to support Laign when her father died. Two years later, in 2022, Roberts took over the caregiver role when Laign was diagnosed with breast cancer and underwent both surgery and chemotherapy.
"Our roles as caregivers and patients, we're pretty fortunate," Laign said. "Unfortunate that we had to go through it, but that we've both supported each other on both sides of those roles."
Amid the ups and downs of their health issues and personal losses, Roberts said their relationship "has not always been a bed of roses." She and Laign went through couples counseling and Roberts said at times they had to "fight" to stay together while also fighting for their lives.
"There was no piece of paper. There was no reason why we had to stay," she said. "We could have walked away at any time, and we didn't."
A decision to say 'I do'
During the COVID-19 pandemic in 2020, Roberts' and Laign's relationship, like so many others, was tested on a different level.
Both women said the pandemic proved to be the longest "stretch of time" they spent together, uninterrupted. Roberts was no longer traveling for work and appeared on "GMA" from the basement of their home, where Laign suddenly became her fill-in producer.
"When we got word that she would be filming down in the basement, it was like, OK, I will get up. I will help you. I will do whatever it takes to make this whole process go smoother," Laign recalled. "It was grueling for me. I'm not a morning person ... all of a sudden I'm waking up at 4:45 in the morning, but it was great."
The time at home bonded the couple, they said, and turned their talks of marriage over the years into a reality.
"We had talked about marriage off and on during the course of our relationship, and it didn't come through for whatever reasons," Roberts said. "But after the lockdown, we were like, yeah, we kind of like being around each other almost 24/7."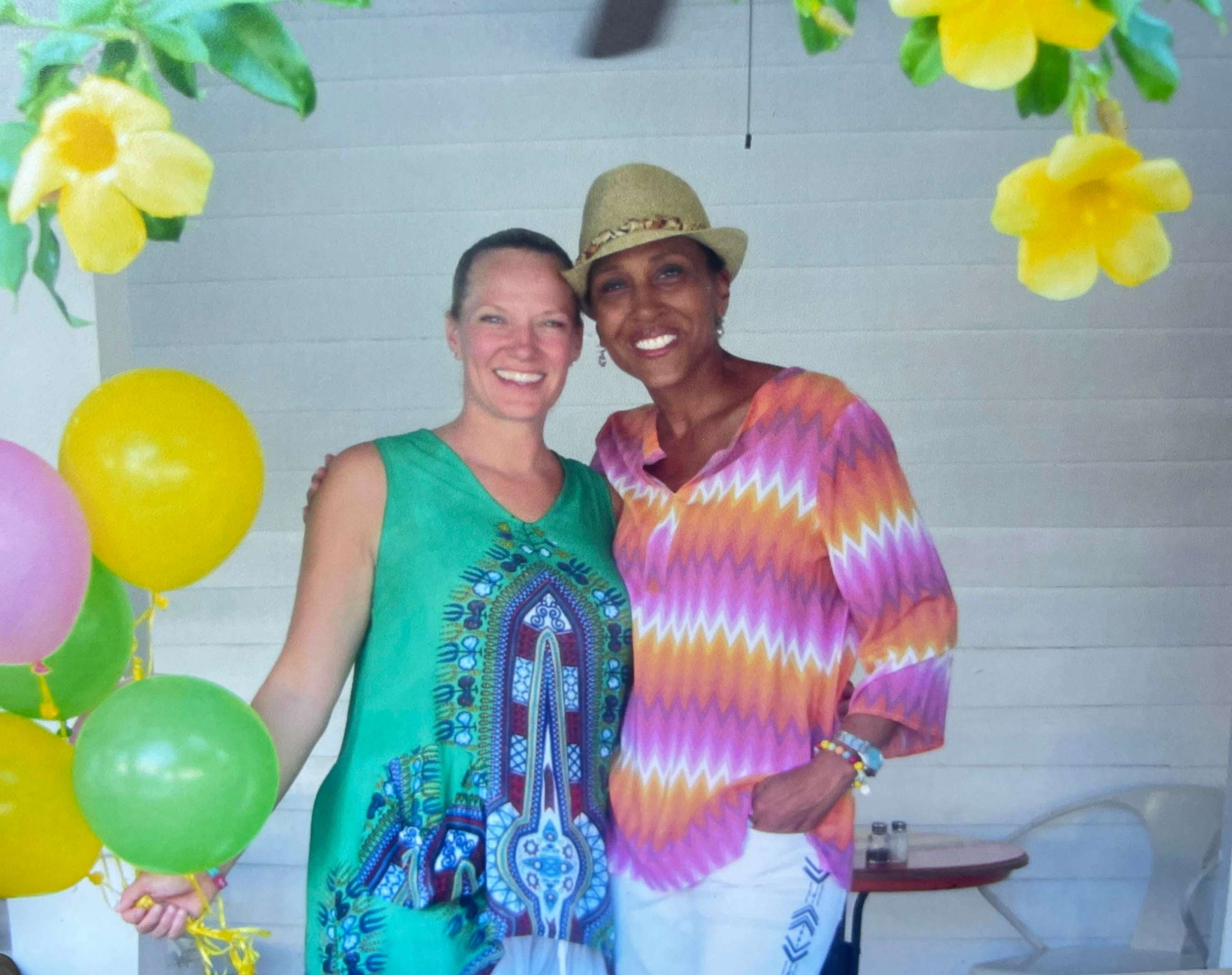 The official marriage proposal came in a fittingly casual way at the end of 2022. The couple decided to wed while eating at a favorite restaurant together in Connecticut, where they put rings of calamari on each other's fingers.
"We took the calamari rings and we slapped them on each other's fingers and we just we proposed to one another," Roberts said. "Now looking back, it was pretty fitting for us to not have a down on one knee [proposal] and one person doing it and who was going to propose. It was just us hanging out in our little hole-in-the-wall Mexican spot and putting calamari rings on each other and saying, 'Let's go. Let's do it.'"
Shortly after, Roberts made the wedding news official when she said live on "GMA" during an interview that she was "saying yes to marriage" in 2023.
"When she said, 'Let's get married,' the feeling that I got was a rush of excitement, nervousness, of course ... and happy," Laign said. "We had planned on getting married last year, but then I was diagnosed [with breast cancer] ... so this was like perfect timing, saying it on air."
Now as they are in the final countdown to their wedding day after 18 years together, Roberts and Laign said they appreciate each more than ever.
"She is truth speaking. She treats everybody with such kindness, and to have someone by your side like that is a gift," Laign said.
Added Roberts, "Many people go into marriage hoping for and looking for what Amber and I already know we have, and so ours is a celebration. We've been living our happily ever after through all the ups and downs, so it's a celebration."