18-year-old donates kidney to mom, encourages others to 'be a donor'
Brooke Lyle said she knew she wanted to give her mom a second lease on life.
For years, Jessica Jordan of North Richland Hills, Texas, lived with debilitating pain. Her daughter, 18-year-old Brooke Lyle, remembers her mom tried to "hide the pain a lot," but, as she told "Good Morning America," she knew "something was wrong."
"I could hardly walk. I was in a lot of pain, like everywhere," Jordan, a mom of five, recalled to "GMA." "Finally, when I was diagnosed, my body was already shutting down and it affected my kidneys because it's a very aggressive disease if you don't catch it right away. I did almost die when I got diagnosed but treatment and everything worked pretty good."
That disease, Jordan explained, is granulomatosis with polyangiitis, a rare autoimmune disease she says she was diagnosed with about 12 years ago. According to the National Institutes of Health, it causes swelling and inflammation of the body's blood vessels, and can limit blood flow to organs such as the lungs and kidneys, damaging the organs.
Jordan said that's what happened to her. "It slowly started affecting my kidneys and then they started me on dialysis," she said, adding that doctors told her early on that she would eventually need a kidney transplant.
The family came up with a plan to have Jordan's twin brother, Alfred Daniel Tucker, donate a kidney to her, but that changed after he died unexpectedly on Aug. 13, 2021 from COVID-19, which also affected his organs.
When her uncle passed and her mom began dialysis treatment, Lyle said decided to donate one of her kidneys to her mom.
"I just was like, 'OK, I'll do it' and that was it," Lyle said. "I did all this research and I was like, 'OK, I am gonna do it' because obviously, I'm going to think about all of the terrible things that are gonna happen for doing this but there really isn't that much I'm giving up that's worth giving up my mom."
At first, Jordan said she was against Lyle giving her one of her kidneys because she felt she was too young and had a long life ahead of her.
"I was like, 'Oh, there's no way because I know it's a big surgery.'" Jordan said. "Maybe if she was older and already had children, I'd feel more comfortable, I guess. But I didn't do that much research on an 18-year-old 'cause I never thought I would have an 18-year-old, and especially my daughter. But that's one thing you have to do, of course, is just do your research."
But Jordan eventually accepted the offer after both she and Lyle consulted their doctors and health care team.
"I would not have put my daughter in any situation that I thought it was gonna affect her later," Jordan said. "We both spoke to counselors and they did talk to her without me to make sure she wasn't pressured into it or anything like that, which was awesome. And I told her from the very beginning that even at the point of surgery, they even told her that if she wanted to back out, that she could."
Lyle said she grew more comfortable with her decision as she learned more about the donation process.
"I think what really helped me be at ease with this decision was that there's a super-low [number] of people that have died from complications of being a donor," the high school senior said.
The mother-daughter duo both underwent successful surgeries at Baylor Scott & White All Saints Medical Center in Fort Worth, Texas on June 14. Jordan, who will have to take anti-rejection medication continually, now has three kidneys, while Lyle has one.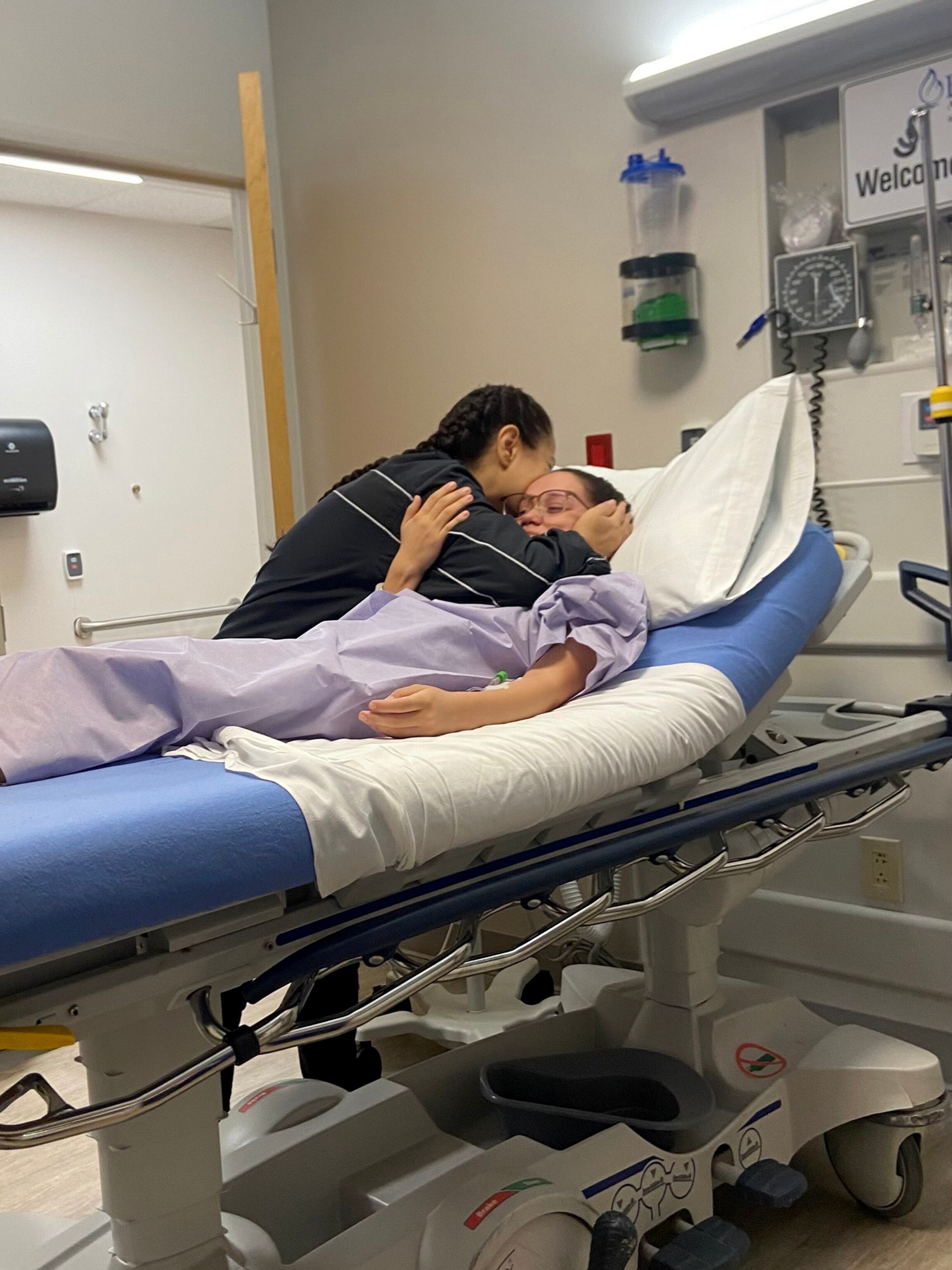 "She's healthy and I'm healthy and the doctors just tell me I got such an awesome kidney," Jordan said. "Right away, it started working and I feel it. I feel great."
Nearly 114,000 people across the U.S. are currently waiting for an organ transplant, with just over than 95,800 of them waiting for a kidney, according to the most current data from the Organ Procurement and Transplantation Network.
Jordan and Lyle say their message to others is to "be a donor."
"A lot of people aren't aware. You can live with one kidney," Jordan said. "If you can donate now, do it. If not, donate when you pass on, give life to someone else. Because you will live on like that or at least a little part of you will."