I'm a Black mother who adopted a white baby. Here's why I carry his adoption papers.
Keia Jones-Baldwin and her husband Richardro adopted Princeton, 2, in 2019.
A mother of four is speaking out about her experiences as a Black parent to a white child amid protests calling for racial justice in our country.
Keia Jones-Baldwin and her husband Richardro adopted Princeton, 2, on Aug. 29, 2019. Princeton is the youngest brother of Zariyah, 16 -- Keia Jones-Baldwin's daughter from a previous relationship and two other adopted siblings, Karleigh, 16 and Ayden, 9.
The couple shared their journey on their social media accounts, Raising Cultures.
Recently, Jones-Baldwin said, negative comments and stares in public have heightened regarding her mothering a white toddler.
"When he was an infant it was worse, it got a little better and then all of a sudden, post-pandemic we are in this racial tension and it started flaring back up," Jones-Baldwin of North Carolina, told "Good Morning America." "It seems like so much of a divide now, and we hate it."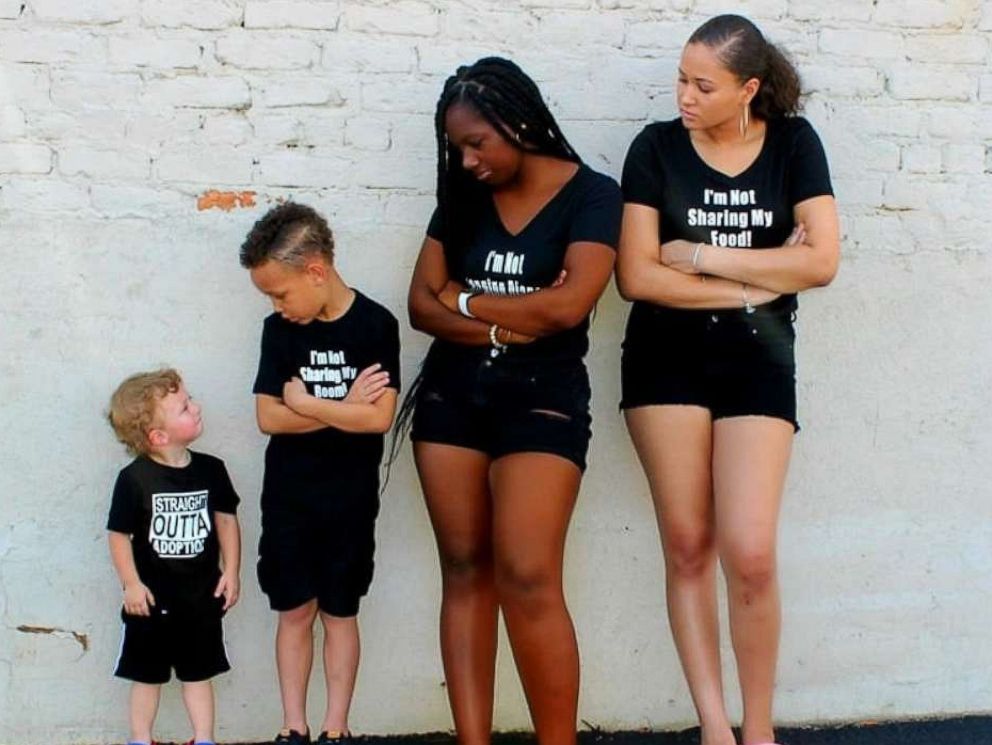 Jones-Baldwin wed her husband in 2010. They soon wanted to start a family of their own, but Jones-Baldwin experienced several miscarriages and unsuccessful attempts at in vitro fertilization.
They began fostering and in 2017 Jones-Baldwin got a call from the foster care agency asking if she'd like to meet a newborn named Princeton in need of a home.
"They knew I was a therapist and we had the capacity to take in another child," Jones-Baldwin said. "They don't care about [ethnicity] or gender they just want to place them in a safe and loving home."
When Princeton was in need of a permanent home, Jones-Baldwin made it official. "I put him on my chest for the first time and I never wanted to leave," she told "GMA" one week after the adoption.
Since then, Jones-Baldwin has posted videos about adopting transracially; emphasizing how she has a normal family, who does normal things. "We just happen to have an adopted, white son," she explained.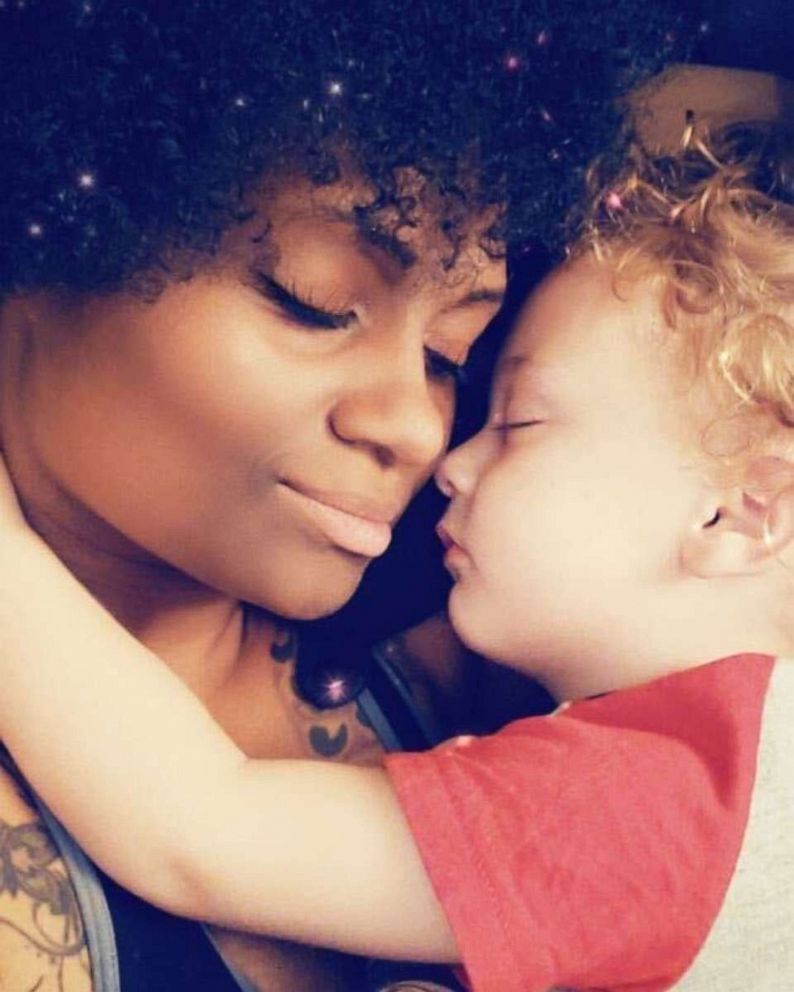 Jones-Baldwin said that in recent weeks, she's been approached by strangers while running errands with her son. Her assumption, she said, is that people think she abducted him.
"We were at the grocery store and a lady blocked me with a shopping cart. She said, 'They don't keep masks on.' I said, 'Yea they're toddlers.' I went to the next aisle and she followed," Jones-Baldwin recalled. "She kind of pushed her cart in front of mine."
"I didn't know what her intentions were," she said. "She had motioned for another man. I was like, 'Wait a minute, this is too much.' It's too much constantly having to defend our family."
Jones-Baldwin said she now carries her son's adoption papers wherever she goes.
"My having to carry around his adoption decree, is [because] if the police [are] called I am able to show them, 'This is my child,'" she explained. "I just hate for people to assume that we kidnapped him because he is Caucasian."
"I feel [adopted] African American children are looked at [as] if they need to be saved -- saved from third world countries, drug addicted-mothers, saved from the hood," Jones-Baldwin added. "It's that savior complex, not of the parents adopting, it's everyone else. "People will say, 'The nerve of those Black parents adopting a white child. He doesn't need to be saved. You're actually hurting him by having him live with an African American family'... and that's the double standard."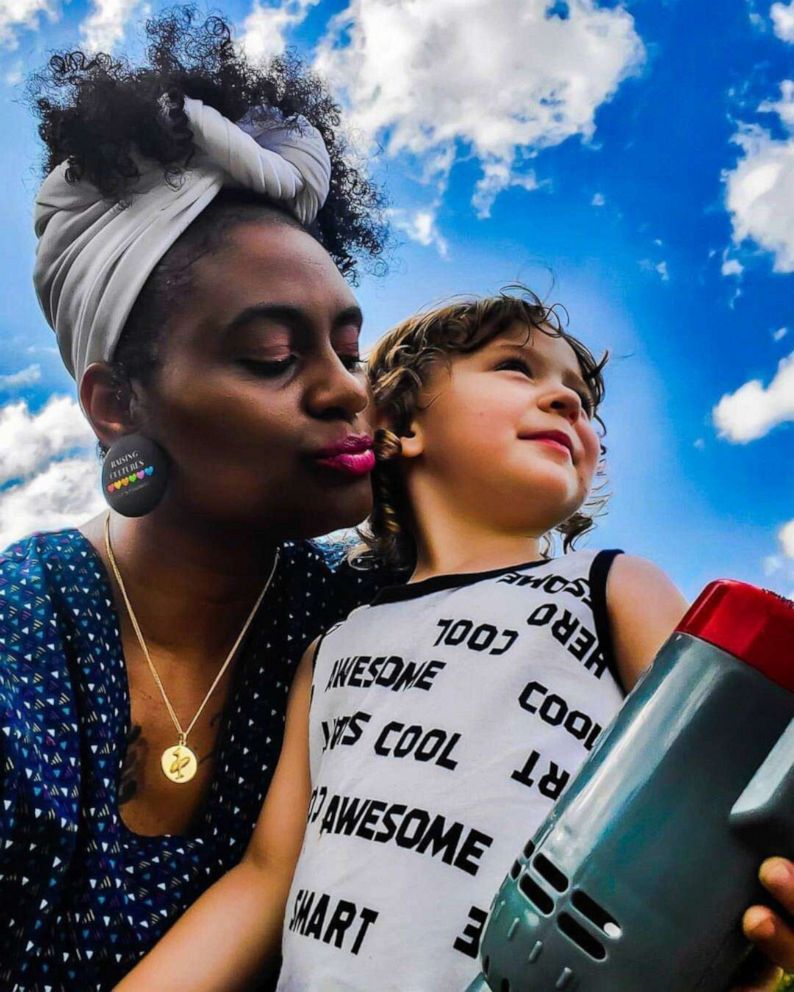 Jones-Baldwin has since connected with other Black parents who have adopted white children. She hopes together they can change the narrative and encourage others to educate themselves before passing judgement.
"If I was able to look at these women that approach me and say, 'Hey, I just wanted to be a mom. I've had several miscarriages, failed IVF attempts, a failed surrogacy attempt,' I think it would soften the hearts of people," Jones-Baldwin said.
"They'd understand a mother wanted to grow her family and it [didn't] happening the traditional way. It happened the way God wanted it to happen."