When Kelli Schultz discovered that she'd be on the same flight as her newlywed sister en route to her honeymoon in New Zealand, she couldn't resist the opportunity to give her an extra special wedding gift.
With help from United Airlines' flight attendants, Schultz got the passengers on the 130-seat plane from Austin, Texas, to San Francisco to write well wishes to her sister, Briana DuPriest, and her now-husband Robert, en route to New Zealand through a connecting flight.
When the two sisters discovered they were on the same flight leaving the DuPriest's wedding on April 14, Schultz, 28, took it as a sign.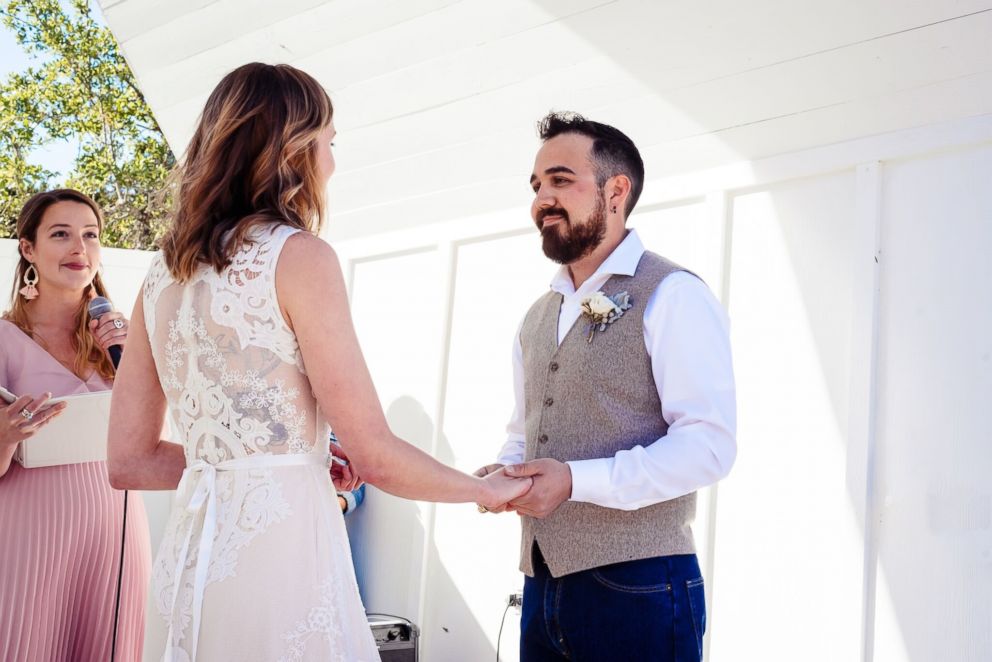 "The universe gives you gifts," the maid of honor, who also officiated the ceremony, told ABC News. "And I thought, 'OK, this is clearly like a smoke signal from God or the universe or whatever it is. I knew I wanted to do something a little extra, but I thought, 'What can I do?'"
After consulting a friend who's also a flight attendant, Schultz decided to bring goodie bags onto the flight filled with a single card and chocolates. The goodie bags included a note that read in part: "Hello fellow passenger, My sister Bri and her new husband Robert are on this flight on their way to their honeymoon in New Zealand. If you can write a piece of marriage advice or life advice and pass it up to Bri & Robert DuPriest in seats 8A and 8B."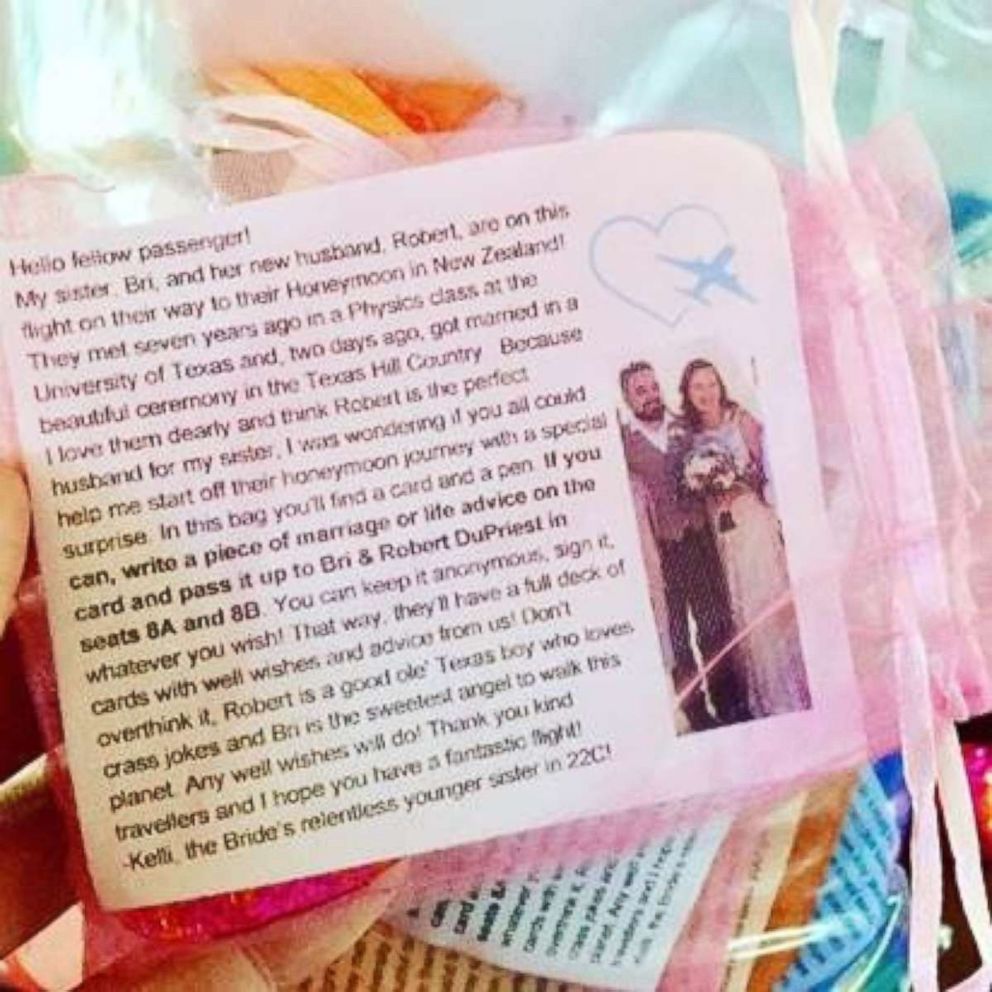 With help from flight attendants, who passed out the goodie bags and Sharpie pens for passengers to write messages, the surprise began to unfold.
A representative for United Airlines told ABC News in a statement that they were happy to aid in the heartwarming surprise.
"We know there is a special reason behind everyone's journey with us, and we are happy to have done our part to make this trip that much more special for this couple," a statement read.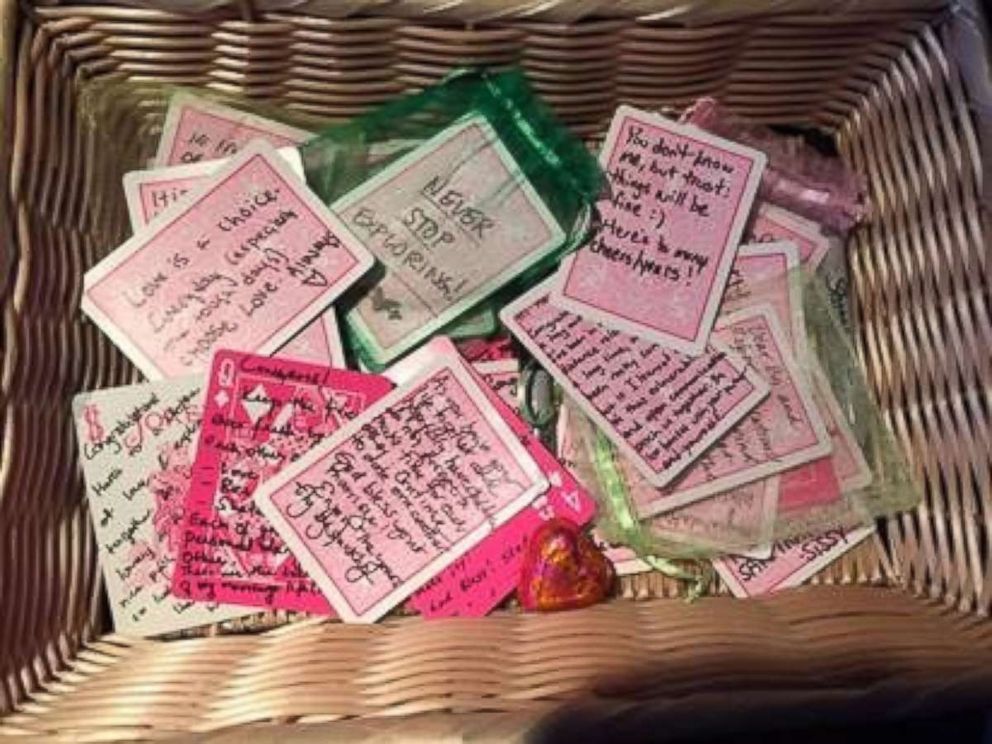 Alisha Johnson, who was on board that United flight last week, was leaving a work trip in Austin when she received the card in her seat.
"I was listening to music and tuning out as I do when I noticed everyone around me was smiling," Johnson told ABC News.
Johnson, 33, later caught on that there were newlyweds on the flight and was soon handed one of the goodie bags.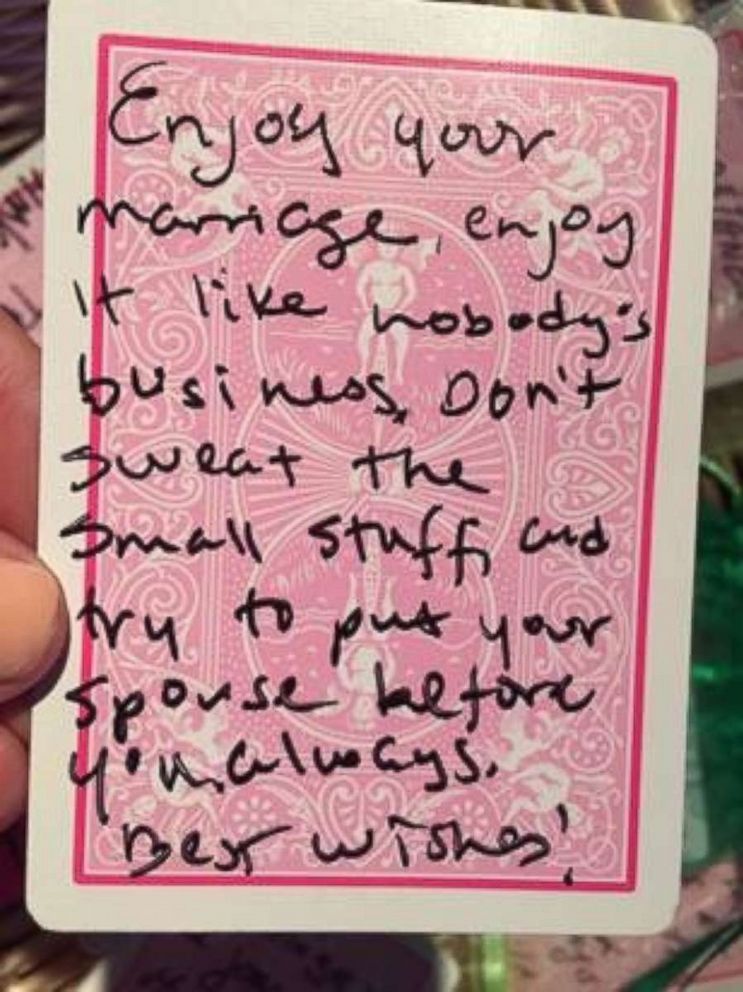 "Usually I'm in a bad mood and tired [when traveling] so it was a nice moment of levity when everyone became human, writing and smiling and pensively thinking through what to write to the couple," Johnson continued, noting that she advised the couple to let their New Zealand honeymoon be the first of a "lifelong series of adventures."
Briana DuPriest told ABC News she and her husband were caught "totally off guard" by the surprise.
"It's so Kelli to find an incredibly personal and meaningful way to make us feel special," the bride continued.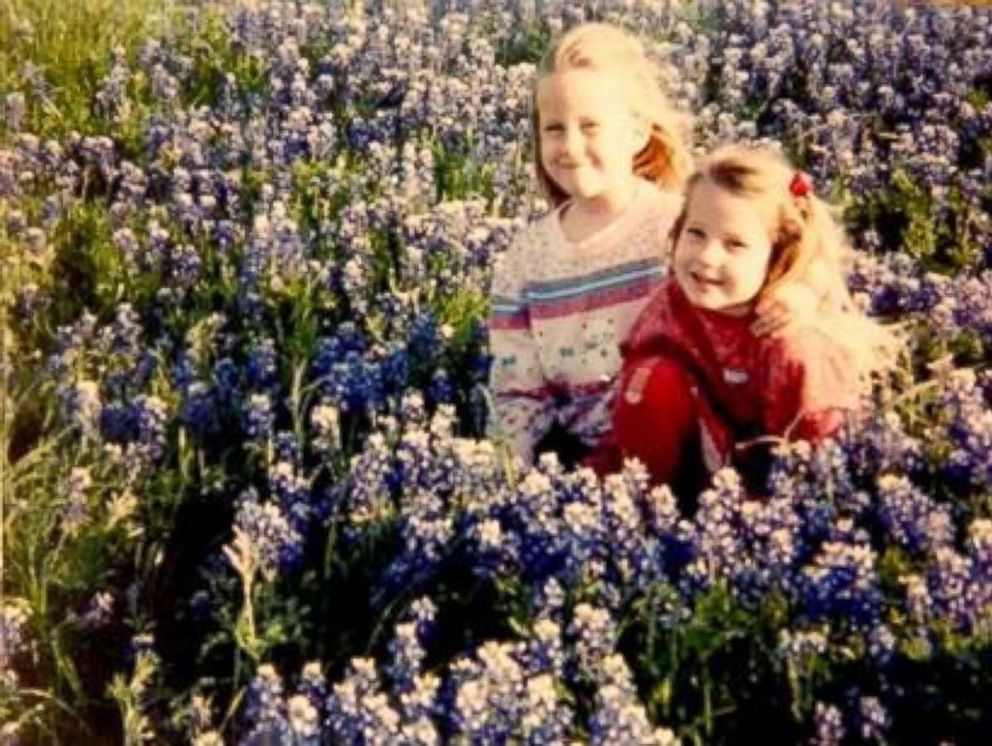 "People were coming up and handing us their cards with well-wishes, a flight attendant brought us glasses of champagne," Briana DuPriest added. "Being in the middle of traveling, we were slightly overwhelmed by the attention, but so honored that so many people chose to contribute touching advice to us."
The couple is now completing their honeymoon in New Zealand after, thanks to Schultz, getting off to a festive start.
"I am so lucky to have her as my sister. Her quick wit and entertaining personality eliminate the possibility of there ever being a dull moment," Briana DuPriest gushed.