If there's one topic that can stir controversy even among the most laid-back moms, it's breastfeeding.
Breastfeeding "awards," however, take the controversy -- or in this case, momtroversy -- to another level.
Popular in the U.K. and gaining traction in the U.S., the "awards" are not given out at an official ceremony. Rather, they are token gifts such as bracelets, charms, cakes and icons that go with message board signatures that celebrate the length of time a woman breastfeeds her child.
For example: A woman might get a "bronze boobie award" for three months of breastfeeding, a "silver boobie award" for six months and a "golden boobie award" for one year. Two years? That's diamond status.
From bakers to Etsy shops, there's no shortage of ways to show off your status.
Tara Hurst, who runs the Etsy shop Sparkle & Dot Designs, sells several different items celebrating both breastfeeding anniversaries and breast cancer survival. She told "GMA" she has sold "quite a few" in the U.S.
"I think more women are feeling more confident in breastfeeding, which is a good thing," Hurst said. "I bottle fed both of mine, and I totally think we should be able to feed our babes however we choose."
Abby Theuring, a breastfeeding advocate and the woman behind the Facebook page The Badass Breastfeeder, told "GMA" she thinks the awards are a good idea.
"Breastfeeding is such an empowering thing to do," she wrote in an email. "It usually starts off with so many obstacles (reflected in the breastfeeding rates in the U.S.). When we work through these struggles and accomplish the feeding that we wanted for ourselves and child it is such a powerful feeling. To grow and nourish a child with our own bodies naturally creates a feeling of wanting to celebrate."
Not everyone agrees. Some feel the awards could cause both emotional and physical harm.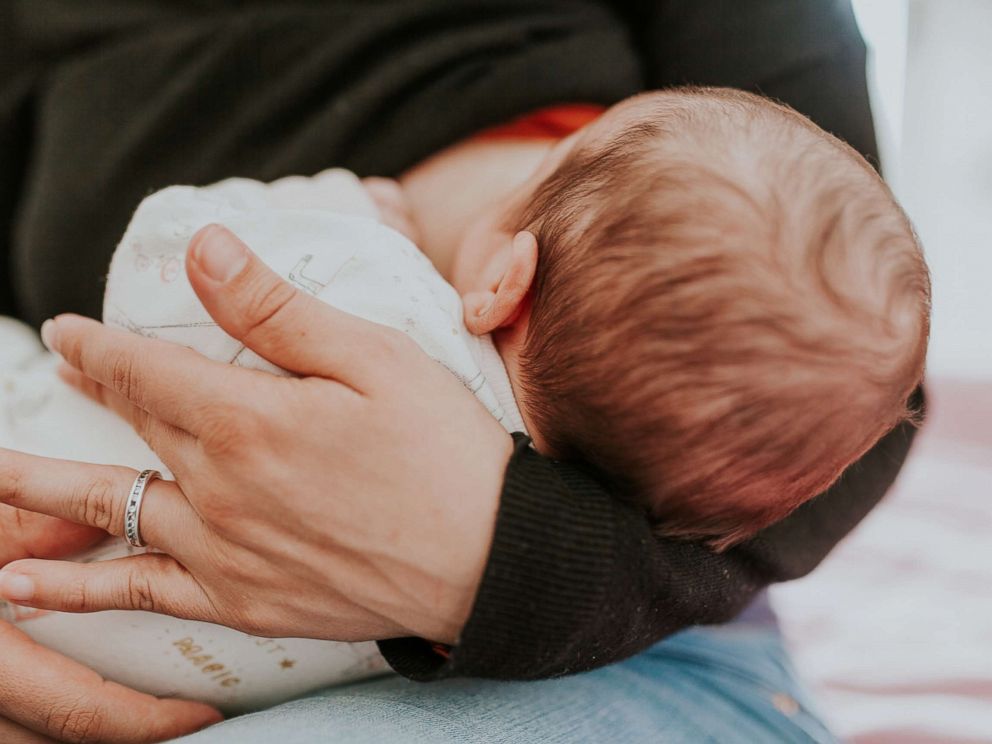 "The problem with these awards is that it assumes breastfeeding depends solely on hard work, when a significant part of it depends on luck and genetics," Dr. Christie del Castillo-Hegyi, a co-founder of the Fed is Best advocacy group, told "GMA." "We have countless stories of moms who have been shamed for considering formula, and their babies were seriously hurt and even killed as a result. These boobie awards don't just hurt moms' feelings -- they hurt babies too."
Andrea Thomas, a mom of preemie twins who moderates Fed is Best support groups, called the awards "ableist, classist and sexist."
"It's ableist because many women stop breastfeeding due to a variety of issues, and the awards only remind them of their 'failure.' It's classist because we know that people who are privileged to stay home or have the means to pump at work would qualify for these awards. So it's a dig at those who are financially incapable of breastfeeding," Thomas told "GMA." "Finally, it's sexist. Calling something a "boobie" award reduces a woman to her body parts."
Theuring thinks the awards are all in good fun: "These breastfeeding awards are usually given by partners of family members or from the breastfeeders to themselves. I think it's a fun way to celebrate new parenthood and the successes we feel along the way. The way we feed our children is a person a choice and the milestones along the way are worth celebrating no matter what they are."