Parents warned again not to use Fisher-Price Rock 'n Play sleepers
The infant products were first recalled in 2019.
The U.S. Consumer Product Safety Commission is once again warning parents and caregivers not to use any models of Fisher-Price's Rock 'n Play sleepers, a type of chair used to soothe and rock infants to sleep.
The safety agency released the repeat announcement Monday, nearly three years after the Rock 'n Play sleepers were first recalled in April 2019.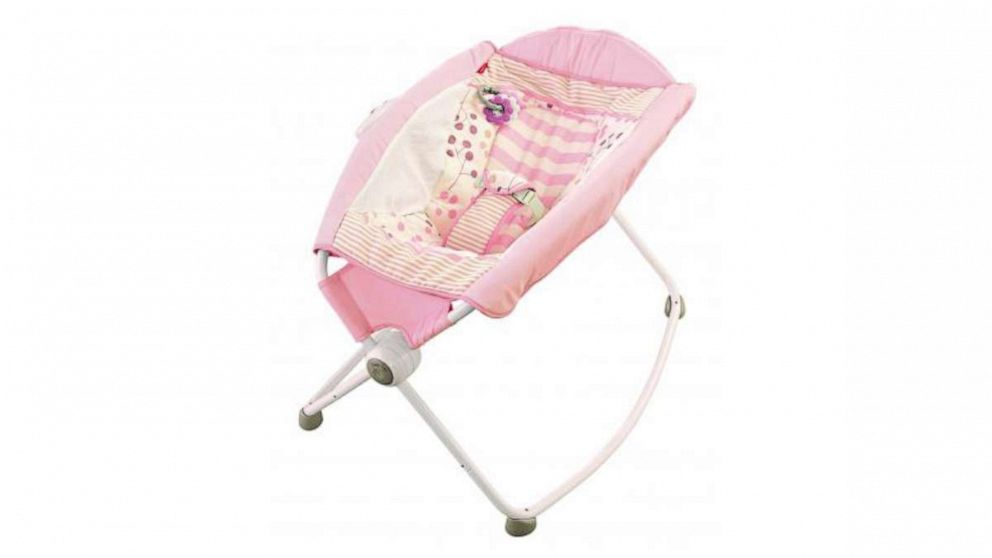 The recall applies to approximately 4.7 million sleeper products, many of which were sold between 2009 and 2019 at major retailers such as Target and Walmart and online on e-commerce sites like Amazon.
The sleepers were recalled in 2019 after 30 children were reported to have died after they were placed in a Rock 'n Play sleeper and "rolled from their back to their stomach or side while unrestrained, or under other circumstances." Since the initial announcement, there have been reports of at least 70 more children who have died in connection to the sleeper, according to the CPSC.
Both recall announcements add, "Fisher-Price notes that in some of the reports, it has been unable to confirm the circumstances of the incidents or that the product was a Rock 'n Play Sleeper."
Fisher-Price immediately stopped sales of the sleeper following the recall, and worked to remove the product from the market.
A congressional investigation was launched following the initial recall, and in June 2021, the House Oversight Committee released its findings, alleging that Fisher-Price "ignored multiple warnings that the Rock 'n Play was not safe for infant sleep, including reports of infant injuries and deaths," according to former Rep. Carolyn Maloney, the committee chair at the time.
When reached for comment, Fisher-Price told "GMA" it had no new statement on the matter, but the company told ABC News back in June 2021 that there "is nothing more important" to the company than the safety of its products and that its "hearts go out to every family who has suffered a loss."
"The Rock 'n Play Sleeper was designed and developed following extensive research, medical advice, safety analysis, and more than a year of testing and review," a Fisher-Price spokesperson said at the time. "It met or exceeded all applicable regulatory standards. As recently as 2017, the U.S. Consumer Product Safety Commission (CPSC) proposed to adopt the ASTM voluntary standard for a 30-degree angled inclined sleeper as federal law."
Fisher-Price has had to issue consumer alerts about other rocker models before and issued a notice to consumers to stop using their Infant-to-Toddler and Newborn-to-Toddler rockers for sleep in June 2022.
In addition to Fisher-Price's rocker recall, Kids2 also re-announced a recall Monday for its rocking sleepers, which were also initially recalled in April 2019.
CPSC recommends parents stop using the Rock 'n Play at once and said consumers can contact Fisher-Price for a refund or a voucher.