Teachers change lessons for students after deadly US Capitol siege
"'This is going to be a day to listen to our students."
Social studies teachers across the nation are faced with addressing Wednesday's violent siege at the U.S. Capitol which left four dead after supporters of President Donald Trump stormed the building.
The rioting unfolded after Trump and his allies held a rally earlier in the day, urging Congress to not certify the results of the November presidential election.
Protesters made their way up the Capitol steps around 2:15 p.m. ET, pushing through barricades, officers in riot gear and other security measures that were put in place in anticipation of the protest.
As American educators witnessed news coverage of the standoff between law enforcement and protesters, which forced a lockdown with members of Congress holed up inside the chambers, teachers are deciding how to approach the deadly Capitol breach with students.
"I personally have approached my class differently today because it is imperative for us to address the current state of our nation," said Ocean-Miracle Morris, a World History and African American studies teacher at Thurgood Marshall Academy in Washington, D.C., located minutes from the Capitol building. "We had something planned today but I said, 'We are addressing what happened yesterday and addressing what's happened in America.'"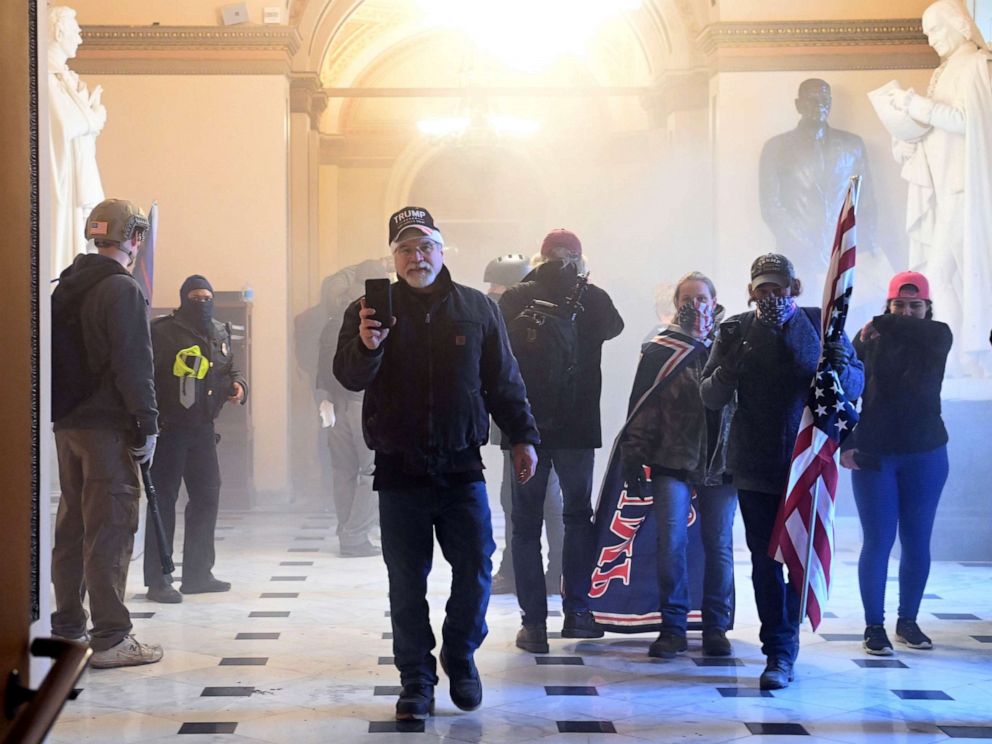 Morris has shifted today's lesson plans -- giving her high schoolers the opportunity to respond to the Capitol breach. Like many educators in the pandemic, Morris is navigating the topic through virtual learning.
She shared imagery and short news clips that addressed what would happen if the riot was associated with the Black Lives Matter movement, as the events at the Capitol reignited conversations surrounding racial injustice. Morris titled her lesson, "OUR WORLD, their racism"
"We reviewed the police presence in the Black Lives Matter movement [in comparison] to the Capitol protests," Morris told "Good Morning America." "A quote that I specifically responded to in regards to the incident yesterday was, 'Let it have been us, people of color, our blood would be dripping in the nation's Capitols' streets.'"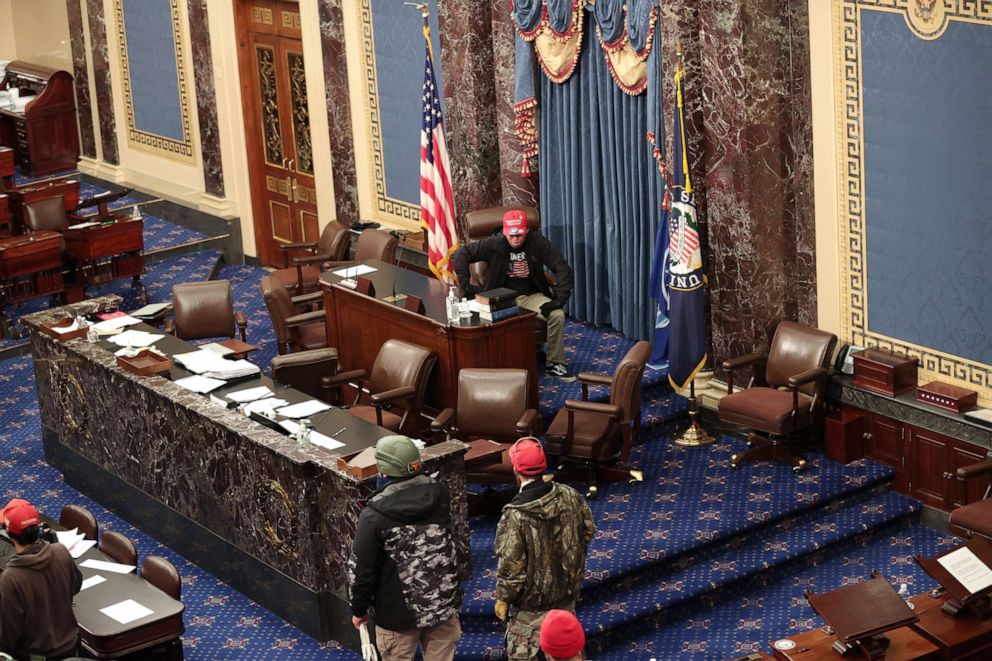 "Students, a lot of them said Black Lives Matter was us fighting for basic human rights and for people not to be killed because of their skin color," she added. "The Capitol riot was just because they didn't get what they wanted as white people.' We all know that history repeats itself and that is truly enough but to fully understand the importance of us educating our own, my own people, I must continue to create conversations around Black world history, our history."
Morris said she attached a "reflect and response document" so students can voice the support they need to better cope with their thoughts on heavy-hitting topics.
Anton Schulzki, an IB History of the Americas teacher at William J. Palmer High school in Colorado Springs, Colorado, said he did one-on-one check-ins with students who were greatly affected by yesterday's news coverage.
"I had said today to my colleague, 'This is going to be a day to listen to our students. Speak softly and be prepared for lots of hugs even if they're virtual,'" Schulzki told "GMA."
Schulzki, who is also president-elect of the National Council for the Social Studies, said that on Wednesday, he planned on having a conversation about the Electoral college and how it's a pro forma event following a presidential election.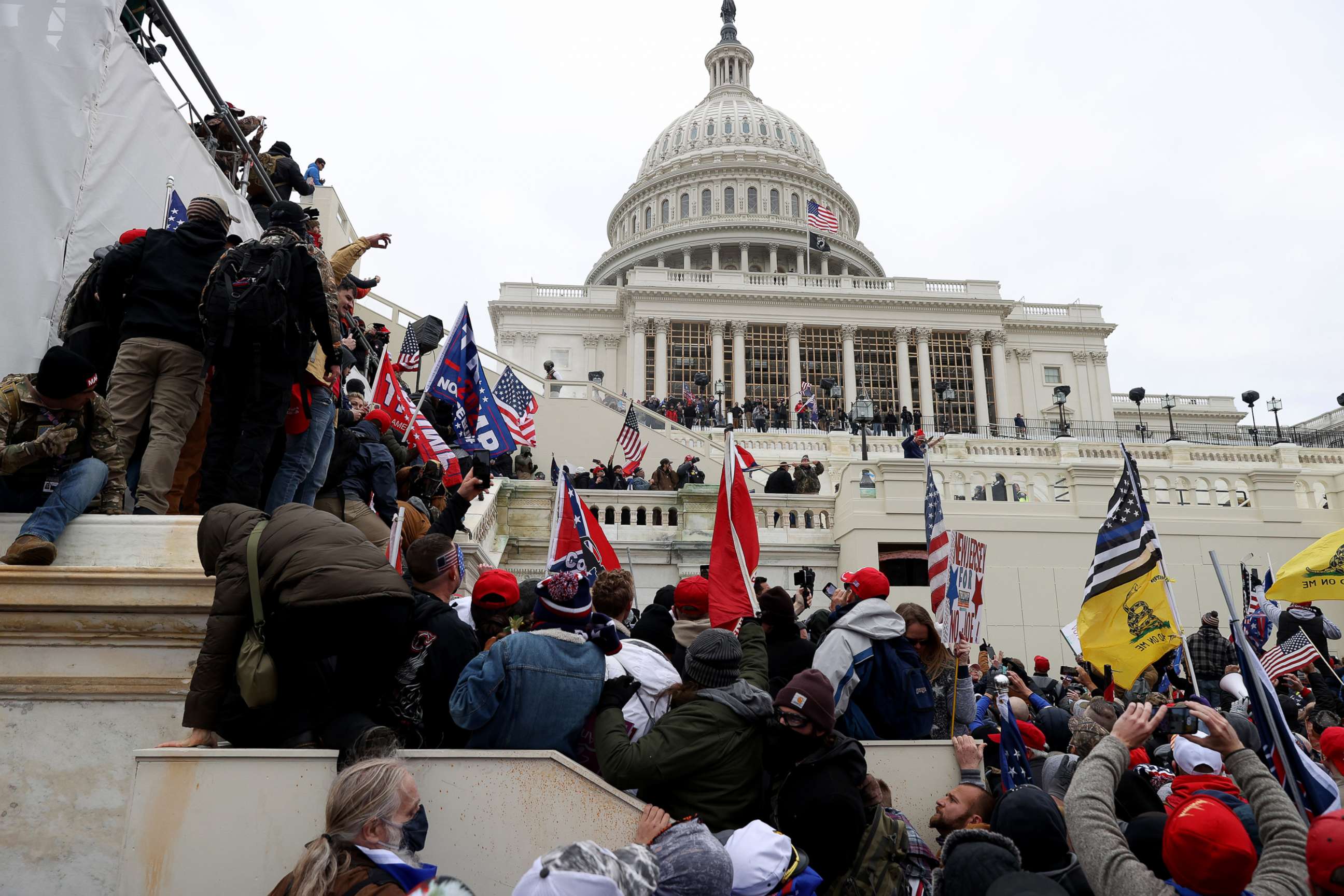 The class conversation shifted with breaking news at the Capitol, and Schulzki incorporated historical parallels, plus political discussions surrounding current events with his seniors.
"Our schools try to be really tolerant all of all points of views and we talk about respect," Schulzki said. "We teach our kids how to engage in sources, look for corroboration, check the facts. Ask questions of what it is they're reading and what it is they're consuming so they're better citizens."
Looking ahead, Schulzki is asking his students to present song lyrics they feel are a good representation of what the year 2021 should be.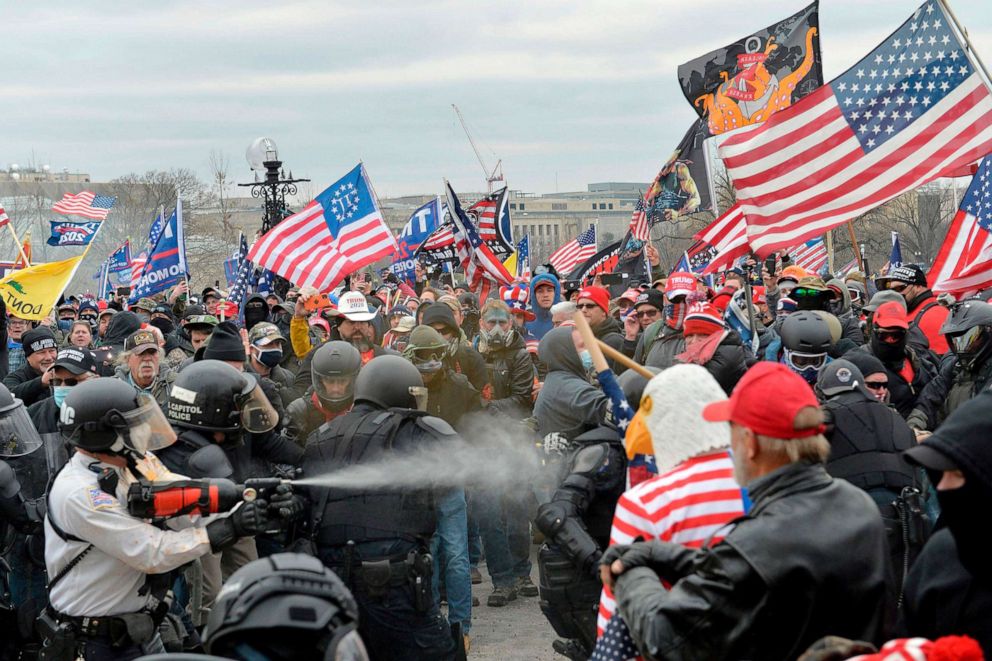 On Twitter last night, history teachers across the country rose to the occasion by offering lesson tips and resources to help kids make sense of the present.
One single tweet from a Georgia teacher named Marian Dingle yielded a slew of responses.
"So educators, I ask you in all sincerity," Dingle posted. "What are you teaching tomorrow?"
Jenn Sims, an assistant professor of sociology at the University of Alabama in Huntsville, tweeted about her experience as a mother watching her 7-year-old take virtual social studies lessons amid the fierce news climate.
"The impetus of that tweet was [the teacher] tore herself from her TV and phone and provided these kids with an uninterrupted education," Sims told "GMA."
Sims used the example of being a student herself during 9/11, when teachers flipped news coverage onto classroom televisions and helped age-appropriate students understand the terrorist attacks from 2001.
"I feel this age that's much more incumbent on the parents. At 7 years old, they're not ready to have the critical types of conversations tying in the theory and the data that I will in my race and ethnicity class," Sims said.
At the college level, Sims shares videos and assigns a headlines exercise where students write their own headlines based on current events.
"High school teachers, they've got a job on their hands. I feel like they need to be more prepared to have these conversations in their class versus elementary schools," Sims said, adding she believes there should be open, honest discussions and correcting their students based on history and data. "Too many teachers are having what I call both-sides-ism. A teacher needs to step in and provide empirically accurate information."
Schulzki stressed the importance of teachers lending an ear during these unprecedented times.
"Take care of your students first," he said.
If you're feeling overwhelmed by the news, "GMA" is offering expert-recommended steps you can take to balance staying informed with self-care. Read more here.
If you or someone you know is in crisis, call the National Suicide Prevention Lifeline at 1-800-273-TALK (8255) or contact the Crisis Text Line by texting HOME to 741741. You can reach Trans Lifeline at 877-565-8860 (U.S.) or 877-330-6366 (Canada) and The Trevor Project at 866-488-7386.