Welcome to GMA 25 Days of Cookies! For 25 days, we are featuring cookie recipes that are perfect for your holiday party, cookie swap or next family gathering. Our celeb BFFs are sharing their cookie recipes with us, and we've gathered some seasonal standouts that are sure to dazzle on your Instagram feed and Pinterest board.
Head to our full guide here all month long for the most beautiful, fun, seasonal, delicious holiday cookies worthy of your new Christmas traditions.
Tis the season for baking and cheer! These eggnog snickerdoodles from Rebecca Firth's cookbook "The Cookie Book" have both.
Firth, who is the blogger behind Displacedhousewife.com, shared her holiday cookie recipe with us and the cookies make the perfect adult treat. While they require a few extra ingredients, Firth writes that they're worth it.
"I know, you don't have any rum extract in your cupboard. This is one of those occasions where I'm going to ask you to get out of your torn T-shirt and baggy sweats to run to the store and get some," she writes in her book. "It really does make this cookie. You should also grab some real eggnog and some proper rum to fix yourself a drink on the side."
Check out the recipe below.
Rebecca Firth's Eggnog Snickerdoodles
Makes 24 large cookies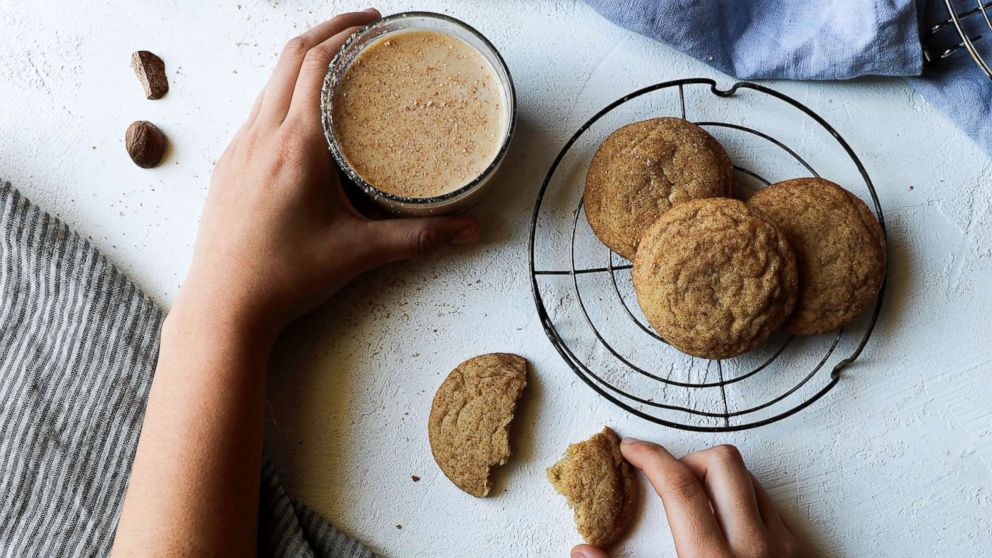 Ingredients:
8 tablespoons (115g) unsalted butter, room temperature
3/4 cup (158g) light brown sugar, packed
3/4 cup (144g) granulated sugar
2 large eggs,room temperature
3/4 cup (177 ml) sunflower seed oil or other neutral oil
3 teaspoons (15 ml) real vanilla extract
1 teaspoon rum extract
1 and 3/4 cups (238g) bread flour
1 cup (136g) all-purpose flour
2 teaspoons(6g) cream of tartar
1 teaspoon baking soda
1 teaspoon sea salt
1 teaspoon nutmeg
3/4 teaspoon cinnamon
For the cookie coating:
1/4 cup (48g) granulated sugar
3/4 teaspoon ground cinnamon
1/2 teaspoon nutmeg
Directions:
To make the cookies, in an electric stand mixer fitted with the paddle attachment, add the butter, brown sugar and granulated sugar and mix on medium for 4 minutes or until light and fluffy.
Add the eggs one at a time, scraping down the sides and bottom of the bowl and making sure they're fully blended before adding in the next. Add the oil, vanilla and rum extract and mix for 1 minute more.
In a medium-sized bowl, whisk together the bread flour, all-purpose flour, cream of tartar, baking soda, salt, nutmeg and cinnamon.
Pour the flour mixture into the butter mixture, stirring to combine. Don't over mix, but make sure everything gets well blended together. I like to mix until the flour just disappears. Wrap tightly and shove in the fridge for several hours or until firm enough to roll.
Preheat your oven to 375°F (190°C) and place a rack in the top third of your oven, at least 6 inches (15 cm) from the heat source. Cover several baking sheets with parchment paper.
To make the cookie coating, in a small bowl, mix together the granulated sugar, cinnamon and nutmeg.
Take the dough out of the fridge and roll about 1 and 1/2 tablespoons (21g) of dough between your palms into a nice ball.
Give the dough ball a generous coating of the sugar-spice mixture and set on the baking sheet.
Make sure there are about 2 inches (5 cm) between each dough ball, allowing space for spreading during baking.
Freeze the dough balls for 15 minutes, and then take from the freezer to the oven and bake for 11 minutes.
Let them cool on the baking sheet for 10 minutes, and then finish cooling on a rack.
Reprinted with permission from "The Cookie Book" by Rebecca Firth, Page Street Publishing Co. 2018. Photo credit: Rebecca Firth.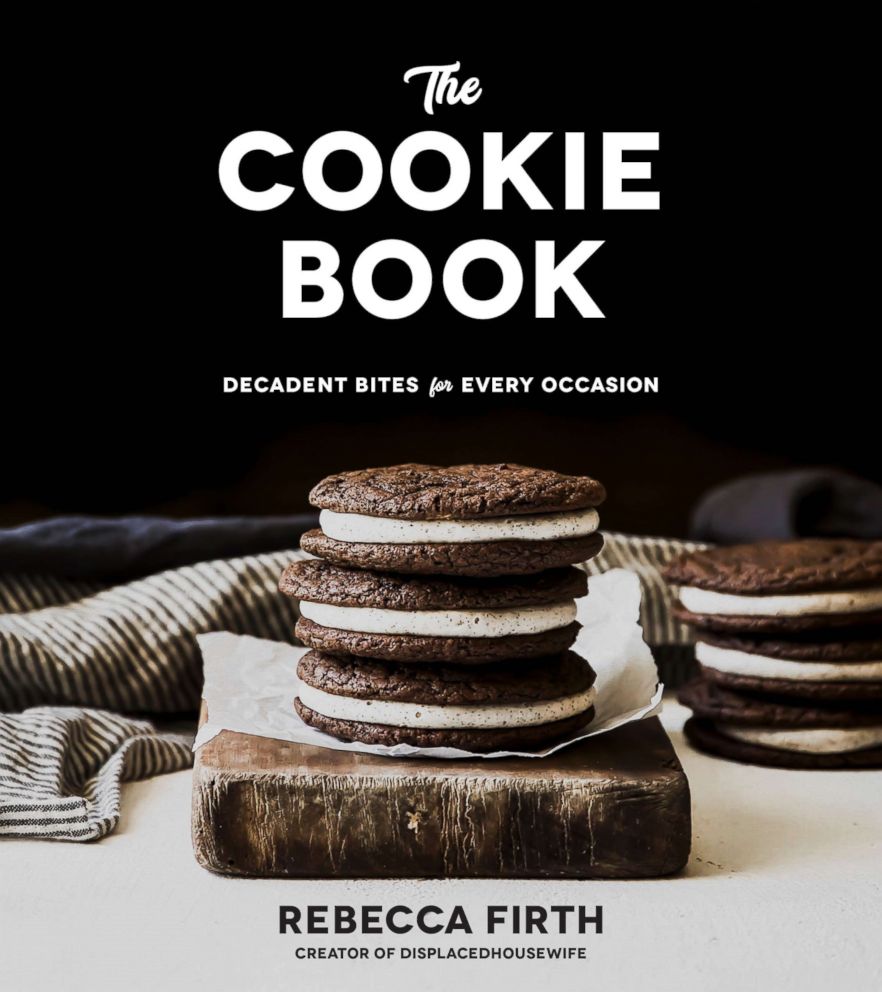 Head to our full guide here all month long for the most beautiful, fun and delicious holiday cookies that are sure to become a new tradition.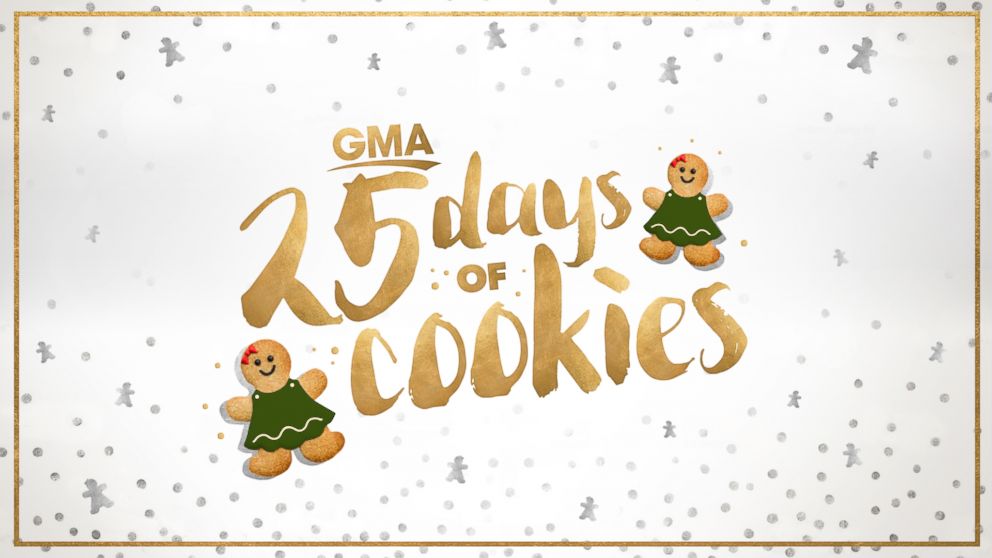 Tell us which cookies you're baking! Tweet @GMA using #25daysofcookies with your #25daysofcookies pictures and we may feature you on our GMA Facebook page or in our morning GMA newsletter! Deck the halls with lots of cookies, fa la la la la, la la la la!