Brazilian-style tacos
Ever been to a Brazilian rodizio restaurant, the kind where servers in gaucho outfits parade around with skewered slabs of grilled meats? If so, you might know that the picanha cut is a Brazilian favorite. While you may not find meat that's labeled picanha at your local market, you can ask your butcher for a top sirloin cap or a tri-tip steak, which works well in this recipe.
Ingredients
12 crispy black bean telitas or corn tortillas
Picanha, or top sirloin cap steak (see recipe below)
Banana farofa (see recipe below)
Brazilian pico (see recipe below)
Rocoto sauce (optional)
Ingredients for the picanha steak
2 pounds picanha (top sirloin cap or tri-tip), cut into 2-inch steaks
Kosher salt
Fresh black pepper
Ingredients for the banana farofa
2 tablespoons olive oil
¼ cup onions, diced small
1 teaspoon garlic, minced
1 teaspoon kosher salt
1 banana, peeled and diced small
1½ cups coarse manioc flour
1 tablespoon butter
1 tablespoon fresh cilantro, finely chopped
Prep Time: 10 minutes
Total time: 20 minutes
Yield: 6 servings
Directions
Grill the steak:
1. Prepare a hot charcoal or gas grill. Season picanha liberally on both sides with salt and pepper.
2. Place picanha on grill and cook without moving the meat for about 4–5 minutes.
3. Turn picanha over and cook another 2–3 minutes for medium rare, 4 minutes for medium, 5 minutes or longer for medium-well.
Make the banana farofa:
1. In a medium-size skillet, heat oil over medium-low heat and add onions, garlic, and salt.
2. Add banana and manioc flour. Continue to stir to avoid burning the flour.
3. Add butter and continue to cook for about 4 minutes over low heat. The flour should toast to a light brown color. Remove from heat and garnish with cilantro.
Build the tacos:
1. Warm the flour tortillas on a hot grill for 20 seconds.
2. Top the warmed flour tortillas with the picanha slices, the banana farofa, and the Brazilian pico.
Brazilian pico
Ingredients
2 whole ripe tomatoes, diced small
1/2 cup green bell pepper, diced small
1/2 cup red bell pepper, diced small
2 yellow onions, diced small
1 red jalapeño, diced small
3 tablespoons Italian parsley, finely chopped
4 tablespoons distilled white vinegar
2 tablespoons lemon juice
3 tablespoons extra virgin olive oil
3 tablespoons water
1 teaspoon kosher salt
Directions
In a nonreactive bowl, place tomatoes, peppers, onions, jalapeños and parsley. Toss with vinegar, lemon juice, oil and water. Season with salt. Let pico sit at room temperature for 15-20 minutes before serving.
Spicy rocoto sauce
Ingredients:
1/2 cup rocoto peppers, fresh
3 tablespoon vegetable oil
Juice 2 whole limes
2 springs of parsley
Directions
Place all ingredients in a food processor. Blend until well combined.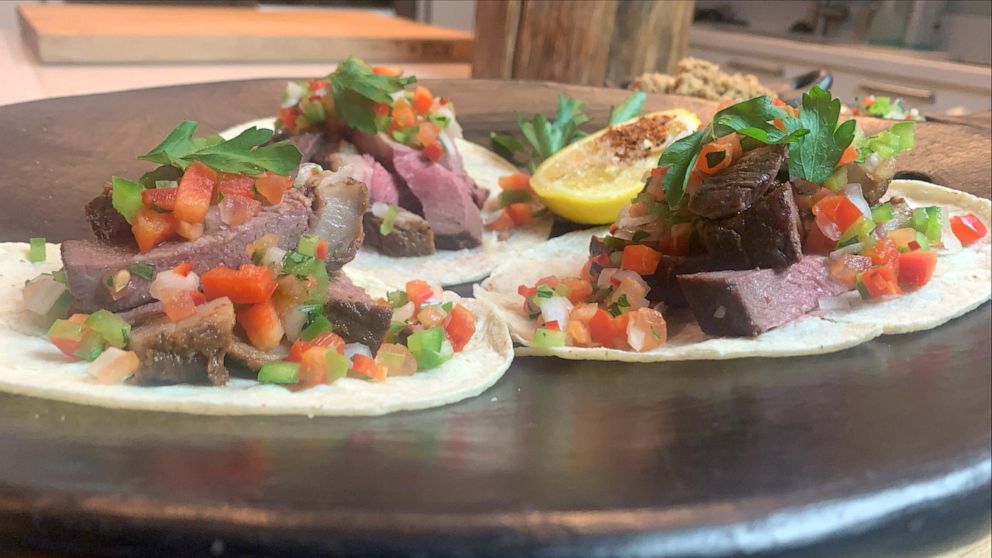 Recipes reprinted with permission from Lorena Garcia, CHICA Miami & Las Vegas