Sharing Asian culture and family heritage through food is an integral part of Danielle Chang's world.
From the recipes in her cookbook "Lucky Rice" to her multiple businesses, Chang draws on the importance of Chinese medicinal remedies, foods and philosophies that were first instilled by her grandmother.
The Taiwanese-born chef and co-host of PBS' "Lucky Chow" told "Good Morning America" that it has "been a lifelong passion of mine to really bring my Chinese heritage to life and different forms of cultures."
She added that "food is the best way to reach people, because food is universally appetizing, it is just a really wonderful way to break down boundaries between people."
"What I really wanted to do with lucky rice was to show the diaspora of Asian cuisine," Chang said. "That you know it's not just like a monolith of chopsticks and soy sauce, but rather very unique cuisines that were born of certain histories. That's how the book is divided, it's basically food 24/7 -- from street food and snack food to food for wellness and energy, really I think defines what Asia is all about."
Whether it's quintessential and humble stone soup to supreme broth made over days, similar to a clear concentrated French consommé, Chang said Chinese soup "is just so healing with the triumphant of ingredients: scallions, ginger and garlic -- all powerful antioxidants."
As a girl when she was new to the United States, Chang said "I didn't understand why I was ridiculed for what was in my lunchbox."
"I was kind of lumped into this category of being Asian, so I was curious as well about all of these other cultures," she said.
Chang went on to found LuckyRice, a company and lifestyle brand that shines a spotlight on Asian culture through food and drink. Since 2009, LuckyRice has produced dozens of food festivals and private culinary events across North America.
"I'm so lucky that through my work I'm able to learn," she said. "Indonesian Muslim cuisine is where kind of the satays come from, or family favorites like hot pots and one dish meals like soups."
Now, Chang is successfully bringing those Chinese herb-infused dishes and specialties to the masses that draw on her heritage and plant remedies. In 2021, she co-founded The Hao Life, a modern Chinese remedies brand.
"I've always wanted to bring Chinese wellness to the forefront because I feel like it could become as popular as yoga is, for instance," she said. "That's really when The Hao Life was born."
Amid an influx of anti-Asian violence combined with anti-Chinese sentiment during the coronavirus pandemic, Chang said: "I was really thinking about the importance of highlighting 'hao,'" which she explained "means 'good' in Chinese culture.'"
"It's part of everyday life," she added. "The idea of kind of taking Chinese herbs and supplements for nourishment is part of my everyday life."
Check out Chang's full recipes from her 2016 cookbook "Lucky Rice" below.
Beef Satay
Ingredients
1 1⁄2 pounds rump roast steak
2 tablespoons fresh lime juice
2 tablespoons soy sauce
2 tablespoons fish sauce
2 tablespoons honey
4 garlic cloves, minced
1 tablespoon finely chopped fresh ginger
1 teaspoon ground coriander
1 teaspoon ground cumin
Peanut sauce:
1/2 cup unsalted roasted peanuts
1/2 cup shallots, chopped
1 lemongrass stalk, trimmed and chopped
1 tablespoon grated fresh ginger
2 garlic cloves, chopped
1 fresh red Thai chile, seeded and stemmed
1 tablespoon vegetable oil
1/2 cup coconut milk
1 tablespoon honey
2 tablespoons fish sauce
Salt and freshly ground black pepper to taste
Lime wedges, for serving
Directions
Prepare the beef: Cut the meat into 1⁄8-inch-thick strips, each about 1 inch wide and 6 inches long. (Freezing the meat for about 15 minutes beforehand will make it easier to slice.)In a large bowl, combine the lime juice, soy sauce, fish sauce, honey, garlic, ginger, coriander, and cumin. Add the steak strips and toss to coat in the marinade. Cover with plastic wrap and refrigerate for at least 1 hour and up to a day.
Make the sauce: Using a mortar and pestle (or a food processor), pound the peanuts until coarsely chopped; then transfer them to a small bowl and set aside. Pound the shallots, lemongrass, ginger, garlic, and chile together with the mortar and pestle or add to the food processor and pulse until coarsely blended.
Heat the vegetable oil in a medium pot. Add the shallot mixture and stir-fry until it is browned and fragrant, about 3 minutes. Add the coarsely ground peanuts, coconut milk, honey, fish sauce, and 1 cup of water. Bring to a boil, reduce the heat, and simmer, stirring occasionally, until the sauce thickens, about 5 minutes.
Meanwhile, soak 32 six-inch wooden skewers in a bowl of warm water for about 10 minutes.
Remove the meat from the marinade and discard the marinade. Thread each slice of marinated meat onto a skewer so that it is undulating like a ribbon. Season with salt and pepper.
Heat a grill and oil the grate. Grill the satay in batches until the beef is just medium-rare, about 2 minutes on each side. Serve with the sauce for dipping and the lime wedges for squeezing over each skewer.
Grandma Hsiang's Chinese Tamales
Ingredients
For the filling:
5 tablespoons soy sauce
2 tablespoons Shaoxing rice wine
1 1-inch piece cinnamon stick
2 star anise pods
1 teaspoon five-spice powder, homemade or store-bought
2 pounds pork belly, cut into 1-inch cubes
For the Zongzi:
3 cups uncooked sweet glutinous rice
24 dried bamboo leaves
3 tablespoons soy sauce
2 tablespoons vegetable oil 6 shallots, sliced
12 fresh shiitake mushrooms, thinly sliced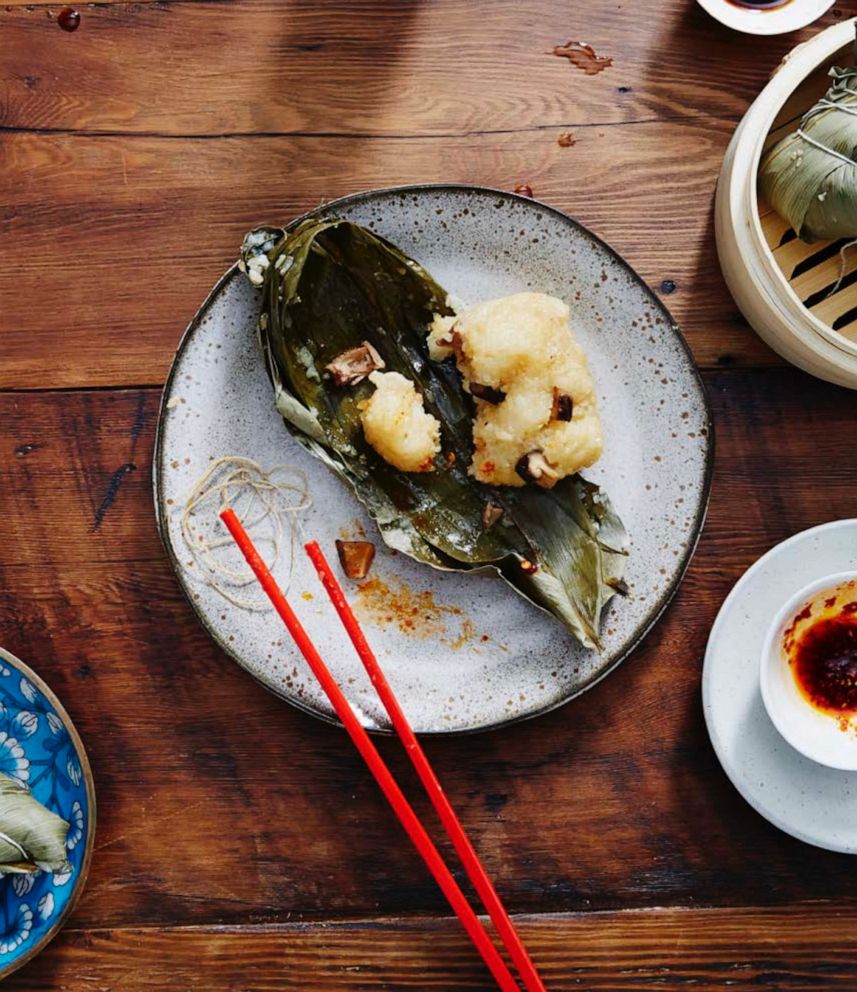 Directions
Make the filling: In a large bowl, combine the soy sauce, rice wine, cinnamon stick, star anise, and five-spice powder. Add the pork belly and stir well. Then cover the bowl with plastic wrap and marinate in the refrigerator for at least 2 hours or as long as overnight.
Prepare the rice: Put the glutinous rice in a large bowl and add cold water to cover. Let it stand at room temperature, covered, for as long as 2 hours.
Rinse the bamboo leaves and soak them in a bowl of hot water for 30 minutes. Drain and set aside.
Drain the rice and return the grains to the bowl. Add the soy sauce and stir to combine. Set aside.
Heat the vegetable oil in a medium skillet over medium heat, add the shallots and mushrooms, and fry for 3 to 4 minutes, until softened and lightly colored.
Assemble the Zongzi: Place 2 bamboo leaves, overlapping, on a clean surface to make a 5-inch-wide piece. Fold 2 to 3 inches of the stem inward to form a straight edge. Cup the rectangular end in your hand, and place 1 tablespoon of the rice in the "cup." Spread the rice out about 3 inches toward the leaf tip.
Remove the meat from the marinade. Place 2 pieces of meat directly on top of the rice, and add 1 tablespoon of the shallot- mushroom mixture. Spread 2 tablespoons of the rice over the meat so it is completely enveloped by the rice. Bring the other side of the leaf over the rice-filled cup to enclose it. Wrap a 2-foot-long piece of kitchen twine several times around the middle of each zongzi, tying it off with a knot, so the rice won't escape during the cooking process. Repeat with the remaining bamboo leaves, rice, and filling.
Place all the zongzi in a large pot, and add water to cover by 1 inch. Cover the pot and bring to a boil; then reduce the heat to low and cook the zongzi for 3 hours. (Make sure there is enough water to cover the zongzi at all times, adding more as necessary.)
Transfer the cooked zongzi to a plate and let them cool slightly.
When you are ready to eat, cut off the string, unfold, and dig in!
The cooked zongzi can be kept in the refrigerator for a week, or frozen for months. Simply thaw the zongzi if they are frozen, and steam them for about 10 minutes or until heated through.