Dole celebrates 100 years of Walt Disney with top Disney-inspired recipes
In 2016 Dole teamed with Walt Disney to make healthy eating more fun for guests.
2023 marks the 100th anniversary of Disney and to celebrate the historic milestone, Dole released recipes inspired by the magical collaboration between the companies for decades.
Many Disney fans quickly recognize Dole for its iconic Dole Whip, which first debuted in 1984 and has had many fresh, flavorful iterations ever since.
But the Dole Food Company has deeper rooted ties to Disney, dating back to 1976 when the famed fruit and vegetable provider first sponsored "Walt Disney's Enchanted Tiki Room" at Disneyland.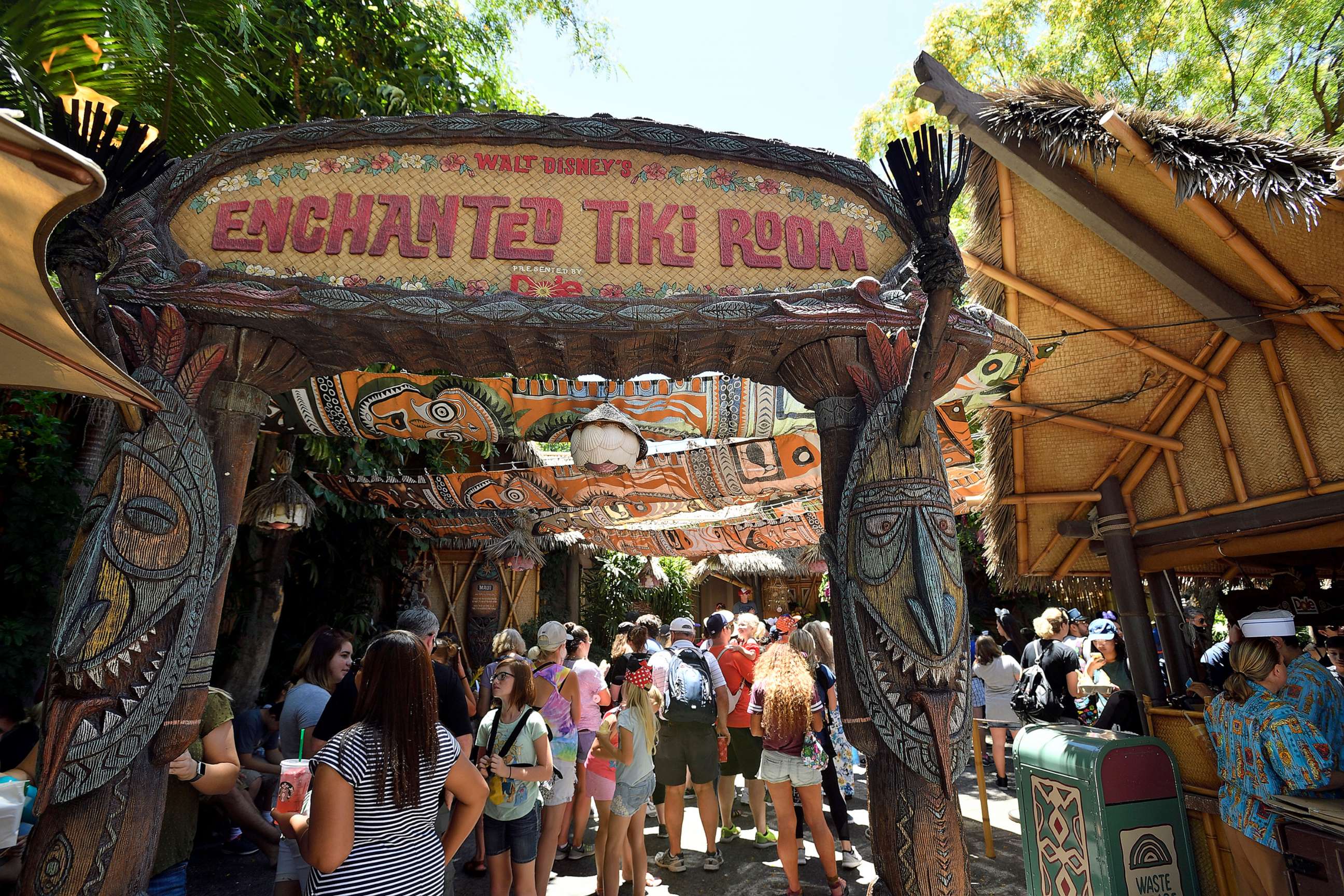 In 2016 Dole entered into a long-term alliance with The Walt Disney Company to make healthy eating and a produce-rich diet more fun for guests and consumers.
Over the years, Dole has worked closely with Disney to host healthy-living initiatives themed to Disney, Pixar, Marvel and 'Star Wars' films, as well as milestones and special events.
To help honor The Walt Disney Company's Centennial celebration, Dole reissued 20 of its most-requested Disney-inspired recipes.
The brand shared a selection of the recipes with "Good Morning America" for families and fans to recreate some magical meals and treats at home.
DIY Dole Whip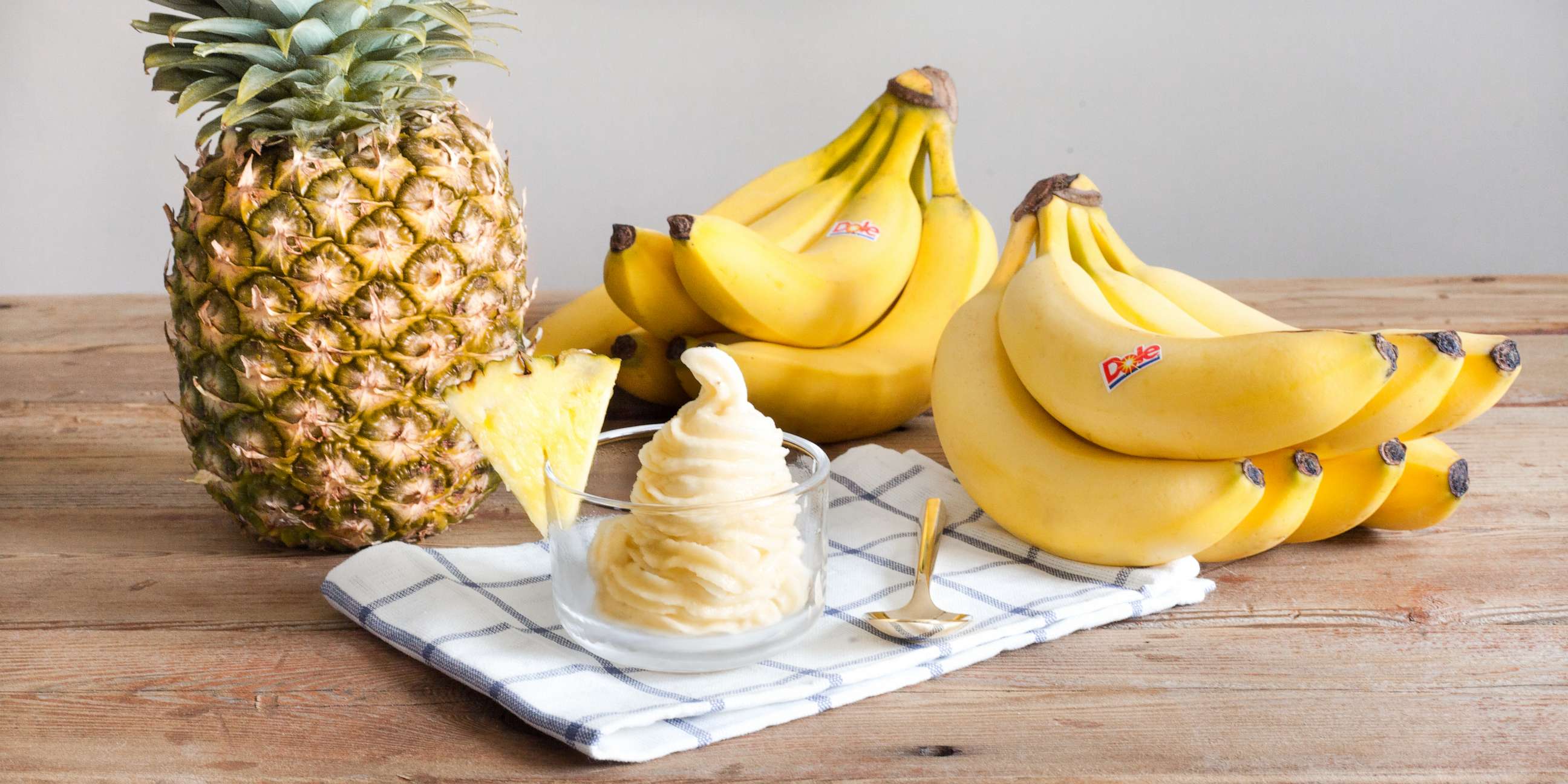 Ingredients
1 cup ripe Dole pineapple, chopped and frozen
1 ripe Dole Banana, peeled and frozen
2-1/2 teaspoons powdered sugar
1/2 cup unsweetened coconut milk
1 teaspoon lime juice

Directions
Combine all ingredients in a blender or food processor. Cover; blend until smooth, about 2-3 minutes. Garnish with fresh pineapple. Serve immediately.

Glass Slipper Veggie Tea Sandwiches
A simple tea time bite for fans of Disney Princesses, and in particular, Cinderella.
Ingredients
1/4 cup raw cashews
2 Dole Green Onions, thinly sliced
1 Dole Radish, chopped
1/2 small Dole Carrot, peeled and chopped
1/4 cup small Dole Cauliflower florets
2 tablespoons fat free cream cheese
1/2 teaspoon kosher salt
8 slices 100% whole wheat bread
1/6 English cucumber, halved lengthwise and thinly sliced crosswise

Directions

Combine cashews and enough hot water to cover in a small bowl; let stand 30 minutes, then drain.
Pulse onions, radish, carrot, cauliflower, cheese, salt and cashews in a food processor until mostly smooth. Makes about 2/3 cup.
Cut 16 glass slippers out of bread slices using a (4-inch) glass slipper or high-heeled shoe-shaped cookie cutter.
Spread onion mixture on 8 glass slipper pieces; top with cucumber and remaining 8 glass slipper pieces.

Shrimp and Pineapple Thingamabobs
When Ariel sang her wanderlust-lyrics to be "Part of Your World" in the 1989 hit, "The Little Mermaid," she flaunted her trove of treasures, including thingamabobs. This recipe celebrates her underwater world, and of course, Dole pineapple.
Ingredients
1 pound raw 21-25 count tail-off peeled and deveined shrimp, thawed if necessary
1 large egg
1/2 cup whole wheat panko breadcrumbs
3/4 teaspoon paprika
1/4 teaspoon kosher salt
1/4 teaspoon ground black pepper
1 garlic clove, minced
1/2 medium shallot, finely chopped
1/4 cup chopped red bell pepper
Nonstick cooking spray
1/4 Dole Pineapple, peeled, cored and sliced ½-inch-thick crosswise
8 large Dole Romaine leaves, trimmed
1 Dole Avocado, peeled, pitted and thinly sliced

Directions

Prepare outdoor grill for direct grilling over medium-high heat. Pulse shrimp, egg, breadcrumbs, paprika, salt and black pepper in a food processor until almost smooth with some coarse pieces remaining, scraping down bowl occasionally; transfer to a large bowl and fold in garlic, shallot and bell pepper. Form shrimp mixture into 4 (¾-inch-thick) patties; spray both sides with nonstick cooking spray.

Place burgers on hot grill rack; cover and cook 8 minutes or until internal temperature reaches 145°F, turning once.

Spray both sides of pineapple with nonstick cooking spray; place on hot grill rack, cover and cook 4 minutes or until grill marks appear, turning once.

Lay 2 romaine leaves, side by side, on work surface with long ends facing you; place ¼ avocado, ¼ pineapple and 1 burger in center of leaves. Fold sides of leaves over filling; place, seam side down, on serving plate. Repeat with remaining leaves, avocado, pineapple and burgers to make 3 more burgers.

Te Fiti Fudgy Coco Cake Pops
The beautiful elemental goddess from Disney's Polynesian powerhouse hit "Moana" has the power to create life, and these sweet treats are certainly life givng.
Ingredients
1 Dole Banana, peeled
1 cup pitted dates
1/2 cup almond flour
3 tablespoons sunflower butter
2 tablespoons unsweetened cocoa powder plus additional for dusting (optional)
1/4 cup gluten free and vegan dark chocolate chips
1/4 cup unsweetened coconut flakes
16 cake pop sticks
Allergens: Tree Nuts

Directions

Line a rimmed baking pan with parchment paper. Pulse banana, dates, flour, sunflower butter and cocoa powder in a food processor until smooth, scraping down bowl occasionally. Add chocolate chips and coconut; pulse until incorporated. Transfer banana mixture to a medium bowl; freeze 20 minutes or until firm. Makes about 1 1/2 cups.

Form banana mixture into 16 (1 1/2-inch) balls (about 1 1/2 tablespoons each); insert cake pop sticks into center of balls. Transfer cake pops to prepared pan; freeze 1 hour. Serve frozen dusted with cocoa powder, if desired. Makes 16 cake pops.

Guardians Grilled Chicken
Inspired-by the hit Marvel buddy film, Dole created this fresh, healthy dish.
Ingredients
1 ripe large Dole Banana, peeled and halved lengthwise
4 (½-inch-thick) slices fresh Dole Pineapple
1 (½-inch-thick) slice Dole Red Onion
2 tablespoons avocado oil
1 1/4 pounds boneless, skinless chicken breasts
1 teaspoon kosher salt
3/4 teaspoon ground black pepper
1 large stalk Dole Celery, finely chopped
3 tablespoons chopped fresh cilantro
1 tablespoon fresh lime juice

Directions

Prepare outdoor grill for direct grilling over medium heat. Brush both sides of banana, pineapple and onion with ½ tablespoon oil; place on hot grill rack, cover and cook banana 3 minutes, and pineapple and onion 5 minutes or until grill marks appear, turning once. Transfer to a cutting board; cool 5 minutes and chop.

Brush chicken with 1 tablespoon oil; sprinkle with 3/4 teaspoon salt and ½ teaspoon pepper. Place chicken on hot grill rack; cover and cook 12 minutes or until internal temperature reaches 165 degrees. Transfer chicken to a cutting board; let stand 5 minutes and cut crosswise into 1/4-inch-thick slices.

Stir celery, cilantro, lime juice, and remaining 1/2 tablespoon oil, and ¼ teaspoon each salt and pepper in a large bowl; fold in banana, pineapple and onion. Makes about 2 cups.

Serve chicken topped with salsa.

Spidey-Sense Veggie Pizzas
Even superheros need the right fuel, so when "Spider-Man" entered the Marvel universe, Dole released this easy veggie-packed pizza recipe.
Ingredients
4-100% whole wheat sandwich thin rolls, split lengthwise
3/4 cup marinara sauce
2 Dole Green Onions, thinly sliced
1/2 cup shredded low-moisture part-skim mozzarella cheese
1/2 cup small Dole Broccoli florets
1/4 cup Dole Shredded Carrots
1/4 cup finely chopped red bell pepper
1/4 cup packed Dole Baby Arugula

Directions

Preheat broiler to low. Spread cut sides of rolls with sauce; top with onions, cheese, broccoli, carrots, pepper and arugula. Place pizzas on a rimmed baking pan.

Broil pizzas 7 minutes or until lightly browned and cheese melts. Makes 8 pizzas.

Critic's Choice Rustic Ratatouille
The little chef who cooked in a classic French kitchen never stole ingredients, but stole hearts of even the harshet critics with the famous rustic dish.
Ingredients
1 tablespoon olive oil
2 medium green and/or red bell peppers, cut into 1-inch pieces
1 1/2 medium Dole Red Onions, chopped
1 medium eggplant, cut into 1-inch pieces
1 medium zucchini, cut into 1-inch pieces
3 cups small Dole Cauliflower florets
2 cups small Dole Broccoli florets
3 garlic cloves, minced
2 teaspoons chopped fresh thyme plus additional sprigs for garnish
1 teaspoon salt
1/2 teaspoon crushed red pepper flakes
1 can (28 ounces) whole peeled tomatoes, juice reserved and tomatoes quartered
1 1/2 Dole Lemons, juiced (about 6 tablespoons)
2 cups whole wheat pearl couscous
1 cup Dole Baby Arugula
Allergens: Wheat

Directions

Heat oil in a large enamel-coated Dutch oven over medium-high heat. Add bell peppers and onion; cook 7 minutes or until tender, stirring occasionally. Add eggplant, zucchini, cauliflower and broccoli; cook 10 minutes or until starting to brown, stirring occasionally. Add garlic, thyme, 3/4 teaspoon salt and crushed red pepper; cook 30 seconds, stirring occasionally. Add tomatoes with their juice and lemon juice; heat to a simmer. Reduce heat to medium-low; cover and cook 30 minutes or until vegetables are very tender.

Prepare couscous as label directs. Makes about 5 cups.

Stir arugula into ratatouille; remove from heat. Makes about 8 cups.

Reserve 2 cups ratatouille; stir ¼ teaspoon salt into Dutch oven with remaining ratatouille and serve over couscous garnished with thyme sprigs, if desired. Refrigerate reserved 2 cups ratatouille in an airtight container up to 2 days.

Tips & tricks
: To substitute dried herbs for fresh herbs, use one-third the amount of fresh herbs called for in a recipe. For example, 1 teaspoon dried parsley would be substituted for 1 tablespoon chopped fresh parsley. It's also important to note that dried herbs take a bit longer for their flavors to be infused into a dish, so add them earlier in the cooking process than you would fresh herbs.

Le Gris Stuff a la Lumiere
When an enchanted candelabra invites Belle to be their guest at a magical dinner in "Beauty and the Beast," he encourages: "try the grey stuff, it's delicious." Now you can recreate it with this recipe.
Ingredients
1 ripe Dole Banana, peeled and mashed
1 full sheet chocolate graham cracker, finely crushed
1 cup light coconut whipped topping
2 Dole Strawberries, thinly sliced lengthwise
1/4 cup Dole Blueberries

Directions

Whisk banana and graham cracker crumbs in a large bowl; fold in whipped topping. Makes about 1 1/3 cups.

Divide graham cracker mixture into 4 bowls; top with strawberries and blueberries.

Check out the rest of Dole's top Disney-inspired recipes linked below.
Gosh-Golly Gee PB&J Smoothie
This smoothie recipe was first whipped up to celebrate Mickey's 90th Anniversary.
Steamboat Willie Green Apple Waldorf Salad
This was another beloved healthy dish that came around in honor of Mickey's 90th Anniversary. Get the full recipe here.
Frozen Fighter Pops
This sweet and fruity frozen treat recipe was inspired by "Star Wars: The Last Jedi."
Tatooine Blue Milk
The highly buzzed blue milk recipe came out for fans of the hit 2017 "Star Wars: The Last Jedi." Get the recipe here.
Mike Wazowski Fruit Stack
The "Monster's Inc." delicious fruit stack is fun for all ages.
Winter Solstice Soup
This recipe inspired by "Frozen 2" will be sure to warm fans up this winter.
Lion Cobb Chicken Salad
This salad recipe, inspired by "The Lion King" is full of fresh and flavorful ingredients.
Pineapple Pit-Stop Smoothie
Sip this Disney and Pixar's "Cars 3" smoothie with the full recipe here.
Super Banana-Berry Boom
Try this delicious Disney and Pixar-inspired smoothie recipe concocted for "Incredibles 2."
Orange Super Smoothie
Another "Incredibles 2"-inspired blended beverage recipe made with super immune boosting punch of oranges, packed with Vitamin C.
Right Note Smoothie
This drink recipe is a perfect accompanyment to Disney and Pixar's "Soul."
Ratatouille-Stuffed Mushrooms
Reserve some of the above Ratatouille recipe to recreate this easy, stuffed mushroom dish.
All recipes reprinted with permission, courtesy of the Dole Food Company.