Egg cooking questions answered! Hard-boiled to pan fried and other tips and tricks
Chef Ryan Scott makes cracking, cooking and peeling eggs look easy!
Get back to basics in the kitchen with one of the simplest ingredients that's easy to mess up but wonderful when prepared perfectly: eggs.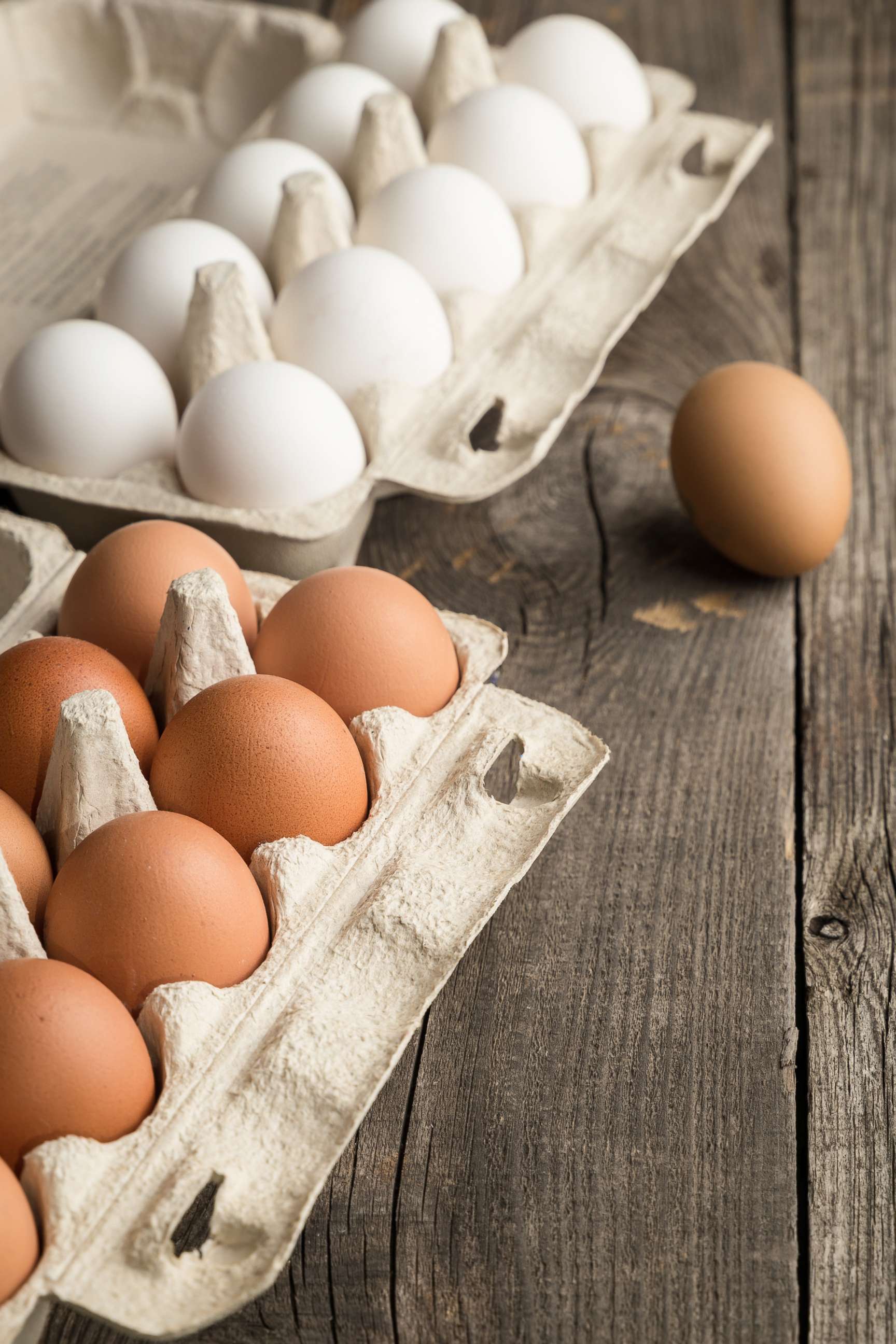 Chef Ryan Scott joined "GMA" to serve up his favorite tips, hacks and recipes for the humble, high-protein food.
Whether you prefer hard boiled or pan-fried, there's a few foolproof ways to cook, peel and store the nutritious staple.
Check out Scott's tips to perfect a no-tool pan flip and his recipe for a perfect fried egg sandwich!
Foolproof Hard-Boiled Eggs
There are a lot of methods out there for making the perfect hard-boiled eggs, but chef Scott's 6/6/6 method is a sure way to get great eggs.
Follow a few simple steps and you'll have the perfect snack or vehicle for an egg salad or Scott's bomb deviled eggs!
Ingredients
12 large eggs
Ice cubes

Directions

Fill a large saucepan with enough water to cover the eggs. Bring the water to a full rolling boil, over high heat. Carefully add the eggs, return the water to an almost boil and cook for 6 minutes. Turn off the heat and let sit for 6 minutes.

Carefully pour out half the water and cover the eggs with ice cubes and chill for 6 minutes more.

Once the eggs have cooled, gently roll them on a counter or cutting board to break up the shell. Return the eggs to the ice water. This gives the water a chance to seep into the cracks and work its way in between the hard-boiled egg and the inner membrane.

Carefully peel the eggs, one at a time, while submerged in the ice bath.

Tip: Older eggs will peel a bit easier as the bond with the inner membrane weakens with age.

Tips and Tricks for Hard-Boiled Eggs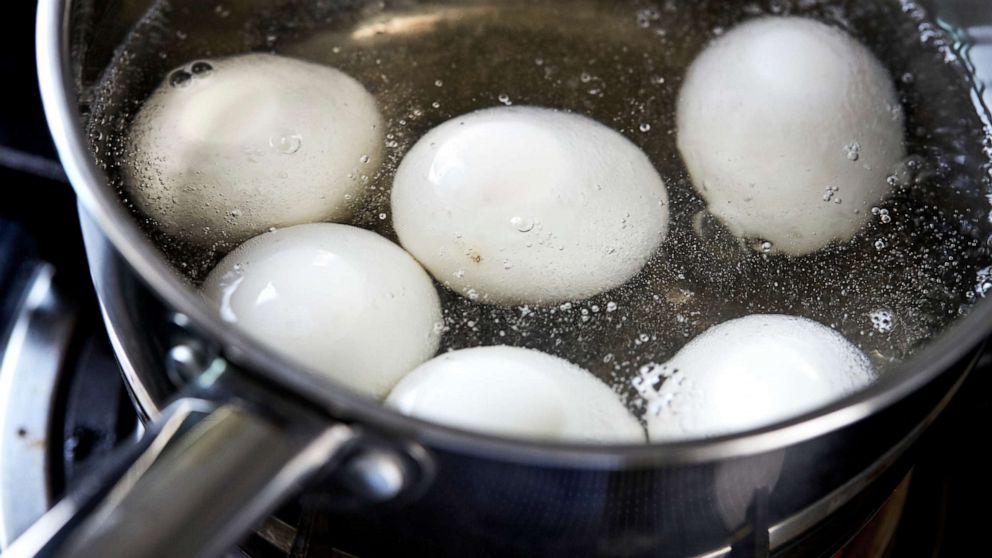 How to store them

Once peeled, store the eggs in a container, filled with cool, clean water, in the refrigerator for up to 5 days.
How to slice them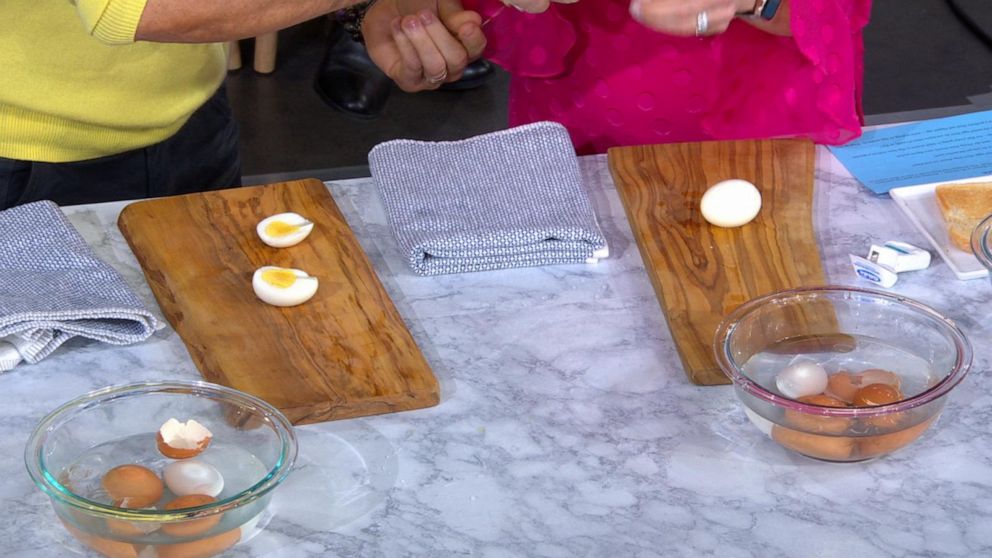 Now that you've cooked and peeled your eggs, it's time to get slicing. Scott shared two methods to get a clean slice on any hard-boiled egg.
Warm Water Method:
Use either a bucket of warm water or a kitchen towel that has been moistened with warm water to clean your knife between slices.
The Flossing Method:
Secure a strand of unscented dental floss around your thumb and pointer finger and use it to quickly slice eggs. (Think of it as a make-shift egg slicer. This also works great for cutting through soft cheeses!)

Pan Cooking Tools and Hacks
With just a little practice, and a flip of the wrist, you're minutes away from the perfectly cooked egg to pair.
It's All in the Pan

There are a lot of gadgets out there claiming to make the perfect egg, but all you really need is a no-frills 8-inch non-stick frying pan.
Look, Ma! No Tools!

Leave the spatula in the drawer. All you need is a little flick of the wrist to flip an egg. It may seem difficult at first, but with a little practice, you'll be mistaken for a line cook in no time.
Start by placing a half-cup worth of dry beans in the pan. Gently flick your wrist to toss the beans. Once you've mastered the beans, it's time to graduate to a piece of dry toast.
Using the same motion, practice flipping the bread. Wasn't that easy? Now you're ready to proceed.
How to Make Pan-Cooked Eggs

Heat an 8-inch nonstick frying pan over medium-high heat. Brush the skillet with a neutral oil with a high smoke point (like Canola or Vegetable). You do not need a lot of grease, just enough to help "fry" the egg.

Crack the egg into the skillet and season with salt and pepper. Cook the egg, without disturbing it. Here's the secret -- you want to cook the egg 3/4 of the way through. The egg white should be almost completely cooked, with just the portion closest to the yolk still not set.

Give the pan a gently swirl to loosen the egg and then, just like we practiced, flip that egg!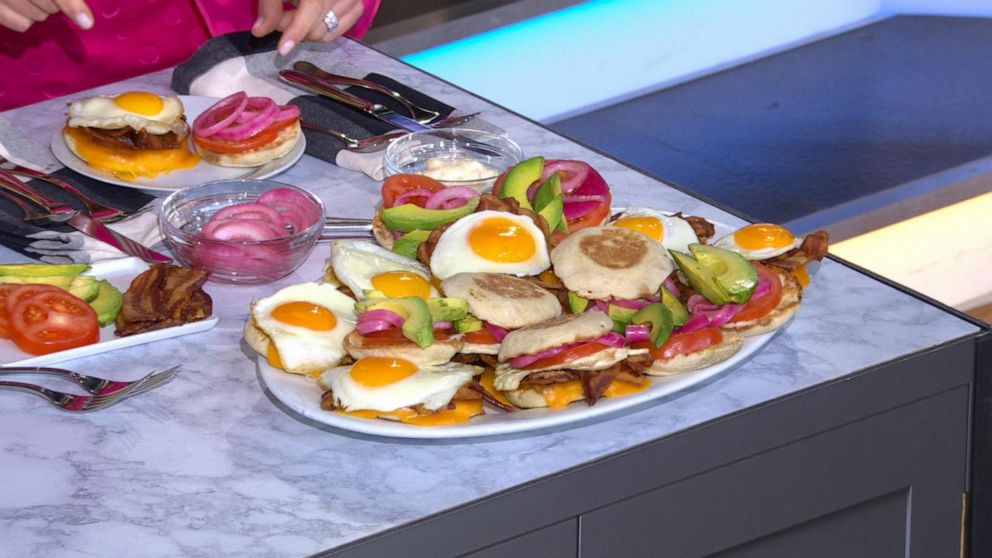 For a Soft or Over-Easy Egg:
Remove the skillet from the heat and let sit for 10 seconds (just long enough to finish cooking the egg white) before sliding it onto a plate.

For a Medium-Cooked Egg:
Continue cooking over medium-high heat for 30 seconds before sliding onto a plate.

For a Hard-Cooked Egg:
Continue cooking over medium-high heat for 1 to 1-1/2 minutes, until the yolk is firm to the touch before sliding onto a plate.

For a Fried Egg:
Use a spatula to smash the yolk and cook until crispy around the edges, about 1 to 2 minutes, before sliding onto a plate.

Ryan's Make-It-Your-Own Egg Sammie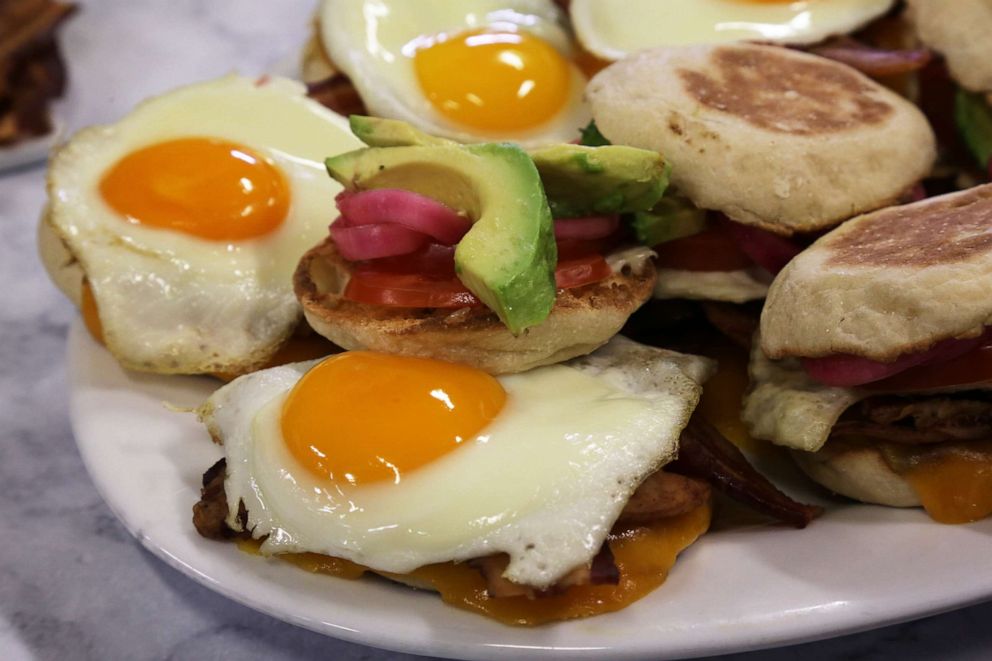 Ingredients
1 English muffin, halved
1 slice cheddar cheese
Mayonnaise
2 pieces crispy-cooked bacon
1 fried egg

Directions
Toast the English muffin. While still warm, place the cheese onto the interior of the top half. Cover with a bowl to melt the cheese.

Meanwhile, smear the bottom half of the English muffin with just enough mayonnaise to fill the nooks and crannies. Place the bacon over the mayo in a "pound sign" pattern to cover the entire muffin.

Add the egg and any desired toppings. (Some of my favorites are: everything bagel spice, pickled red onions, sliced avocado, sliced tomatoes and hot sauce.) Top with the cheesy lid.

Serve immediately or wrap in parchment and take it on-the-go!