Attention allium fans: if you hate peeling garlic by hand, this new viral internet hack may be a simple solution.
One Twitter user re-posted a video she found that showed someone popping perfectly peeled cloves out of those pesky skins in no time, and all you need is a fresh head of garlic and a small, sharp knife.
The hack, which was found and re-posted by the Twitter user Sunday night, has over 121,000 retweets and over 350,000 likes on Twitter.
Cookbook author, mom and model Chrissy Teigen retweeted the video with an emphatic reaction.
ABC News' Kenneth Moton and Janai Norman tried their hand at the hack on World News Now and had a little less success.
In the original video, it appears the bottom of the bulb should face up and the knife should be inserted at a perpendicular angle into the center of the clove. Then, the tip of the knife should be turned slightly to get a grasp on the clove and pulled upwards to release the clove.
Food publications have long boasted other best methods for peeling garlic, such as smashing the cloves individually to remove the skins more easily.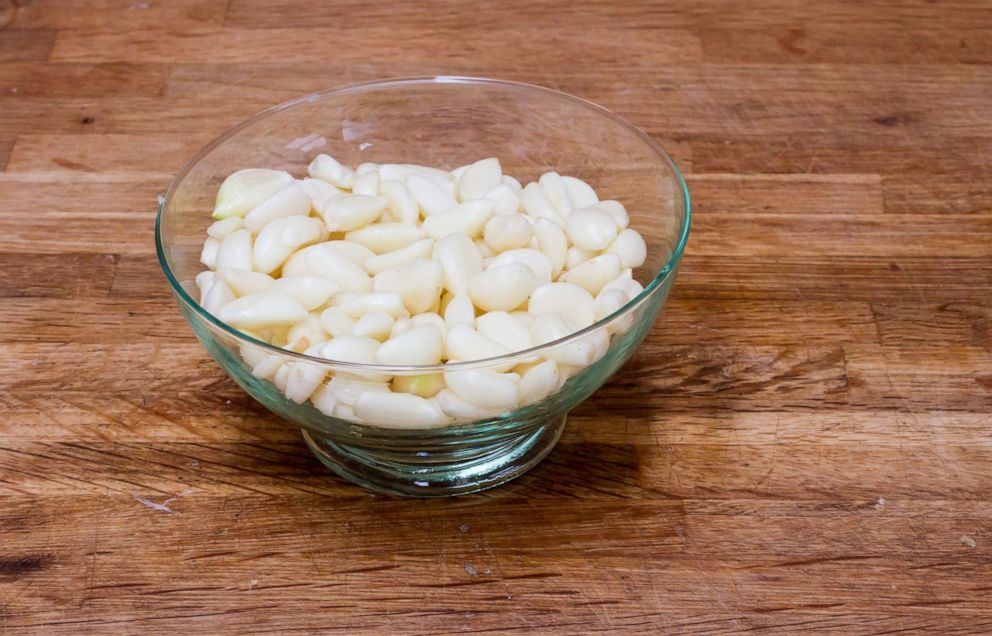 In 2011, Saveur's executive food editor Todd Coleman recommended shaking garlic bulbs between two deep bowls and said the trick takes "less than 10 seconds," no knife required.
As with all viral hacks, other users decided to try the hack for themselves.
Most reactions have been positive, with replies like "mind blown" and "this is life changing."
Others opted to stick with the traditional smashing under a knife method.
One user who had success showed the results, which she said took just 30 seconds.
'Tis the season for all of the garlic, onions, ramps and other fresh alliums, so if you want to give this hack a try, check out these garlic forward dishes to make with your freshly-peeled cloves.
Sauteed broccoli rabe with spring garlic-basil butter

Ingredients:
1 pound broccoli rabe
1/2 cup butter
3 cloves spring garlic, minced
1 ounce basil, finely chopped
2 tablespoons extra virgin olive oil
1/4 teaspoon sea salt
Pinch black pepper

Directions:
1. Trim the stems of the broccoli rabe; blanch in salted boiling water for 2 minutes until bright green and tender-crisp. Remove from water and rinse with cold water to cool. Pat dry.
2. In a skillet, melt butter. Add garlic and cook over low heat for 1 minute. Transfer butter to a bowl and stir in basil.
3. Return skillet to stove and heat olive oil. Add broccoli rabe and sauté until tender, 2-3 minutes.
4. Add butter, salt, and pepper. Coat broccoli rabe with butter and serve.

Recipe courtesy the Natural Gourmet Institute.
Andrew Zimmern's charred eggplant and garlic dip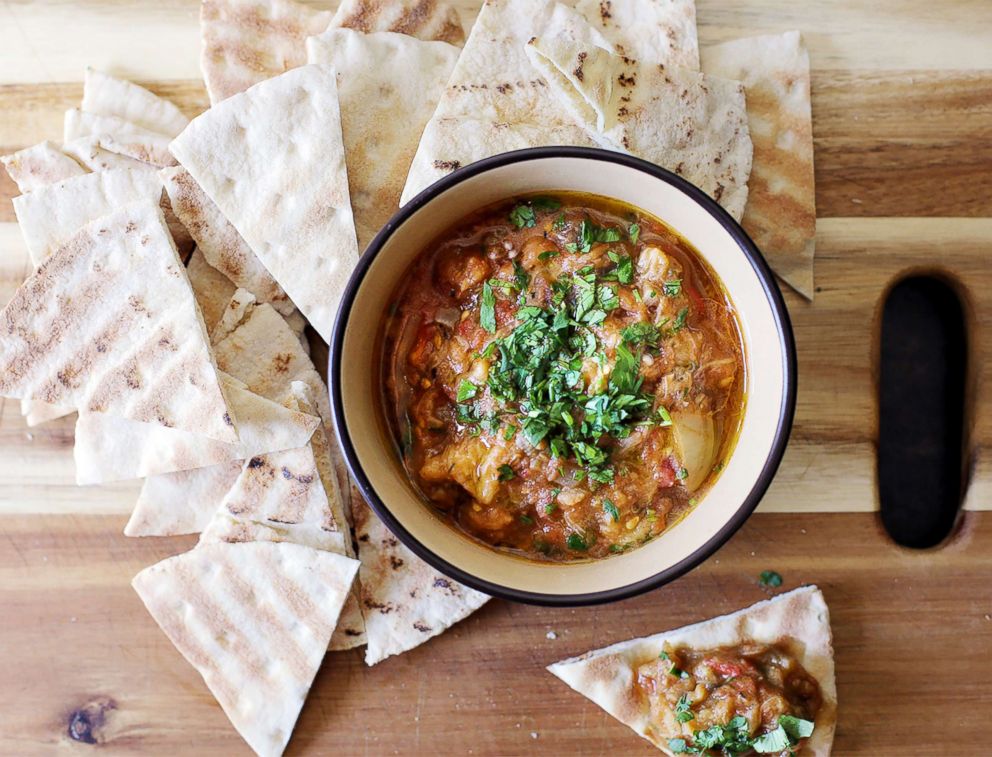 Ingredients:
3 eggplants, about 2 1/2 pounds
4 garlic cloves, peeled and smashed
1 serrano pepper
2 tablespoons olive oil, plus a drizzle for garnish
1/4 cup onion, minced
1/4 teaspoon cayenne pepper
1 tablespoon ground coriander seed
1 teaspoon cumin
Pinch of cinnamon and cardamom
1/4 cup cilantro, chopped
1 cup fresh tomato puree
1 tablespoon fresh lime juice
1 tablespoon parsley, chopped for garnish
Flatbread, for serving
Instructions:
1. Light a chimney full of natural hardwood charcoal. When it's white hot, dump into the bottom of a charcoal grill. Tap the coals lightly to get rid of some of the ash.
2. Place the Serrano pepper and eggplants directly on the charcoal. Cook the pepper for about 2 minutes per side, until charred all over. Cook the eggplant for about 10 minutes per side, until completely blackened and eggplants are soft. Remove the vegetables from the coals and set aside to cool.
3. In a large saucepan over medium heat, add the olive oil, garlic and onion. Cook for 2 minutes, and then add the cayenne, coriander and cumin.
4. Chop the serrano pepper and add it to the pan. Peel the eggplants, coarsely chop and then add to the pan. Sprinkle in a pinch of cinnamon and cardamom and half the cilantro (reserve the rest for garnish).
5. Cook for a couple minutes and then stir in the tomato puree and lime juice. Bring to a simmer and cook for 10 to 12 minutes, until thickened and liquid has evaporated. You can serve it as a warm appetizer, at room temperature or as a chilled dip. When ready to serve, garnish with parsley, reserved cilantro and a drizzle of olive oil.
6. Serve with toasted flatbread.
Recipe reprinted courtesy of Andrew Zimmern.