Many restaurants hard hit by the coronavirus pandemic have found new ways to serve their local community and hungry customers.
The team at Bam Bam Bakery in Portland, Maine, has turned to curbside delivery, started a GoFundMe to keep their ovens on and began baking for frontline workers.
Owner Tina Cromwell told "Good Morning America" that they are "bare bones staffed right now" and what they need more than ever is "people trusting us enough to keep our doors open and keep the orders coming in."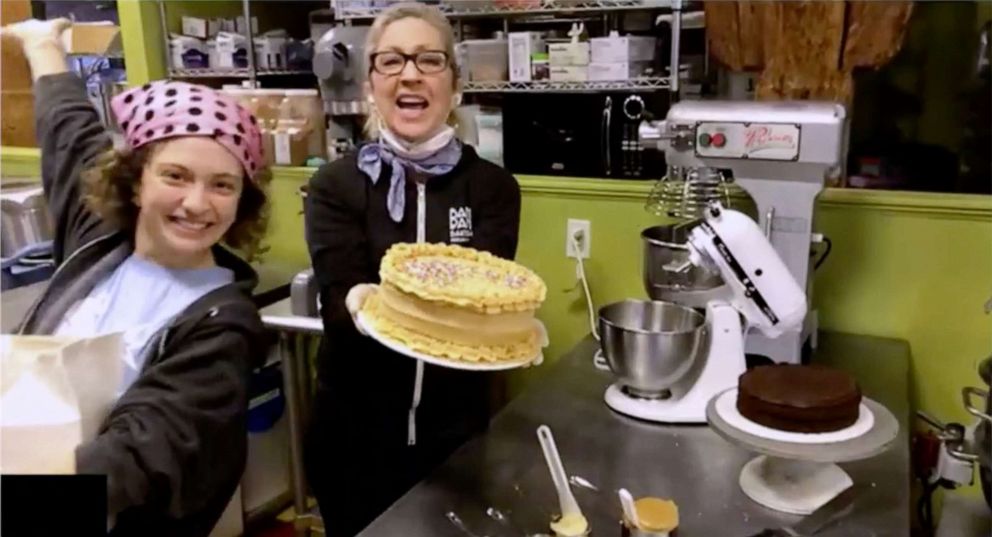 As the bakery adjusts to a new normal, Cromwell has worked to give back to the community by providing pasties to health care workers. The exclusively gluten-free bakery teamed up with a local coffee shop to make sure all medical workers had a sweet treat during their shifts.
"We've been getting some people, some pretty amazing treats," she said.
Like many restaurants, the bakery has shared some of its beloved recipes with customers so they can make their favorite confections from the comfort of their homes while in quarantine.
Their top-selling item? Gluten-free, vegan chocolate peanut butter cake. Check out the full recipe below!
Gluten free vegan chocolate cake with vegan peanut butter frosting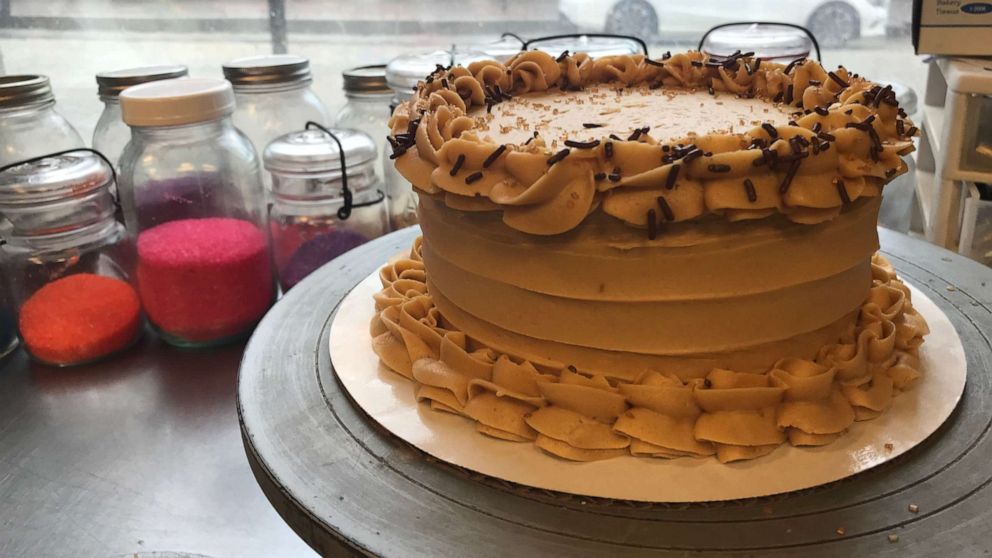 Makes a 2-layer 8" cakeGluten free/Dairy free/Vegan/TreeNut free/Soy freeContains peanuts
Prepare two 8-inch cake pans with non stick spray.Preheat oven to 350 degrees.
Cake Ingredients2 1/4 cup unsweetened applesauce3/4 cup vegetable oil1 1/2 cup brown sugar2 tablespoons water2 teaspoon vanilla extractDry ingredients:2 1/4 cup gluten free flour blend3/4 cup cocoa powder1 teaspoon Xanthan gum1 teaspoon baking powder1 1/2 teaspoons baking soda2 1/4 teaspoon egg replacer1/2 teaspoon kosher salt
DirectionsMix wet ingredients until combined, add dry ingredients and mix for 5 minutes.
Divide batter between 2 prepared pans and bake for 40 minutes or until a toothpick inserted comes out clean
Peanut Butter Frosting Ingredients
1 cup creamy peanut butter1/2 cup vegan butter2 cup powdered sugar1/2 teaspoon vanilla3 tablespoons coconut milk
Directions
Mix together until creamy.
Cromwell's cakes and other gluten-free confections are also available for delivery nationwide from Goldbelly.