Food blogger and TV personality Jocelyn Delk Adams joined "Good Morning America" recently to share some recipes from her new cookbook, "Everyday Grand."
Adams showed "GMA" how to recreate two of her favorites from the book, one savory and one sweet dish that are both a breeze to whip up at home.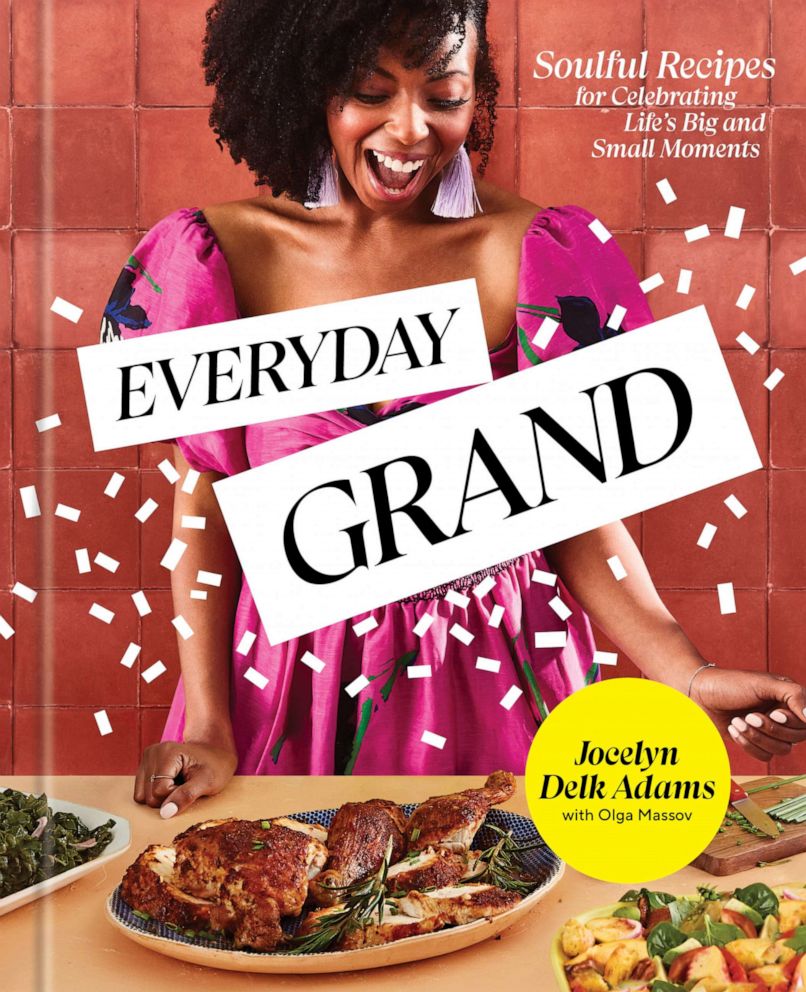 Check out both recipes below.
Cereal-crusted Buffalo Chicken Tenders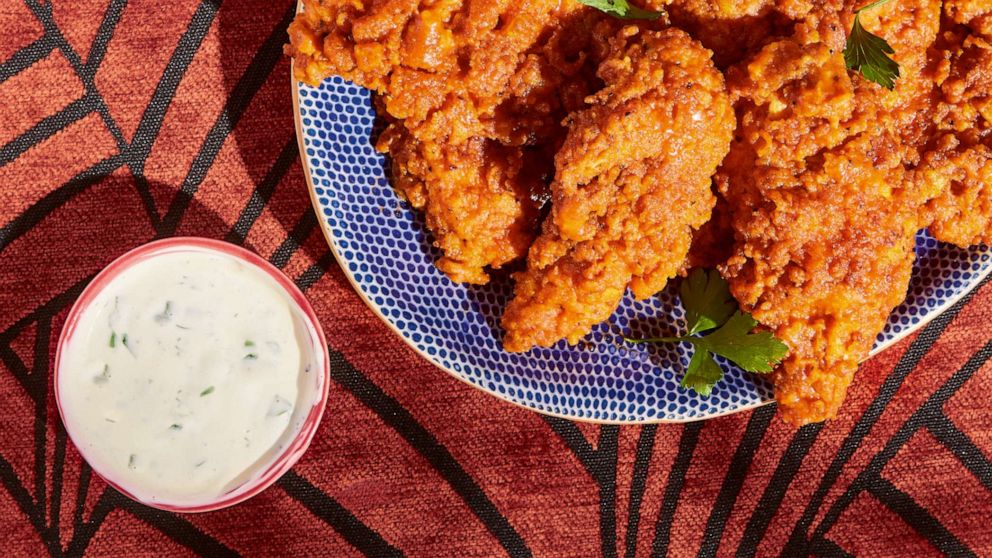 Serves: 4 to 6
Ingredients
1 pound chicken breast tenderloins
2 cups well-shaken buttermilk
1 cups finely crushed Cap'n Crunch cereal
1 cup all-purpose flour
3 tablespoons seasoned salt, such as Lawry's (see note)
2 teaspoons sweet paprika
2 teaspoons freshly ground black pepper
1/2 teaspoon garlic powder
2 teaspoons whole milk
6 cups canola oil, for frying
1/3 cup hot sauce, such as Frank's RedHot Wings (it's bomb on these!)
4 tablespoons (stick) salted butter
Directions
In a large bowl, submerge the chicken in the buttermilk, cover, and refrigerate for at least 2 hours or up to 8 hours.
When ready to fry, in a medium bowl, whisk together the cereal, flour, seasoned salt, paprika, pepper, and garlic powder until combined. Drizzle in the milk and stir well.
Using tongs, lift the chicken tenders out of the buttermilk, letting the excess drip back into the bowl, then dip them in the seasoned flour, thoroughly coating each piece and using your free hand to scoop and press the coating onto the chicken to help it adhere. Transfer to a large-rimmed baking sheet and repeat with the remaining chicken. Let sit until the coating has set, 10 to 15 minutes -- this helps the coating adhere and stay on during the frying.
Position a rack in the middle of the oven and preheat to 275 F.
Set a wire rack on a large-rimmed baking sheet and keep it near your work area. Fill a heavy-bottomed medium pot, Dutch oven, or deep-fryer with oil to a depth of 2 to 3 inches and heat over medium-high heat. This is my test for checking when the oil is ready: Big Mama always tossed a tiny bit of flour into the oil, and if it began to fry and sizzle, the oil was ready. Or test the heat with a wooden spoon: Stick the bottom of the spoon into the oil; if ample bubbles surround it, the oil's ready to go, boos.
Working in batches to avoid overcrowding, fry the chicken tenders until golden brown, 2 to 3 minutes per side, depending on thickness. Transfer to the wire rack and let drain for 1 minute.
While the first batch of chicken is frying, in a small saucepan, combine the hot sauce and butter and warm over low heat until the butter has melted, about 3 minutes. Whisk the sauce to combine and remove from the heat.
When you've fried all the tenders, transfer them to a large bowl and toss with half the sauce until completely coated. If, like me, you prefer your wings really saucy, add the rest of the sauce, toss, and serve immediately.
Note: Seasoned salt varies from maker to maker, so keep that in mind when seasoning. I like Lawry's brand, but you may have something else more easily available. Remember the rule of seasoning: You can always add more, but you can't take it away, so start with less, just to be safe, and add more to taste as needed.
My Favorite Salted Caramel Chocolate Chip Cookies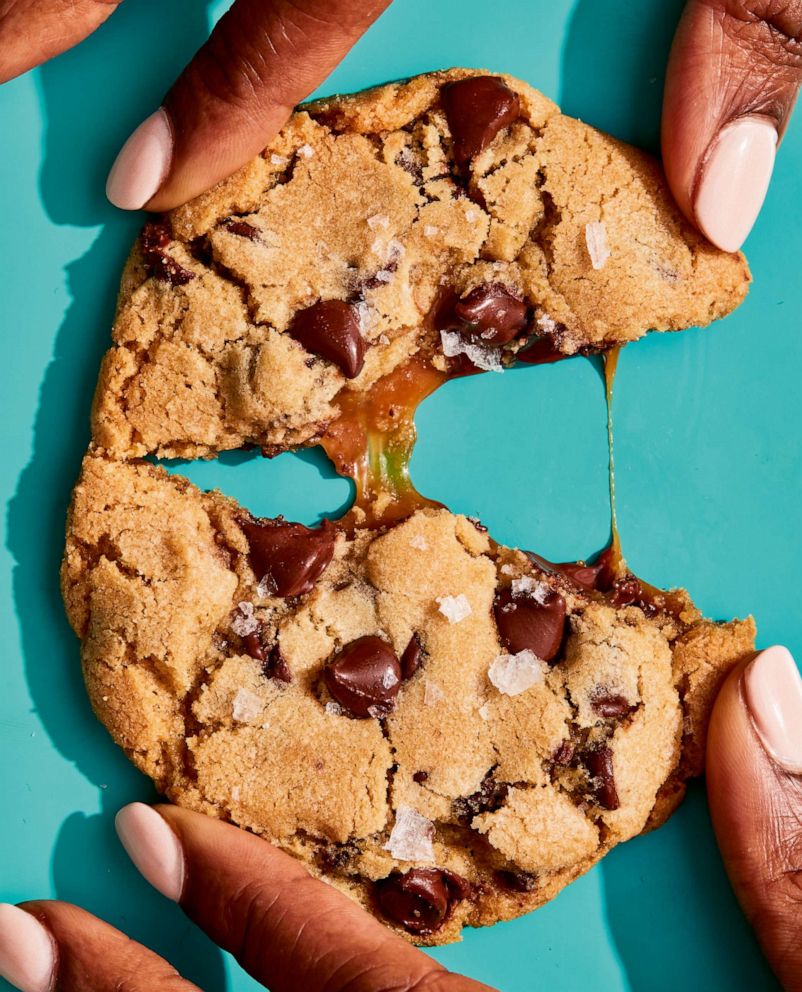 Makes: 28 cookies
Ingredients
2 2/4 cups (345 grams) all-purpose flour
2 teaspoons cornstarch
1 teaspoon baking powder
1 teaspoon baking soda
1 teaspoon kosher salt
1 cup (2 sticks / 226 grams) unsalted butter, at room temperature
1/2 cup (100 grams) granulated sugar
1 cup packed (330 grams) light brown sugar
1 large egg, at room temperature
2 large egg yolks, at room temperature
1 tablespoon vanilla extract
2 cups (350 grams) semisweet chocolate chips
Soft caramels, such as Werther's Original, unwrapped (you'll need about 28)
Flaky sea salt, such as fleur de sel or Maldon
Directions
Position a rack in the middle of the oven and preheat to 350 F. Line two large rimmed baking sheets with parchment paper.
In a medium bowl, whisk together the flour, cornstarch, baking powder, baking soda, and kosher salt.
In the bowl of a stand mixer fitted with the paddle attachment, beat the butter and both sugars on high speed until light and fluffy, about 3 minutes. Add the egg and the egg yolks one at a time, making sure each is incorporated before adding the next and stopping to scrape down the sides and bottom of the bowl between additions. Add the vanilla and beat until incorporated. Reduce the mixer speed to low and add the dry ingredients in three additions, mixing well after each addition until fully incorporated. With the mixer still on low, add the chocolate chips just until combined. Cover the bowl with plastic wrap or a large plate and refrigerate about 2 hours (or chill the dough for up to 2 days).
Using a 1-tablespoon measure or a #40 disher, scoop the dough into balls (each should weigh between 20 and 25 grams). Add a soft caramel to one ball of dough, cover with another ball of dough, and roll them together to form a larger ball of dough with the caramel hidden inside. Place the cookie on one of the prepared baking sheets and sprinkle the top with flaky salt. Repeat with more dough and caramels, spacing the cookies at least 2 inches apart on the pan (they will spread quite a bit in the oven); you should be able to fit 6 cookies on the pan.
Bake one sheet at a time for about 15 minutes, until chewy. If you prefer your cookies on the crisper side, bake for an additional 2 minutes. (I personally love mine super chewy, but it's your world, boos!) Remove from the oven and transfer the cookies, upside down, to a wire rack. (Because the caramel might be gooey on the bottom, it's best to cool them upside down.) Let cool until warm or at room temperature.
While one sheet of cookies is cooling, bake the other sheet. Once the first baking sheet has cooled, portion more cookies onto it and repeat until you are out of cookie dough.
Store the cookies in an airtight container at room temperature for up to 5 days. If the cookies get too hard, place a slice of bread in the container with them for 8 hours to soften.
Recipes reprinted with permission from "Everyday Grand" Copyright © 2023 by Jocelyn Delk Adams Photographs copyright © 2023 by Brittany Conerly. Published by Clarkson Potter, an imprint of Random House.