Chef Gregory Gourdet made a hard health reset after what he says was a difficult 2020 for him. His weight-loss journey led to a healthy and fresh start for 2022 ahead of his new restaurant opening this spring, he says.
The "Top Chef" season 12 runner-up turned guest judge on the hit culinary competition joined "Good Morning America" Friday to elaborate on the news he first shared on Instagram, revealing a 40-pound weight loss thanks to a combination of power walking and healthy eating.
"Just like so many of us, I gained so much weight during the pandemic between gyms closing, being locked up at home, supporting my restaurants via take-out and I was also recovering from an injury, a knee injury, so I just gained so much weight, I decided enough was enough and in July I decided to press the reset button and get back to health," Gourdet, 46, explained.
Chef and founder of Kann Restaurant said he began power walking which "really got me going and my body moving and after a few months I was able to run outside again and hit the gym and get back to being myself."
His advice for others on a health journey, "You just have to keep going and keep persevering."
"Exercise, count your calories, track your food. When I saw the number on the scale getting lower my clothes started to fit again and actually knee started to feel like myself again," he said. "Everything just started to feel better. That's when I knew that everything was working and that inspired me to keep going."
The three-time James Beard Award semifinalist said that he kept things on track with meals that included a combination of protein and greens.
"I truly went into a great lean protein, high protein diet with lots of low carb vegetables, super low carb. That doesn't mean it's not delicious and not satiating. You can eat things like this beautiful roasted chicken skin on, because fat is a fantastic fuel source. Your body actually prefers to run on fat than carbohydrates," Gourdet said.
He shared a recipe below from his cookbook, "Everyone's Table," for a side dish staple: braised collard greens.
Smoky Long-Cooked Greens
"This is a super low carb vegetable -- cooked in olive oil, another delicious healthy fat," he said.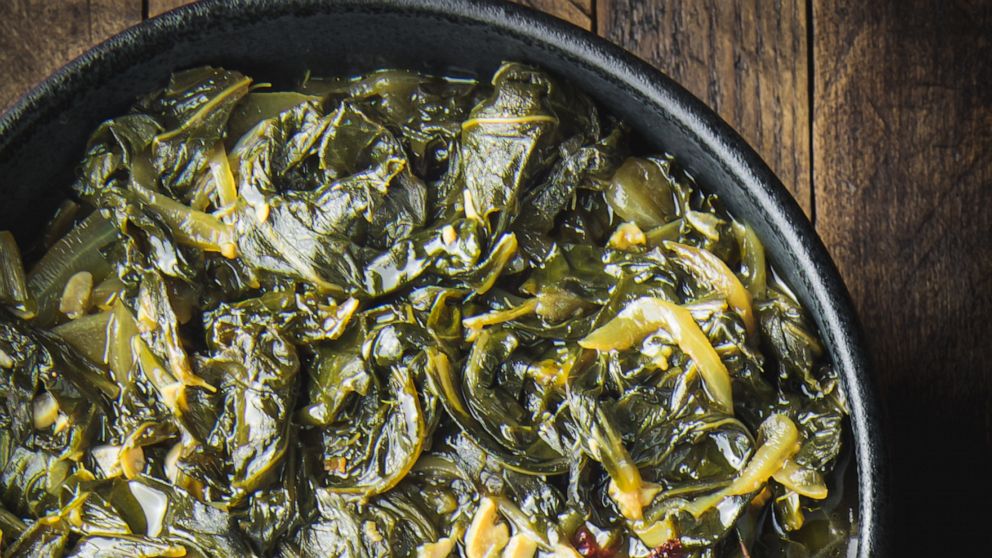 Ingredients
2 tablespoons olive oil
1 medium onion
6 large garlic cloves, smashed and peeled
1 teaspoon Kosher salt
8 cups tightly packed, stemmed collard greens, very roughly chopped
3 cups chicken stock
1 dried chipotle chile
2 tablespoons coconut aminos
2 tablespoons apple cider vinegar
Directions
Heat oil in a large pot over medium heat until shimmery.
Add the onion, garlic, salt and cook, stirring frequently for 1 minute. Add the collards, stock and chipotle, stir well and let it come to a gentle simmer.
Cook, stirring occasionally, until collards are very tender. (They go from shiny to dull when they're done) and the liquid has reduced to about 2 cups, in about an hour. If the collards are done before the liquid reduces, turn up the heat to speed up the process. Stir in the coconut aminos and apple cider vinegar, simmer for 3 minutes more, then turn off the heat. Keep the collards warm.
Reprinted with permission from EVERYONE'S TABLE by Gregory Gourdet and JJ Goode. Copyright ©2021 by Gregory Gourdet and JJ Goode. Published by Harper Wave an imprint of HarperCollins Publishers. Reprinted by permission. Photos credited to Eva Kosmas Flores.
Gourdet added a final piece of advice, "if you want to have a cheat day, don't be scared -- the most important thing is don't feel guilty about your cheat day. If you want to cheat and have a piece of cake, enjoy time with your friends, enjoy it. Revel in that moment and don't feel guilty the next day."
Editor's note: Some of the reprinted text has been slightly edited.