Women-led food brands you should have in your kitchen
From olive oils to sustainable spices, these brands are the real deal.
It shouldn't take a day on the calendar to support women-helmed businesses, but what better time than Women's History Month to highlight a handful of boss babes who are setting a unique spot at the table and inspiring other female founders in the modern food industry.
From chefs and restaurateurs to food publications and consumer product goods, there are no shortage of incredible women behind brands that boast big flavors and innovative marketing.
Let's take a peek at a handful of female founders whose companies you should remember, follow on social media and open a new tab for.
West~bourne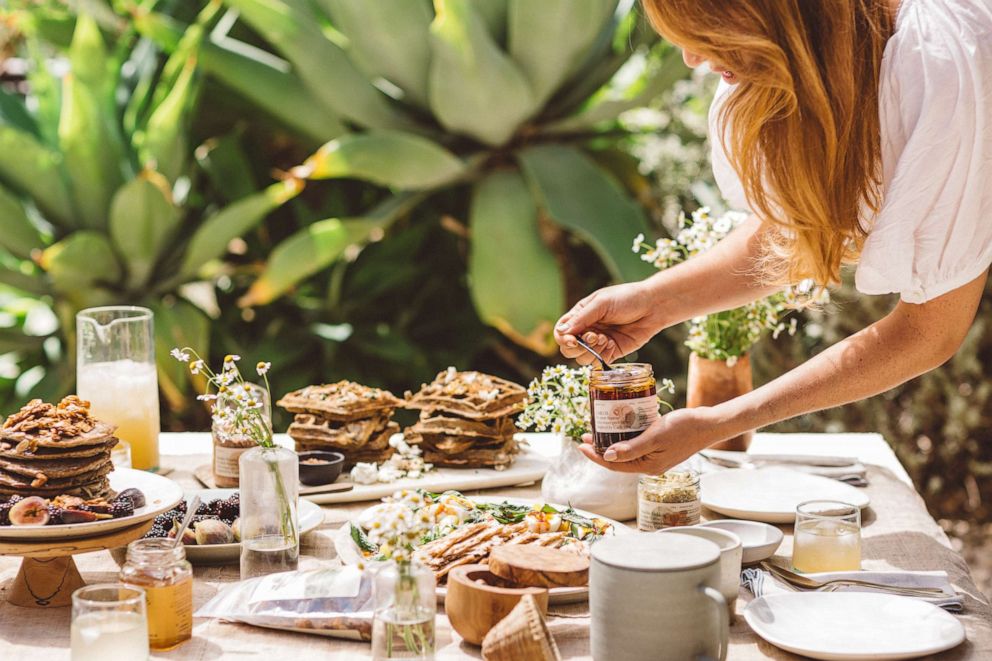 After chef Camilla Marcus closed the doors of her California-inspired plant-based eatery in New York City amidst mass closures during the pandemic, her idea for the business to expand with a new line of provisions under the same name came to life as she made her way back to the west coast. The direct to consumer goods that span pantry staples from snacks and condiments to mixes all lead with a climate-friendly message and packaging.
"Launching a DTC version of west~bourne was always part of the plan. I wanted to be able to bring fan favorites from the cafe into people's homes and showcase the ease of low-impact, plant based cooking when you have the right ingredients," Marcus told "GMA." "Growing up in California, farmers markets, plant based eating and using food seed to stem shaped my view of the culinary world. This, paired with our responsibility to protect our planet for future generations, is the driving force behind west~bourne and all that we set out to do."
Her company's commitment to impact minimization with a supply chain focused on regenerative farming and small business carries over into its packaging; all products are shipped in 100% compostable or recyclable packaging such as sustainably-sourced wood cellulose pouches, sugarcane paper labels and soy ink.
A couple best sellers and Marcus' favorites include their Togarashi Crunch, which is a play on the nostalgic savory cereal mix, and pistachio dukkah, a nut and seed blend that can be used to top everythign from toast and roasted vegetables to yogurt bowls.
Red Clay
Entrepreneur Molly Fienning made the jump from kids eyewear to culinary when she first tasted chef Geoff Rhyne's hot sauce at a restaurant in Charleston where the love-at-first-taste moment became a catalyst for their handcrafted, single-batch hot sauce venture.
The CEO and co-founder of the cold pressed, sustainably sourced, gluten-free, made in America hot sauce company is Feinning, is a self-proclaimed "big fan of women-owned bussiness and female leaders" and recently shared on the hit female-business podcast Entreprenistas the most rewarding part of her work.
"When I hear from someone that my advice helped her business or her personal well-being somehow, those are the times I'm most proud of the work I'm doing," she said.
Great Jones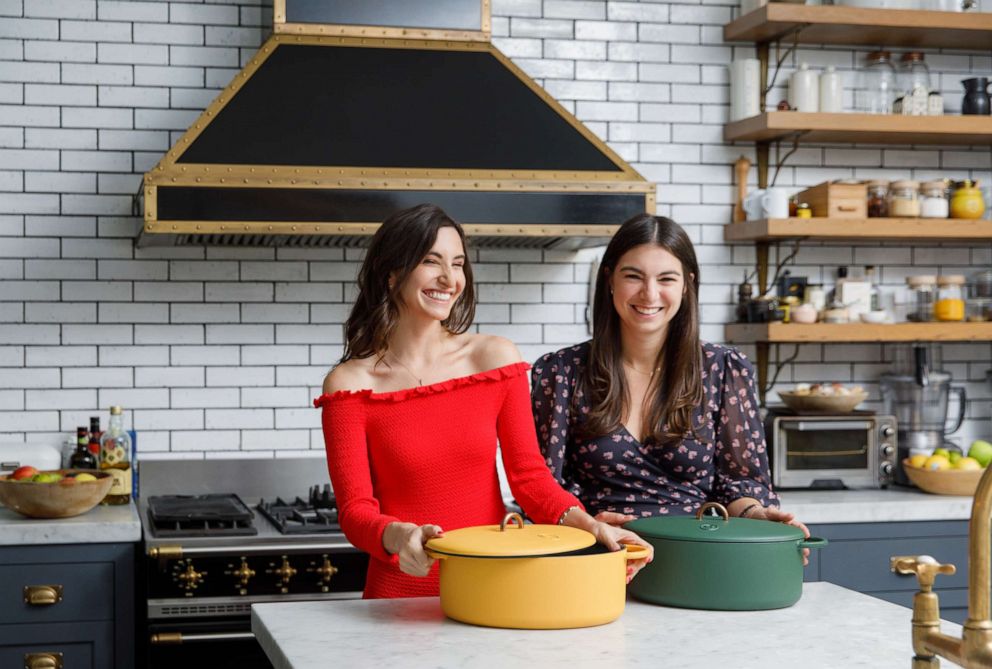 Longtime friends Sierra Tishgart and Maddy Moelis launched cookware company Great Jones in 2017 and it has since become a household name for home cooks, chefs, authors and culinary pros.
"I needed to upgrade my kitchenware (no more Teflon), and I had trouble figuring out what I actually needed and why," Tishgart told "Good Morning America," adding that she wanted beautiful pieces that would last. "I wanted to be able to reasonably purchase them for myself, instead of waiting to receive them as a registry present. And I wanted someone to hold my hand through the process and make the experience of outfitting my kitchen joyful and fun."
The brightly colored, sleek line of pots and pans was designed and named after famed female cookbook editor Judith Jones, who championed the work of Julia Child, Edna Lewis, James Beard and other iconic, diverse authors.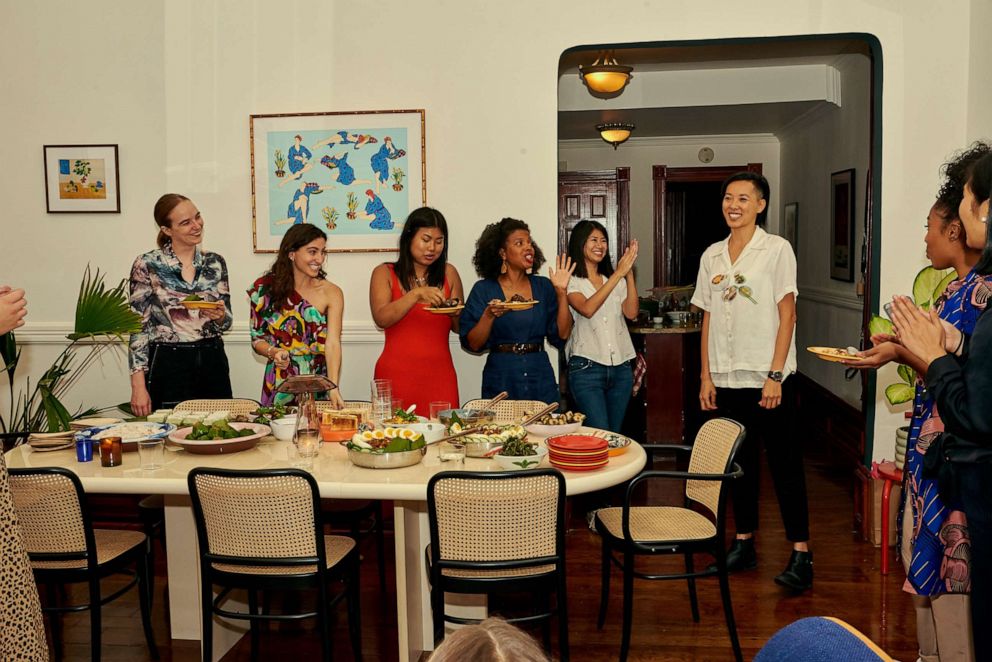 "She died at age 93 shortly before we started the company. She had the most beautiful kitchen in New York City and displayed her cookware like works of art," Tishgart said. "It's an honor to see our products in anyone's home. It is particularly meaningful to have the insight and support of so many women in the culinary world. I'll never forget Missy Robbins testing our products in Lilia's kitchen, or Moonlynn Tsai and Jessica Koslow choosing to invest their time and capital in Great Jones."
As for other females in the food industry, Tishgart named a few who inspire her.
"Klancy Miller, she just founded her own publication, "For the Culture," that celebrates Black women in food and wine. Sana Javeri Kadri, who is building a more equitable spice trade through Diaspora Co.," she shared. "Alison Cayne, who pivoted her Haven's Kitchen cooking school and created a line of delicious fresh sauces. Elena Liao, who runs my favorite place in New York City, a Taiwanese tea room called Té Company."
If Tishgart could cook or eat dinner with three women she said it would have to be "Meghan Markle, Oprah and the queen."
Check out a few more female-helmed food brands Tishgart loves and recommends: Ghia, Brightland, Partake and Supernatural.
Omsom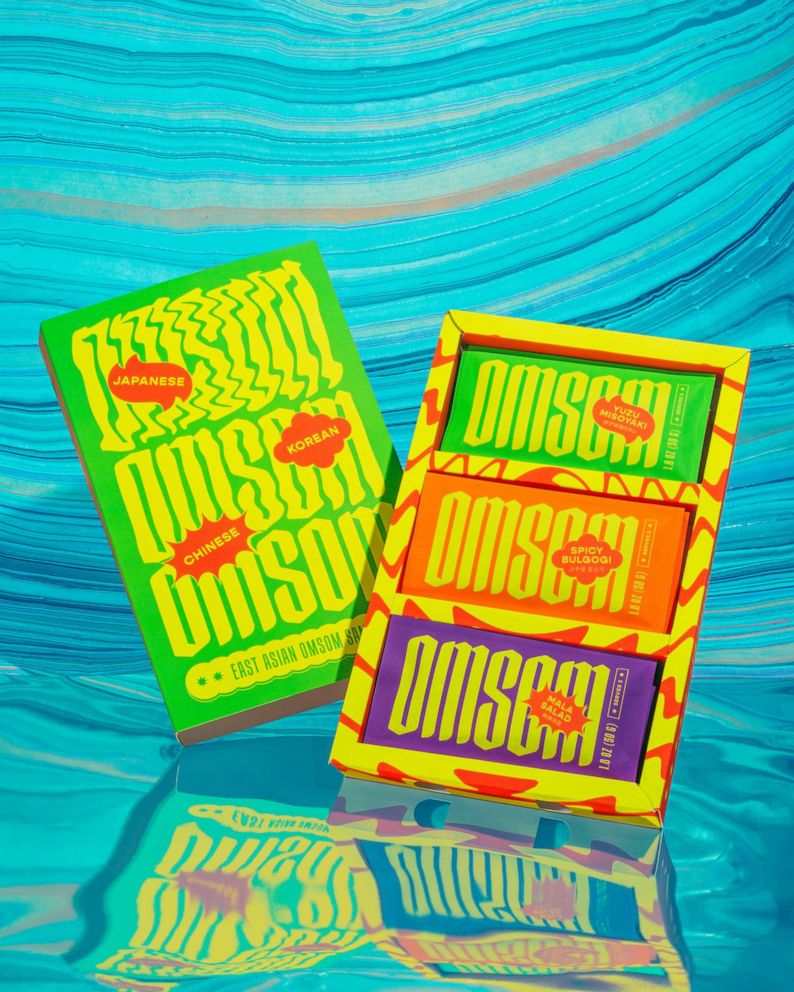 Co-founders, sisters, first-generation Vietnamese Americans and the daughters of refugees, Kim and Vanessa Pham, created their company Omsom to start a cultural dialogue and bring bold, Asian flavors to consumers with starter kits that simplify cooking their culture's authentic cuisine.
Kim Pham told "Good Morning America" that food has always been a way for them to identify with their heritage, "so we created Omsom to reclaim the cultural identity of Asian cuisines that are often hard to prepare at home or diluted in mainstream grocery stores."
"We launched in May 2020 at the height of the pandemic, even though we had advisors who thought it would be best to hunker down and wait it out until the fall. Even as first-time founders, Vanessa and I had to follow our own truth here -- in our gut we believed that with so many folks stuck at home indefinitely, many are re-discovering the joy around cooking," Pham explained. "We found an internal conviction in a belief that Omsom may actually be more relevant now than ever. So we decided to move forward, despite the many challenges and unknowns, and give people something exciting in these uncertain times -- to literally spice up their pantry!"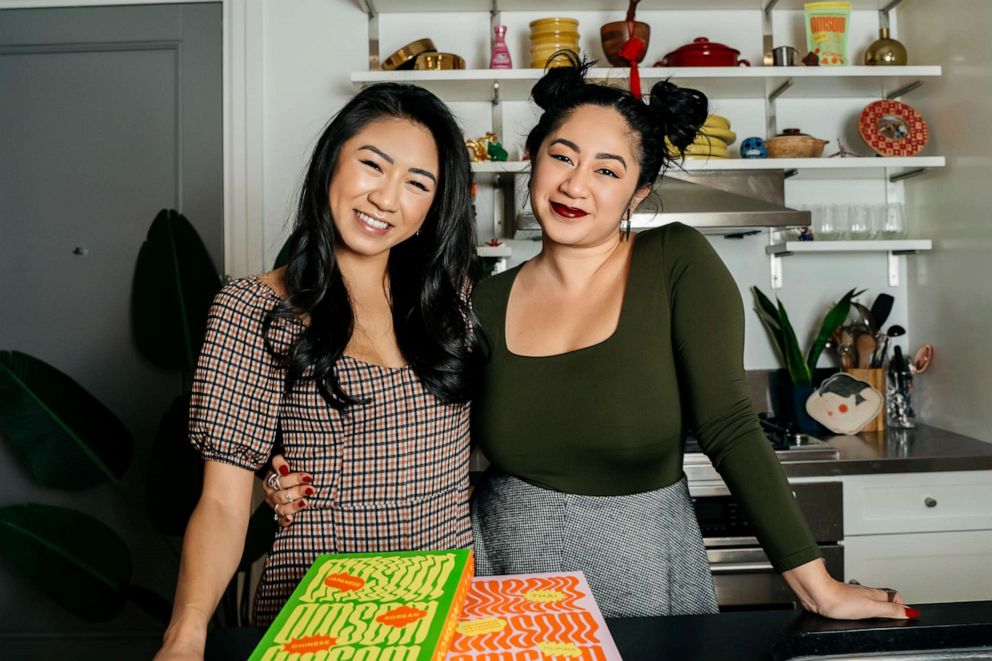 Pham said they have been humbled by the early response and are "grateful that we can champion and center Asian-American communities in our work every day, while also showing the world that proud, loud Asian flavors and stories are here to stay."
Most recently Omsom partnered with Disney to launch a product in tandem with the release of "Raya and the Last Dragon," which features Disney's first-ever Southeast Asian princess. They also have a collaboration launching this spring with Chrissy Teigen's mom, Pepper Teigen.
While there are "tons" of other female-helmed food companies that the sisters support, Kim Pham said Diaspora, Brightland, Fly by Jing and Nguyen Coffee Supply are a few that other women should check out.
Brightland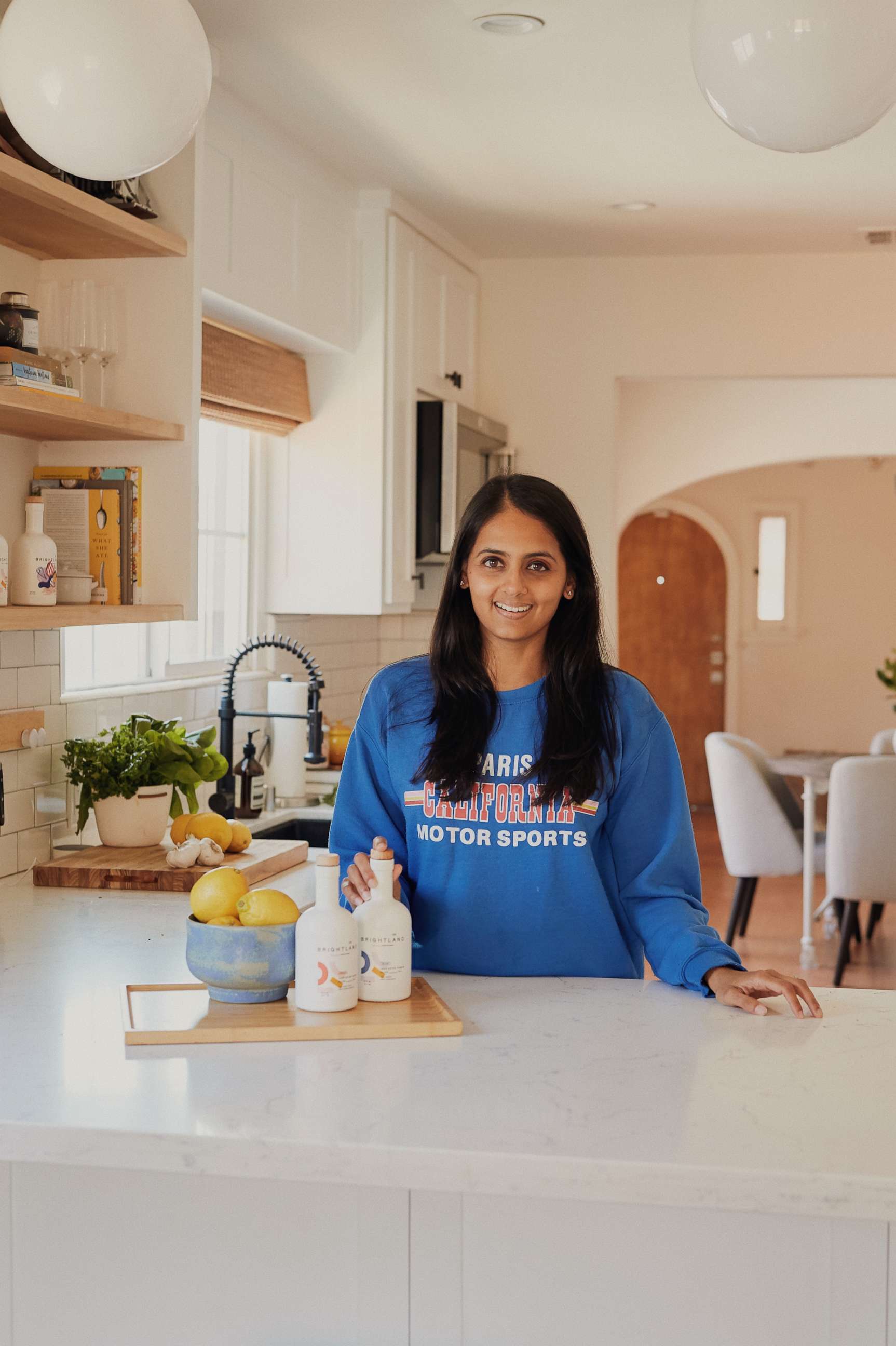 Aishwarya Iyer created the clean olive oil brand with artist-designed bottles in 2018 after looking for ways to improve her and her husband's well-being and confidence in the kitchen.
"I feel incredibly fortunate to be able to build Brightland with authenticity and integrity at the forefront," the founder told "GMA." "And I'm so lucky to be surrounded by incredible, galvanizing team of women who I get to call colleagues who are the backbone of the company."
The brand was born "out of a desire for better, more honest food production and a deep belief in the land and what it provides," she wrote on the company's site. "I believe in the California sun and soil, and the beautiful olives, grapes and fruit they yield. It's my wish that our products provide abundant nourishment."
Iyer has continued to create beautiful bottle designs and even collaborates with artists to bring their oils to life.
"We see Brightland bottles as a canvas, and have adored collaborating with incredible artists like Peter Som, Marleigh Culver, The Cartorialist, Lilian Martinez and BD Graft on exclusive labels for our infused oils," she explained. "Brightland's ethos is around celebrating art and design, so this continues to be a really special component that we will always lean into."
Diaspora Co. Spices
Sana Javeri Kadri, founder and self proclaimed "spice sourceress at large," who was born and raised in Mumbai, started the brand in 2017 at just 23 years old and now works in close partnership with the Indian Council of Agricultural Research to provide ongoing support to partner farmers -- who all practice sustainable agriculture.
Kadri has grown the business from just one spice to a vibrant line of individual spices, blends and even brand collaborations.
"As of 2021 we're proud of work with 12 farmers and 320-plus farmworkers across six states. We pay our farm partners an average six times more than the commodity price, and by the end of this year we aim to provide health insurance to every single farmworker that is part of our rapidly growing supply chain," Kadri said.
Pineapple Collaborative
More than a single product, the Pineapple Collaborative started with a mission to build a community focused on women who collaborate in the kitchen, online and in real life starting with hosted events in Washington, D.C., to spotlight other incredible women in food.
Atara Bernstein and Ariel Pasternak co-founded and created the company in 2017 and have since launched its first products, The Olive Oil and The Apple Cider Vinegar, in 2019.
The group's momentum grew and events expanded to New York, the San Francisco Bay Area, Los Angeles and now across digital platforms with original content and contributors in a space called "the pantry."
"In the last five years we've grown from a potluck in my house to an international brand and I couldn't be more grateful for this opportunity of a lifetime: to build a mission forward business celebrating inspiring people who create a better food system," Pasternak said in a recent Instagram post.
An earlier version of this story was originally published on March 10 2021.