Riding on the popularity of the Cash for Clunkers program, the government is putting the final touches on a similar program for appliances, but the feds aren't the only ones getting in on the act.
Private companies, like Amazon, Toys-R-Us and Barneys copied the plan to give their consumers some incentives of their own.
To sort out the details, "Good Morning America" technology contributor Becky Worley headed to a retail store in Pleasanton, Calif.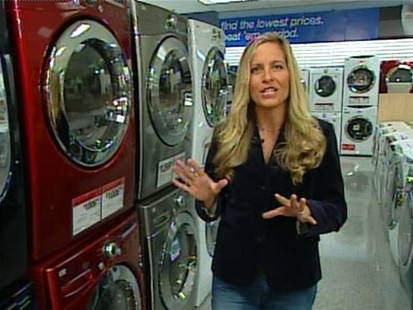 Cash for Energy Efficient Appliances, Green Lawnmower
According to Worley, the government's plan for appliances differs from Cash for Clunkers in that consumers won't be turning in their appliances, but getting a rebate at the store when they buy energy efficient ones.
Starting late this fall, you could get a rebate of $50 to $200 for buying a new appliance. The savings, and which appliances are eligible, could vary state to state.
The Department of Energy hopes to encourage conservation by getting consumers to replace old, wasteful appliances with new, more efficient Energy Star-certified machines. But the appliance industry, reeling from the recession and a drop in sales, also hopes the rebates will provide a much-needed sales boost.
About 55 percent of new appliances sold last year met the requirements for an Energy Star label, the government says. The cash-for-refrigerators plan will be in addition to incentive programs already run by many states, although there's no guarantee the federal money will get people to buy new appliances instead of fixing their old ones when money is tight.
Another government program in the works, the Greener Gardens Act, would give buyers a 25 percent rebate for buying an alternative energy lawnmower like one powered by electricity, battery or propane.
Click "next" at the bottom to see how you can take advantage of deals from private companies.
Private Companies Get in on the Act
Private companies have also taken notice of the popularity of the government incentives and are beginning to offer their own, Worley said.
In honor of National Child Safety Month, from Aug. 28 to Sept. 20, Toys-R-Us is offering to trade in old baby gear like cribs, strollers, car seats, high chairs for a 20 percent discount on new items.
Amazon is also offering a major trade-in deal. Bring in your old DVDs, Blu-Ray disks and HD-DVDs and get an Amazon gift card in return. Worley was able to get $3.50 for an old DVD of "Finding Nemo."
Hewlett Packard is getting in on the action with an offer to take back old printers, giving customers $50 off a $99 printer in return. They'll recycle your old printer and pay for shipping.
At Barneys, customers can bring in old jeans and get 20 percent off a new pair. The old jeans will be sent to an eco-friendly charity.
ABC News' Brian Hartman and Ned Potter contributed to this report.