Gearing up for a vacation? Most travelers don't realize how heavy bags can bog you down and hurt the environment.
Patty Kim visited "Good Morning America" with tips on how to pack lighter to save a little green and be kinder to the planet at the same time.
If You're Flying:
The heavier your suitcase, the more fuel it takes to fly and the more carbon dioxide you send into the atmosphere.
For each additional 10 pounds each passenger brings on an airplane, it requires an extra 350 million gallons of jet fuel per year. Jets produce an average of almost 0.4 tons of CO2 per passenger per flight, so a plane with 150 passengers releases 120,000 of CO2.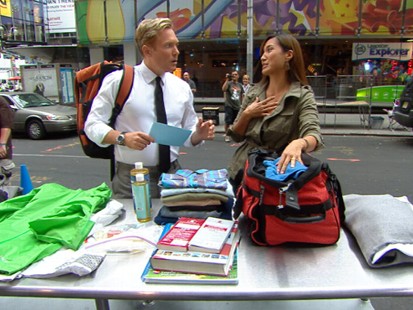 By packing light -- bringing just a carry-on -- you'll save time (no waiting at the luggage carousel), save money on airline bag fees and avoid stress by not worrying about lost luggage.
Two great carry-on bag options are Rick Steve's Convertible Carry On, which sells for $99 and is made of recycled durable polyester. It weighs 3 pounds, compared to the 7 pounds or so you'd lug if you took a hard case. There's also a version with wheels.
Tip: Make sure your carry-on bag meets overhead restrictions, which are usually 9x14x21 inches.
If You're Driving: Adding 100 pounds of weight to your car decreases the fuel economy by 2 percent. Packing light can save you money and help the environment.
Tips for Packing Light

Putting bikes and suitcases onto a roof rack may sound like a good idea, but they add drag to your vehicle and hurt your fuel economy.

Try to plan ahead and write a list of the things you really need a few days in advance, so you're not throwing in heavy items at the last minute.

Choose the right bag. Just like you would if you were flying, make sure your bag is durable and transportable with shoulder straps or rolling wheels. Opt for something soft-sided instead of a bulky, hard suitcase, so it can fit into tight corners in a trunk.
More Tips for Packing 'Green'

Choose light-weight clothing in neutral colors so they can be easily mixed and matched.
What to Bring:
Light-weight fleeces that can roll very small to fit small spaces (versions by Columbia Sportswear and the North Face); shirts that are quick-drying that you can wash along the way (from L.L. Bean or Columbia Sportswear); light-weight cotton pants (from L.L. Bean) or pants you can zip into shorts (from Patagonia and the North Face); shorts called "baggies" from Patagonia can be used for multipurpose as swim trunks or workout shorts; Marmot makes a great rain jacket that's really light but waterproof. Quick-drying socks and quick-drying underwear are great little packing items as well.

Pack toiletries that can do double duty, such as Dr. Bonner's Soap, which can be used as a shampoo, or pack small travel-size items and leave the big shampoos, conditioners and soaps at home.

Avoid packing bulky tour books or heavy clothing such as jeans and heavy sweaters.
Tip: Instead of packing a stack of neatly folded shirts, which takes up a ton of space, roll or bundle them. Rolling your clothes is what seasoned travelers and soldiers who move around a lot tend to do.
If you're concerned about wrinkles, you can also try the bundle method. Lay out all your garments flat on top of your bed, starting with the largest pieces on the bottom and fold in all the dangly bits, the arms and bundle them around a core object like your socks and underwear. You can also stuff rolled-up underwear or rolled-up neckties in shoes, little cubby holes of space that we often overlook.
CLICK HERE for more eco-friendly alternatives and ways to green your life and home.