San Antonio, Texas, is a great place to celebrate the holiday season. "Good Morning America" weather anchor Sam Champion visited the city as part of the annual "GMA Lights Up America" series.
Check out all that San Antonio has to offer for the holidays:
River Walk
San Antonio's famed River Walk is a spectacular sight during the holidays. Attractions include folkloric dancers who, like the city itself, represent a mix of European and native art forms. The San Antonio River has a fleet of nearly 50 barges, including dinner boats and water taxis. The city's holiday tradition centers around the illumination of the River Walk, along with its stone bridges and 100-foot cyprus trees.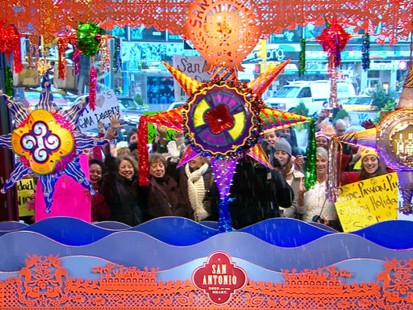 The holiday season is traditionally kicked off with the flip of a switch at the historic Alamo that turns on 122,000 twinkling bulbs along the neighboring River Walk.
For almost 30 years, a holiday river parade has been held along the River Walk featuring more than 25 professionally decorated and illuminated floats carrying lavishly costumed bands and celebrities. More than 170,000 people view the event annually from the banks of the River Walk.
Luminarias
Complementing the River Walk's twinkling lights and intimate stone bridges are more than 6,000 luminarias that are almost like foot candles, forming a romantic and festive trail that symbolically lights the way for the Holy Family.
Luminaria is the term for a lantern or light often seen in Latino cultures and common in San Antonio, and a path of luminarias during the holidays is a tradition that goes back for centuries. Luminarias represent warmth, tradition and illumination, all integral parts of the holiday season. Luminarias take many different designs, from simple to complex, and can be made from varying materials.
Luminarias can also be found in markets, arts districts, restaurants, and museums in San Antonio. You can make your own luminarias for your doorstep or walkway by weighing a paper bag down with sand and placing a tea light in it, and you can add to the design by punching holes in tin canisters such as coffee cans.
Posadas
A posada is a procession that's a mix of Aztec and European traditions -- it re-enacts the biblical account of Mary and Joseph's search for lodging in Bethlehem on Christmas Eve. San Antonio hosts a Gran Posada for the holidays: a pilgrimage through the downtown area with stops at sights like the historic Spanish Governor's Palace. The Gran Posada concludes at the city's beloved San Fernando Cathedral, the oldest cathedral sanctuary in the U.S.
Learn more at www.visitsanantonio.com.
'GMA' Lights Up America: San Antonio
Tamaladas
A new Culinary Institute of America recently opened in San Antonio. Diana Barrios Trevino, one of the most celebrated chefs in San Antonio and author of "Los Barrios Family Cookbook," says that tamaladas are one of the culinary highlights of the city.
The tamale-making party has become an institution in San Antonio. Beyond the homes where generations work together to prepare the tamales, there are many cultural events in the city for people to join in and learn about tamaladas.
San Antonio's Holiday CalendarL:

The Guadalupe Cultural Arts Center's annual Hecho a Mano Fine Arts and Crafts Market: Dec. 4-6

Bazaar Sabado at the San Antonio Museum of Art: Dec. 12. The bazaar offers textiles and one-of-a-kind gifts from around the world.

In December, Santa's Railroad Wonderland at the Texas Transportation Museum offers evening train and hayrides at the historic depot and visits with "Choo Choo Claus."

SeaWorld's Christmas Celebration (Nov. 21 – Jan. 3) includes a ride on The Polar Express 4-D Experience and a New Year's Eve fireworks display.

Six Flags Fiesta Texas celebrates with "Holiday in the Park" (Nov. 27 – Jan. 3) featuring themed shows, carolers and Santa.

Schlitterbahn's Hill Country Christmas. This famous water park is covered with over 1.5 million lights during the holiday season and offers sledding, shows and shopping.

The San Antonio Rose Live Country Music Show at the River Walk's Aztec Theater is planning a special holiday concert series (Nov. 28 – Dec. 20).

Celebrate San Antonio: Ring in the new year at the city's biggest New Year's Eve party with fireworks launched from the 750-foot-tall Tower of the Americas.
Explore www.visitsanantonio.com for more ideas.