Whether packing up and hitting the beach or lounging by the grill on the back patio, it's imperative that you know how to celebrate Memorial Day in style.
Below are some must-have gadgets and products to make celebrating Memorial Day a little easier.
Grill, Baby, Grill
Food Network Magazine has compiled a list of grill-friendly gadgets for the most experienced grill master and the novice.

http://www.amazon.com/exec/obidos/ASIN/B000NVOV4W/ref=nosim/10108121979-20 " target="external">Char Broil Spice Stick: You love to grill but aren't the best cook. Fill the four interlocking shakers with your favorite rubs and seasonings, and you are good to go.

Chef's Planet Nonstick Grill and Barbecue Mat, $20.: Already mastered steaks and chops? Time to tackle fish. This grill mat keeps flaky fish and bite-size shrimp from falling through the grill grates.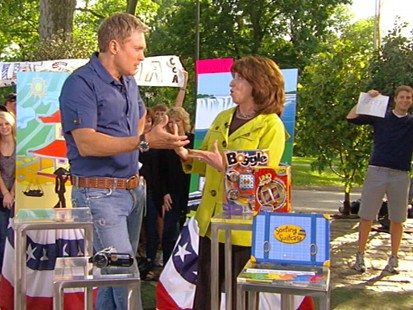 Motorized Barbecue Grill Cleaning Brush: Combine your love of grilling and your inner geek. Clean out marinades, barbecue sauce and cheese spills with this brass-bristle, motorized brush. Prices vary.

Chefmate LED Barbecue Grill Light : Don't let nightfall mean the end of the party. The flexible grill light and the magnetic base will stay in place on any grill. $16.99 at Target.com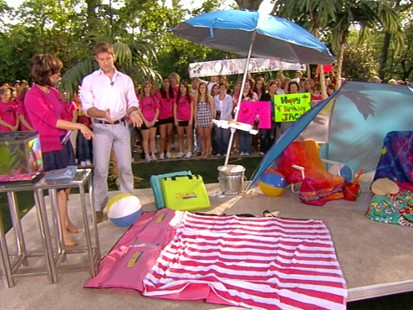 Taylor Digital Fork Thermometer: Need a little help making sure your meat is done? This thermometer includes settings for beef, lamb, pork, chicken and turkey. $16.59 at Amazon.com

Grilling Planks: These planks pull double duty, allowing grill enthusiasts to smoke food and use the planks as plates directly off the grill. Planks are available in several sizes from AfireInc.com, and prices vary.

Barbecue Condiment Set: Live your dream of owning three grills, even if they're miniature. $29.99, from KitchenKapers.com

Barbecue Deli Baskets and Squeeze Bottle Set: Turn your patio into a retro burger joint with these classic barbecue accessories. $16.99 for eight baskets and two bottles, from Retroplanet.com

"Hamburger" Salt-and-Pepper Shakers: Shaped like burgers, complete with tomato on top, these decorative shakers will add to any Memorial Day barbecue. $6.99; Pier 1 Imports.
Travel: Pack it Up and Go!
Good Housekeeping gave its seal of approval to everything from suitcases to travel games. Look below for products to make your journey a little easier.

Delsey Helium Fusion Lite 2.0: Best for traditionalist travelers. This soft-sided bag weighs 9.3 pounds and comes with several smaller compartments to stay organized. Prices start around $85.00 at Amazon.com

Target Kids's J World Sparkling Wheel Rolling Backpack: For the tiny traveler, this rolling tote has wheels that light up and comes in six styles. A lunch bag is also included. $45 at Target.com

Sorting Suitcase, Uno Spin to Go and Boggle: Travel games geared toward preschoolers and older children are a great distraction that keeps them entertained and their thinking skills sharpened. Prices range from $10 to $20. Available where games are sold, including at Mattel.com

GE J1250 Digital Camera: This budget-friendly camera is rated best for indoor photos. It comes with blink and smile detection to ensure the perfect family photo. Features include a 5X optical zoom. Comes in four colors. $119 at Amazon.com

Samsung HMX-H100 HD Camcorder: Given a resounding "Wow" by GH staffers, this handheld camcorder has a comfortable grip and vibrant video quality, even at night. True technophobes can even get used to this camera with its "easy" button that makes filming a breeze. Features include a 10X optical zoom. $449.99 at Amazon.com
Hitting the Beach
The fine folks at Men's Health Magazine have put together a list of must-have beach accessories. Sand not included.

Underwater Camera Pouches: A cheap alternative to expensive underwater cameras, these pouches ensure a safe, undersea shot. $40.

Teva Illum: Tired of stubbing your toe in the dark? These flip-flops are flashlight-powered to lead the way. $50.

Bodacious Beach Blanket: It's a beach set in one. Features a shoulder strap, a built-in inflatable pillow and pockets. $60.

The Ultimate Umbrella Table: Hate spilling drinks on uneven sand? It won't happen with this sturdy beach-friendly table. $20.

Pop Up Beach Shelter: Love the sun, but hate risking your health? This shelter allows you do protect yourself without missing out on the fun. $29.99.