Joran van der Sloot's plan to extort money from the parents of missing American teenager Natalee Holloway was so brazen that he demanded her mother sign a contract pledging tens of thousands of dollars for information about where her daughter's remains could be found, according to an FBI affidavit unsealed today.
But in a heartless act of greed and deception, the Dutch playboy accepted $25,000 from Holloway's mother and then lied to her about where her daughter was buried, the affidavit states.
Van der Sloot, 22, is currently jailed in Peru for the murder of a young woman, Stephany Flores Ramirez, who he met in a Lima casino.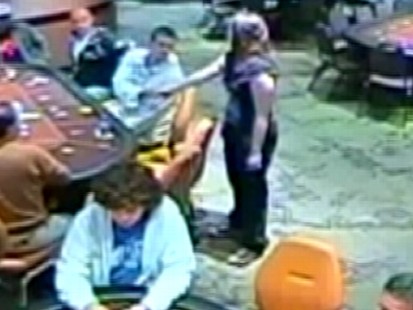 On the day he was arrested for murder, U.S. prosecutors in Birmingham, Ala., issued an arrest warrant for van der Sloot charging him with extortion.
The federal affidavit released today spells out for the first time how the alleged extortion scam unfolded.
U.S. prosecutors say van der Sloot contacted a person known to Holloway's mother, Beth Twitty, in March, and negotiated a price for showing him the location of the remains of the Alabama high school student who vanished during a school trip to Aruba in 2005.
Van der Sloot initially demanded $250,000, but later agreed to show the family's proxy the location of the body in Aruba for $25,000 up front and a promise of more to come.
The affidavit does not name the proxy, referred to by the government as a "cooperating witness."
During the negotiations with Twitty's go-between, "van der Sloot insisted that a written contract between him and Mrs. Twitty be prepared by the cooperating witness," according to the affidavit.
The contract was signed by Twitty, who faxed it back to the cooperating witness in New York.
Offices for lawyer John Kelly, who represented Twitty in her 2006 wrongful death civil suit against van der Sloot, are located in New York.
"Van der Sloot indicated to the cooperating witness that unless Mrs. Twitty paid the money demanded he would not tell where the remains of her daughter were hidden, nor provide any information regarding the circumstances of her death," the affidavit states.
Joran van der Sloot Lied to Natalee Holloway's Mother
On May 10, Twitty's go-between flew to Aruba to meet van der Sloot, who signed his name to the contract and was paid $10,000 cash from the witness.
"Next, the cooperating witness called Mrs. Twitty, who immediately wire transferred $15,000, the balance of the initial payment, from her bank account in Regions Bank in Birmingham, Alabama, to van der Sloot's bank account in the Netherlands. Van der Sloot confirmed to the cooperating witness that the wire transfer had occurred," according to the affidavit.
With the money in his hands, Van der Sloot took the witness to a house where he said Holloway's remains were buried in the foundation.
"Van der Sloot then told the cooperating witness that van der Sloot's father, Paulus van der Sloot, had disposed of Natalee's body by burying her remains in the gravel under the foundation of the single story house," read the court documents. The senior van der Sloot died last year.
Van der Sloot says he remained in the car while his father concealed her body in foundation and did not actually see where the body had been dumped.
Van der Sloot also claimed that he had been with Holloway on the night she died and "that he had thrown her to the ground after she had attempted to stop him from leaving her," according to the affidavit.
Van der Sloot claimed that when she fell, she hit her head on a rock and died as a result of the impact.
It quickly became apparent that van der Sloot's story was a lie. The contractor who built the house said it was not under construction in 2005, and aerial photos of the area at that time confirm the house was not under construction at the time.
After the witness left Aruba, he received an email from van der Sloot on May 17 admitting he had lied about the location of the remains.
Earlier today, a private investigator who was involved in the extortion sting on van der Sloot called him a "homicidal maniac" and blamed the Aruban government for not nabbing him when it had the chance.
Investigator Bo Dietl said the mere fact that van der Sloot was videotaped detailing the demise of Natalee Holloway should have been enough for police in Aruba to detain him before he left the island.
"You have wire fraud, you have extortion, but on top of it you have him making incriminating statements," Dietl said. "They could have popped him on that."
Did Police Let Van Der Sloot Slip Away?
Police in Peru have said van der Sloot confessed to killing 21-year-old Stephany Flores Ramirez while in Lima. His trip to Peru was believed to be financed by money provided by the United States as part of the extortion sting.
But even though van der Sloot was videotaped counting the cash, neither Aruban or U.S. authorities charged him.
"I met him once," Dietl said of van der Sloot, "and I'm telling you this could be a psychopathic killer that could have killed other people."
The FBI has taken heat in the U.S. for not only letting him go but apparently financing the trip to Peru that ended with Flores' death. The FBI has denied moving too slowly.
"News accounts have also questioned why charges were not brought earlier, so that the tragic death of Stephany Flores could have been avoided," the agency said in a statement released Wednesday "The Birmingham investigation was not related in any way to the murder in Peru. Despite having been in motion for several weeks at the time of Miss Flores' death, it was not sufficiently developed to bring charges prior to the time van der Sloot left Aruba."
Dietl said that the entire sting operation was put together in hopes of once and for all bringing closure to a five-year-old investigation into Holloway's disappearance.
"This is a mother who wants to have closure with the death of her daughter," Dietl said. "This is what it's all about."
In Peru, van der Sloot is expected to be charged sometime this weekend.
Newly released surveillance video taken shortly after 2 a.m. on May 30, just hours before Flores was killed, shows van der Sloot walking up to a poker table alone. Less than an hour later, Flores walks over to the same table, shakes hands with van der Sloot and sits down next to him.
Police say they had met earlier that weekend. At 3 a.m., casino suveillance video shows the pair laughing and playing cards. A minute later she was seen gesturing to a friend and then leaving with van der Sloot.
Now in a Lima jail, police say he breaks down in tears when he recalls the night of Flores' murder.
Extortion Plot Meant to Nab van der Sloot, Close Holloway Case
Investigators in Peru are leaning on van der Sloot to give them information about Holloway's 2005 disappearance.
Master hackers hired by Peruvian authorities to examine his laptop have reportedly found pictures and other information relating to Holloway.
Police investigators told Lima's La Republica newspaper that van der Sloot's bombshell confession came late Monday night when he tearfully admitted that he grabbed Flores by the neck when she began reading articles about him on the Internet.
"I did not want to do it. The girl intruded into my private life," he told investigators, according to La Republica. "She had no right."
"I confronted her," he continued. "She was frightened, we argued and she wanted to get away. I grabbed her by the neck and I hit her."
Flores' battered body was found three days later, her neck broken. van der Sloot, who had crossed the border into Chile, was nabbed there and extradited back to Peru.