A deaf hiker who fell down a snowy Alaskan mountain last week found an unlikely rescuer and friend.
Amelia Milling, 21, was four miles into her hike through the Crow Pass Trail in Chugach State Park, nearly 30 miles outside of Anchorage, when her trekking poles broke and she fell nearly 300 feet down a snow-covered portion of the mountain. Milling hit a large boulder and slid another 300 to 400 feet, according to Alaska State Troopers.
Milling said a white husky immediately came to her aid.
"That's when I first saw Nanook and first I thought he was a wolf," Milling told ABC News. "Then I saw the little collar and realized he was there to help me."
Nanook is actually a trail guide dog that helps hikers find their way back to a trail, Milling later learned.
Milling camped out overnight with the rescue dog by her side.
"When I opened up the tent, he was ready to go. He was just right there and that helped me to have some motivation to keeping going," she said.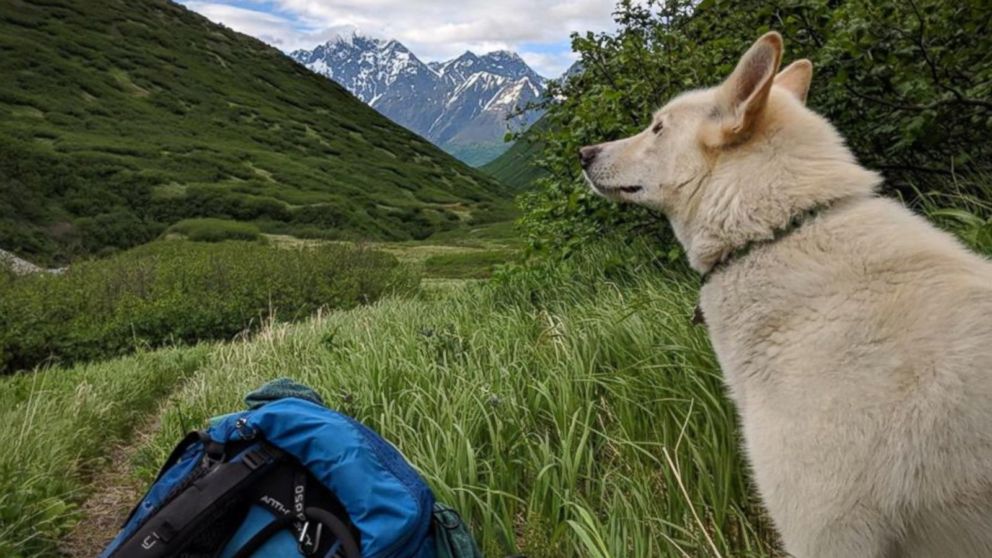 Milling tried to cross a river within 24 hours of her initial fall, but a strong current dragged her down further and Nookie quickly sprang into action to help pull her to safety, she later told authorities.
"Nookie came and grabbed the shoulder strap of my backpack and actually pulled it out," Milling recalled.
When she got back on land she said she activated her SPOT Beacon, a GPS device to alert rescuers of her location.
Alaska State Trooper Lt. Eric Olsen, one of the responding officers who was part of Milling's rescue team from HELO-3 out of Anchorage, said he was amazed that Nookie "helped rescue her."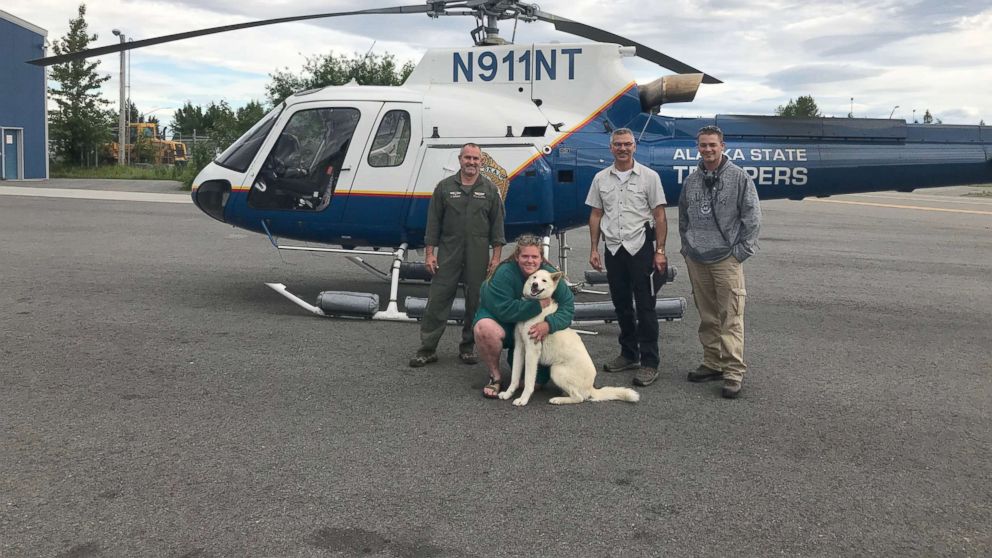 "When I realized I had a real-life hero dog I called up the owner and he said, 'No way,'" Olsen recalled. Nookie's tags asked to return the dog back to his address and also included a phone number.
Olsen drove the 7-year-old dog back to his home in Girdwood, where his owner, Scott Swift, explained Nookie's love for hiking and following people on the trails.
"There was one other girl about 6 years old -- he saved [her] when she fell in the river," Swift said of an incident near the Crow Pass Trail nearly two years ago.
Milling later reunited with her hero dog whom she credits for saving her life.