For me, Ramadan, the holy month in Islam where Muslims fast from food and water from sunrise to sunset, is a time for family.
It was always the only time when my family stopped, sat down and ate together at the dinner table.
Our mornings would begin as early as 3 a.m. with my mother entering our bedrooms, one by one, waking us up for suhoor -- the pre-meal before the fast. After returning back to our desired slumber, we would then wake up like every other day, tend to our duties, and return home to prepare iftar for the family. Iftar is the meal where Muslims break our fast at sunset. My family's kitchen table would be filled with dishes ranging from lemon custard and fruit bowls alike, buur, and our Ramadan classic, sambuusa.
Since I started college, Ramadan has fallen during the summer months where I am usually away from home.
This will be my fourth Ramadan away from home and my family. This absence has allowed me to grow thankful for elements of Ramadan that I wasn't able to recognize until I was gone. I've learned to cherish the right-before-iftar bickering and fighting with my siblings for who gets to "test taste" the homemade smoothie, and estimating how many TV shows I would have to watch to kill time until iftar. Most importantly, I missed the calm that would linger during our hunger, as if stress was locked away with the devil.
However, Ramadan isn't always a month full of comfort and ease. For some, Ramadan can be a very lonely time and a reminder of one's alienation. It becomes even more difficult to fast 16 hours on these hot summer days when you don't have a table full of both food and family to share it. Or when you are a recent or old-time convert who's spending their first or thirteenth Ramadan alone, or when like me, you are away from home for a summer internship. It becomes even harder to find a community where you feel at home.
'What community should feel like'
This year I found myself in New York City away from my family for the fourth time. You would think it would get easier, but it has become lonelier, longing for fading memories that I cherish.
However, what being alone during Ramadan has taught me is that there are places to build community even when you may not have a network. For many New York City-based Muslims, that place is the Islamic Center at New York University (ICNYU).
Every night during Ramadan, approximately 300-400 people come together at the ICNYU by Washington Square Park to break fast.
The ICNYU opens its doors to the community, hosting iftars to break fast every night during the month of Ramadan.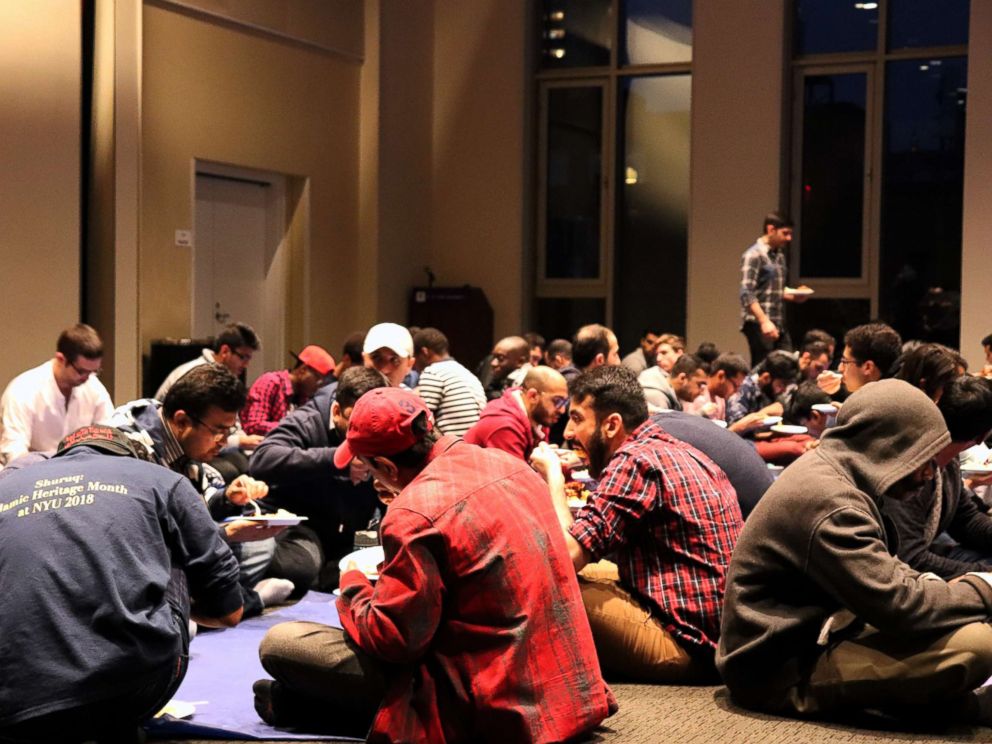 Whether or not you're Muslim, or a student, the center focuses on creating a safe, welcoming space for all. A sense of community is infused into the logo and the atmosphere.
"New York City can be a really lonely place for people of all backgrounds," Khalid Latif, ICNYU's executive director and university chaplain of NYU told "Good Morning America." "One of the challenges that comes in for the Muslim community is that a lot of the more community-type Muslim centers tend to be in the outer boroughs -- Brooklyn, Queens, etc. Our center serves as a hub for the professional demographic as well as a young student demographic [in Manhattan] that may or may not really engage their local mosque community. It's very diverse here."
At 8 p.m. every night, the ICNYU starts to fill up with people of various backgrounds.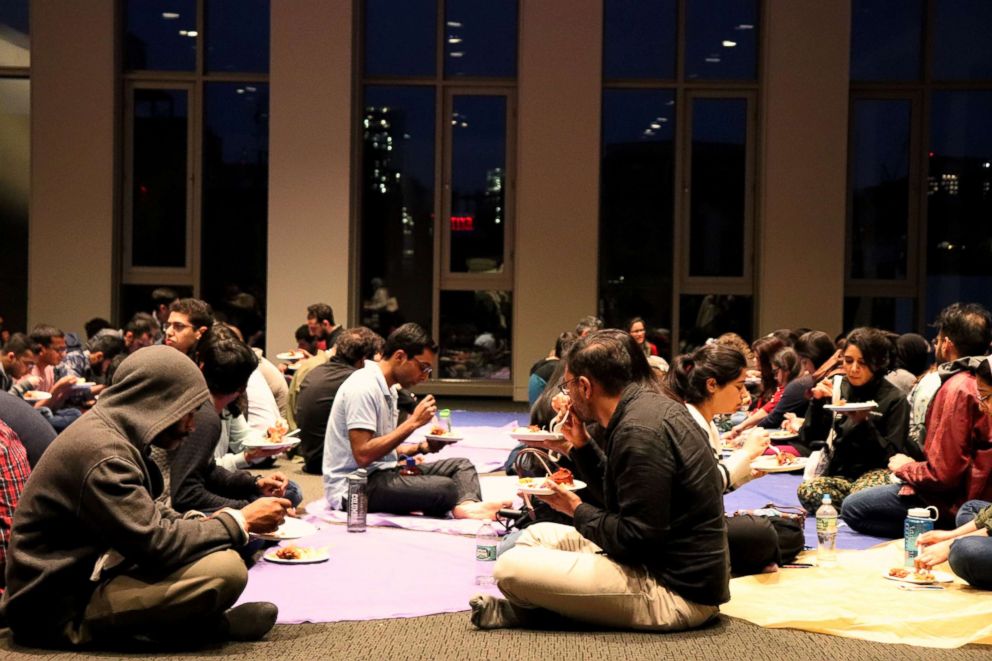 "You'll see people who come here who are from different races, different classes, different cultures, different ethnicities, and a lot of people who aren't even Muslim that simply enjoy the space and messaging that we offer," Latif explained. "It can be a little difficult to manage at times, but to me, that's what a divine gathering is supposed to be, right? Everybody is supposed to be able to access God, not just people who fit into a very rigid archetype of what it means to be a 'good' practitioner of a faith in some way."
Suhaib Webb, a resident scholar at NYU, said that his favorite part of attending community iftars are the people.
"My favorite part about Ramadan is breaking fast. Every day, you break your fast and you think about the blessings of God," Webb explained. "You get to meet so many different types of people and form new relationships. With the backdrop of a Trump presidency and Islamophobia, it's good to be around people you can feel supported by. You feel safe here."
Giving back to others during Ramadan
During Ramadan, a huge emphasis is placed on charity known as Zakat.
The ICNYU works with Islamic Relief to raise awareness every year for humanitarian issues. At a recent fundraising iftar, over $440,000 was raised through community donations for the Rohingya refugees in Myanmar.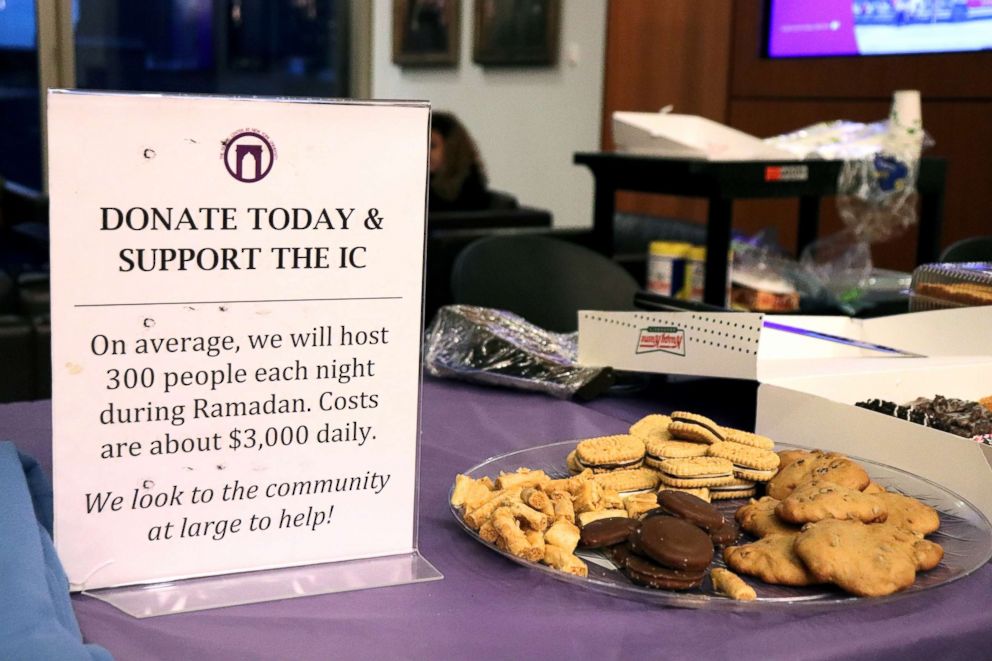 "Our community is a giving and loving community," Latif said. "Last year, we spent about $815,000 to run our center, and we raised $827,000 for people in need. So, essentially, we are spending more on others than we are on ourselves."
The ICNYU is working on building more spaces to tackle important issues that go beyond Ramadan, including opening a domestic violence shelter and helping to start a mental health clinic in Midtown.
We felt understood
People are a huge part of how I experience Ramadan. I become more aware of the strangers I pass in the street, the family members I do not call enough, and those in our country and around the world that I do not help.
These iftars not only become a home for those of us who feel alone during this holy month but allow us to make a family out of strangers.
I was immediately welcomed by a wave of warmth from each person I met.
I sat down at the iftar with four women who I did not know upon arrival, but left with future plans to visit a bakery in Harlem together.
We talked about everything from our career ambitions to our commutes to work. We also discussed how we each got our parents to agree to let us move to NYC and bonded over our coworkers' bewilderment about fasting when we tell them, "No, not even water."
But most importantly, we felt understood. We didn't have to explain ourselves. Together, we felt at home.